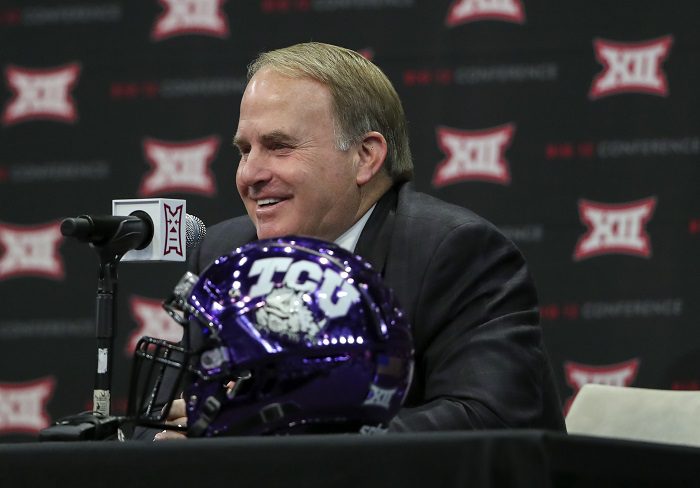 There is no offseason for Gary Patterson. No need to re-acclimate himself to any aspects of the game of football, the routine, or even the media for that matter. Patterson took the podium at Big 12 Media Days as the first head coach on Monday morning and came out firing. Good job planning, Big 12.
Despite his rough exterior, Patterson kicked off the conversation insisting he likes being here in Frisco, Texas at The Star, saying, "Yeah, we're excited as always. People assume coaches don't like Media Days. I love it, get a chance to be around Media Days. That's why I was coming early to do the radio shows and gives me a chance to talk about everybody."
Patterson should feel good. While he losses over 20 seniors from a team that reached the Big 12 Championship Game, won the Alamo Bowl over Stanford and finished with 11 wins, these are great times in Fort Worth. Patterson continued to recruit at a high level, producing another Top 25 class, and to Coach P, it's even better than that. The head coach was questioned about how he does so well with not many four or five-star players? Considering the question came from a Texas reporter (he probably should save his equity for asking his own head coach why his program can't win, despite recruiting so many four and five-star players), Patterson didn't miss a beat.
"Number one, that rating is your rating. That's not my rating," Patterson quipped. "If I'm bringing them in I think they're a pretty good player so they may be a four star or five star, obviously we're getting more of those guys. I have always believed that the it's not where you start, but where you finish. So you recruit whoever you want to recruit, you recruit who fits your program. Doesn't do you any good to have a good athlete fits a square peg fitting into a round hole. The guy has to fit that position or he needs to be good enough that you will create a new position within your defense and offense so he can be successful and he will make you better." 
For the record, Patterson had four four-star players and his 2018 class was ranked third-best in the Big 12 and 25th in the nation, according to 247Sports. That's pretty darn good. Imagine tell that to a TCU fan around the turn of the century? They would not believe you.
I'm not sure how much higher the recruiting ceiling is for TCU, but you're seeing why some of the Texas programs were always hesitant to make the Horned Frogs a legitimate Power 5 program, because this kind of success was always a possibility based on their location and proximity to so much high-level talent in the Dallas-Fort Worth Metroplex.
Meantime, with the retirement of Bob Stoops last year, Patterson gladly took Stoops' place as the "voice" for the Big 12 Conference. That mantra continued this year as he pointed out the stability of the conference, saying, "You're talking to a guy that's been in a lot of conferences, I don't know anything thought the Big 12 had instability, you should have been in all the conferences I've been in. It's less and I think you're seeing — you look in the recruiting, your kids are starting to stay in at least the state of Texas and in surrounding states, starting to stay home more, lot of good players."
Patterson was obviously referencing the fact that his own program, along with the Texas Longhorns, continue to hammer away at recruiting the best players in the state of Texas, giving more of a challenge to Texas A&M and some other SEC West schools than what has been experienced in recent years.
Coach Patterson went on to discuss why parody and depth is so vital to this league, and so valuable, adding, "I think one of the things about this league. It's going to be a plus and a negative is just number one it's going. to be wide open, get a chance to be more parody… I do believe the stability and just the way Oklahoma did in the playoff run getting to where they did last year, the way they played, and the way we played in bowl games I would have to say that you would have to give us more credit than sometimes people do and I think there is a lot of good coaching that goes on in this league."
Plus, as we've discussed, the round robin is something the Big 12 does not get enough credit for having, and from a coaching perspective, Patterson notes that it creates different challenges, saying, "When you play a round Robin that's more difficult than it is when you go on and off the schedule with somebody that you play every couple of years for the simple reason you can't fool them."
Bingo. This is so much different than the SEC, where teams can go years without playing teams that are in their conference, but not in their division. Patterson, and the rest of the Big 12 coaches, need to continue to push this reminder home whenever possible.
Add that to the 1 vs. 2 in the Championship game, which will always be a re-match (creating difficulties for both coaches and players), means the Big 12 does, in fact, have the toughest path to the College Football Playoff.
And on national TV, while the SEC fan boys were posted up in Atlanta, Georgia, Patterson reminded everyone of this critical point. He's become the best at that.