Big 12 Sports Articles
Matt Campbell Studies Chip Kelly, Chris Petersen, Dabo Swinney in Modeling Iowa State Program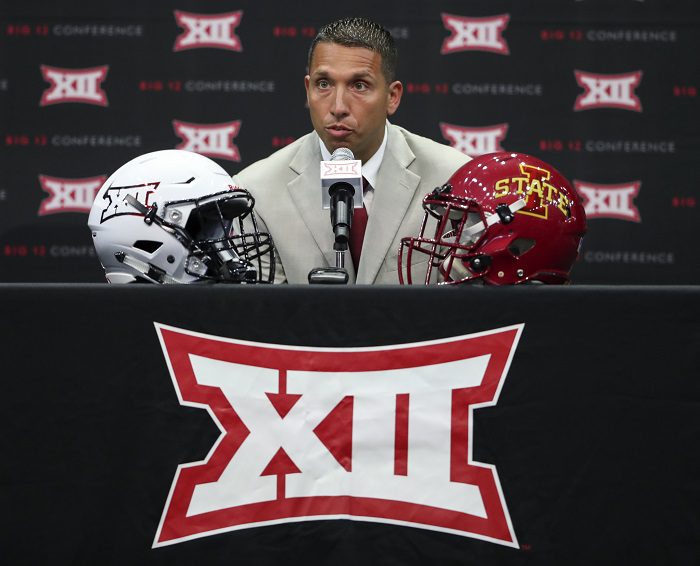 This is new territory for Iowa State football. At least over the past 20 seasons. The Cyclones are coming off an eight-win season, their most victories since 2000, when the program went 9-3 and finished third in the Big 12 North. Prior to 2017, Iowa State won eight total games from 2014-2016. In fact, the four years prior to 2017 looked like this: 3-9, 3-9, 2-10, 3-9.
But here's Matt Campbell, entering Year 3 armed with a long-term extension, and thanks to a couple of top 5 wins last season, expectations for some type of encore, which was capped off with a thrilling Liberty Bowl win over Memphis.

Sure, Iowa State has plenty of really good returning players. There's QB Kyle Kempt and RB David Montgomery. Also, there's defensive studs Ray Lima and Brian Peavy. All four were at Big 12 Media Days on Monday, but ultimately, the pressure lies on the head coach.
So is this is a program poised to take a step back in the incredibly deep Big 12 Conference? Or are they ready to maybe compete for a trip to Arlington in the Big 12 Championship game in early December (side note: Bob Bowlsby noted tickets go on sale this Friday for the Big 12 title game. Why? No idea.)?
I asked coach Campbell what he sees as the ceiling for this program, to which he responded, "One of my things that I love
doing is studying this great game. I don't have a lot of hobbies so my biggest hobby is football. For me, I don't know what the ceiling is. I know what the next step looks like and that's to add consistency to a football program."
So does that mean another seven or eight-win season? Or more? The head coach added, "If you want to be a real program you have to have great consistency into who you are year-in and year-out. I think that's the next step for our program and where we want to go and show that we can consistently become a winner in the Big 12 Conference." 
Becoming a consistent Big 12 winner is probably not something than many Iowa State fans thought was possible with the new conference alignment featuring no divisions and a round robin schedule. But as long as Campbell's in town, there's no reason to think that they can't be, and no reason they shouldn't be.
But will it be the type of situation where expectations are for Campbell to reach bowl games every year and then, say, once every 3-5 years, compete near the top of the conference? That remains to be seen.

I put the question to Campbell, asking which non-traditional, non-blue blood programs he models his Cyclones after, to which he said, "For me, studying this sport, Boise State, watching what Coach Petersen has done at Washington, what Coach Kelly did at Oregon, there are some great lessons in our sports on how to, how they've rebuilt Clemson's football program. They've been some really great lessons learned for young coaches out there if you're willing to learn and see how successful coaches have built cultures and started to sustain success that like you said, maybe not at traditional powers."
Petersen, Kelly and Swinney. That's a pretty darn impressive list. I think Iowa State would ask where to sign the dotted line to take that kind of year-in, year-out success.
It may not have even seemed like realistic to put Iowa State in the same sentence as those programs, but now they can dream. Why not? This program has earned the right to dream, and dream big for that matter. And a big reason for that is thanks to the leader and face of the program, Matt Campbell.
**Sign up here for our HCS weekly e-mails for a chance to win FREE Heartland College Sports and Big 12 team gear!!**