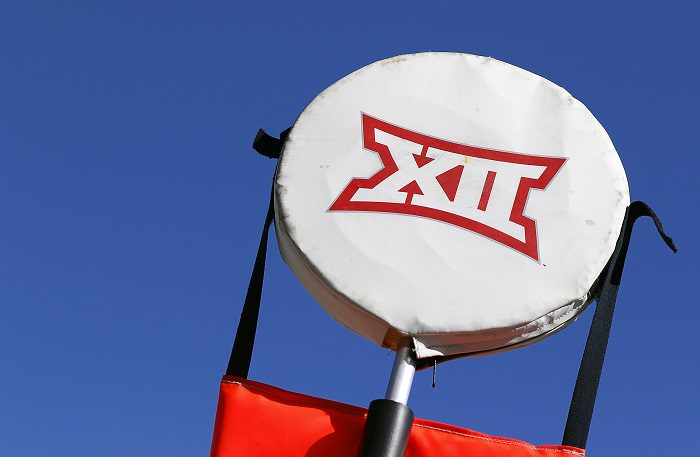 Big 12 football is just over one month away! And as we get closer, it's time to take a look at how teams will fare in the upcoming season. Every fan thinks that their team will go 12-0 and reach the Big 12 Championship and then the College Football Playoff. Unfortunately, that just is not possible. But there is certainly plenty of reason for several Big 12 fan bases to be optimistic as we get ready for the upcoming season. Can the Sooners remain atop the Big 12 without Baker Mayfield? Can West Virginia or Texas challenge OU? Is Oklahoma State in for a letdown? Will Baylor make a big leap in the win column? Those are just a few of the questions that face Big 12 teams heading into this fall. So let's get right to what Las Vegas has set for the Big 12 win totals and what I think the right side of the win total is to be on.
Please note: There are some teams I think will hit "the number", but it's my job to take a stance and have an opinion, not to give you the "push". 
Baylor Bears, 6 wins: OVER
This is one of those I think could be on the number, but if Baylor is able to go 3-0 in non-conference, I like these odds a lot more. I have serious concerns with the offensive line, but this team got so much experience last season for so many young players that it should pay off this season. QB Charlie Brewer could be the second best quarterback in the conference and he has a ton of talent at the skill positions. The non-conference isn't too tough with Abilene, UTSA and Duke at home. Then it's Kansas. Is a 4-0 start possible? Sure is. Then the momentum builds and Baylor could definitely find itself at 7-5.
Iowa State Cyclones, 6.5 wins: OVER
Iowa State's start to its schedule is very difficult with Iowa, Oklahoma and TCU between Week Two and Five. But they do get Oklahoma and West Virginia at home, with a well-placed bye week that is preceded by a home visit from West Virginia. The back end is easier for the Cyclones where they play Texas Tech, Kansas, Baylor, Texas and Kansas State. If the Cyclones can hold their own in the first half of the season and go 4-3 before the bye week, they'll be in great shape to top this number by the season's end. And I fully expect this to happen.
Kansas Jayhawks, 3 wins: UNDER
I hate to say it, but how can I possibly justify this team winning four games this season? Maybe three. But I said I wouldn't pick a "push", so I have to go under. Can they pick off two non-conference games against Nicholls, Central Michigan and Rutgers? It's possible. But I said that each of the past two seasons as well. Even if they do that, then they'd have to win two conference games. Where is that coming from? I do appreciate that David Beaty has helped get the scholarship numbers up and somewhat stabilize the program, but I just can't get myself to go anywhere but under on this pick.
Kansas State Wildcats, 6.5 wins: OVER
Kansas State has a tough Week Two game against Mississippi State, but every non-conference game is at home. In fact, through October 20th, the first eight weeks of the season, Kansas State only has to leave Manhattan twice: one trip to West Virginia on 9/22 and then Baylor on 10/6. The post-bye week schedule gets tough with two-straight road games against Oklahoma and TCU. But then it softens again with Kansas and Texas Tech at home. The schedule plays out pretty nicely for Bill Snyder's guys. And while 2019 might be the actual year that Snyder's Wildcats are competing atop the Big 12 Conference, 7 wins is far from unreasonable this season.
Oklahoma Sooners, 10 wins: OVER
This one tore me up. I LOVE then number at 10. But once again, you're not reading Heartland College Sports for cop-outs! So I don't think OU goes 11-1, but hell I don't see three losses on this schedule either. So I'm going to give Lincoln Riley and this program the benefit of the doubt based on the way this team has recruited in recent years and say that, yes, they can go 11-1 this season, despite the loss of Baker Mayfield and several other key players. The first Big 12 game at Iowa State might typically be a trap game, but not when you were stunned at home last season by the Cyclones. Road game at TCU and WVU in the second half are tough, but OU has not had problems with these teams in recent years, so why now?
Oklahoma State Cowboys, 8 wins: UNDER
Oklahoma State is losing a lot, and the reality is, Mike Gundy had 2016 and 2017 to try and win a Big 12 Championship, and he came up short. Now it's on to just trying to not need a full season of rebuilding. 7-5 feels about right for the Cowboys. I certainly can't find myself going to the 9-3 mark this fall. Not when the back half of the schedule includes Texas, Oklahoma, West Virginia and TCU in a five-week span. There is a quarterback battle to be had, a sneaky tough non-conference against Boise State and then a defense to fix. I'm playing this one safe with the under.
Texas Longhorns, 9 wins: UNDER
The Longhorns may have the toughest start to the season of any Big 12 team with an improving Maryland team (who they lost to last season), a solid Tulsa program, USC at home, followed by TCU, Kansas State and Oklahoma. Brutal. All that while not being clear on who the quarterback is? I know Texas has an enormous amount of talent and Tom Herman recruited and great Class of 2018. The young guys will get lots of run this season, but it will be a work in progress and there are still too many holes to justify this team winning double digits. Also, I just can't get myself to pick an "over" for Texas until I see it with my own two eyes.
TCU Horned Frogs, 7.5 wins: OVER
Death, Taxes and Gary Patterson exceeding expectations? Sounds about right. He may have lost 20+ seniors, but Patterson has recruited Top 25 classes with solid consistency and should be able to fill enough holes to get this team to eight wins. Southern and SMU are locks in the non-conference. That would require a stunner over Ohio State while going 5-4 in Big 12 play, or a loss to the Buckeyes and 6-3. It won't be easy, but considering this program has the best head coach in the Big 12 Conference, I won't bet against this team to not be in the top half of the conference standings when all is said and done.
Texas Tech Red Raiders, 6 wins: UNDER
The Red Raiders are heading into a must-win season for Kliff Kingsbury. The defense has a chance to be very good, but I just have too many concerns about where the program is and not enough places to grab easy wins. Outside of Lamar and Kansas, find me the games that TTU has locked down? You can't. That means they need to find five wins elsewhere in the schedule and I am not going to predict that. Who's the quarterback? Does the O-line hold up? Is this team really prepared to rely on its defense to carry the load? Kingsbury knows he has to win, or at least get to another bowl game, but I'm struggling to see how it happens.
West Virginia Mountaineers, 7 wins: OVER
What is the rest of the country seeing that I'm not? Even if this team goes 2-1 in non-conference play, splitting the Tennessee and NC State games, then this program only needs to go 6-3 for the over, and hell, 5-4 to just not LOSE your money. I don't want to sit here and say it's a guarantee, but damn it's a guarantee. The offense is outstanding and the defensive pieces via transfer and otherwise are good enough to hold their own in Tony Gibson's scheme. The front half of the conference schedule is fairly forgiving as well with K-State, Texas Tech and Kansas three straight weeks. The back half isn't easy, but they get TCU and Oklahoma at home in the final three weeks of the year. Go make some $$ while you can!
**Sign up here for our HCS weekly e-mails for a chance to win FREE Heartland College Sports and Big 12 team gear!!**