Big 12 News
Cyclone Nation on High Alert Over Urban Meyer Breaking News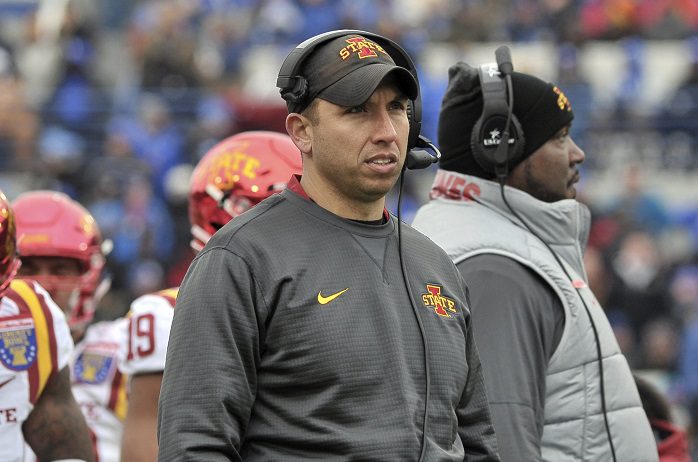 "What did he know and when did he know it." 
That is the old Watergate line that will determine whether or not Urban Meyer keeps his job as the head coach of the Ohio State Buckeyes. Former ESPN reporter Brett McMurphy dropped the bombshell that Urban Meyer, "knew in 2015 of domestic abuse allegations against a member of his coaching staff. Courtney Smith, ex-wife of fired Ohio State assistant coach Zach Smith, provided text messages between her and the wives of Ohio State coaches – including Urban Meyer's wife, Shelley – showing Meyer's knowledge of the situation."
The pictures of Courtney Smith's abuse are horrific and the question remains as to what Urban Meyer knew. The text messages show that Meyer's wife allegedly had informed Meyer of the abuse. However that contrasts from what Meyer said last week at Big Ten Media Days when he insisted he had no knowledge of the abuse between Zach and Courtney Smith in 2015.
Many are speculating that barring a minor miracle, or Urban Meyer's wife, Shelley, claiming that despite the text messages showing that she did tell her husband, she could deny that she actually told him. That might be the only thing to save Meyer's job. But heck, even that might do it.
So, what's next? Well interim coaching options on the staff are former OU offensive coordinator and Indiana head coach Kevin Wilson and defensive coordinator Greg Schiano. Neither are great long term options.
This news has naturally put Cyclone Nation on high alert. Head coach Matt Campbell signed a six-year extension late last season. The Cyclones were smart in giving Campbell a long-term deal and also locking in a $7 million buyout.
Iowa State finished the season 8-5, only their second season since 2005 with at least seven wins and their first bowl win (over Memphis) since 2009 when they beat Minnesota in the Insight Bowl.
To Campbell's credit, he said all of last season he was not going anywhere, despite rumors of interest from other high-profile programs. The head coach stayed true to his word. He deserves credit for that. But he's an Ohio native. He coached at Toledo. He still recruits the area heavily.
Randy Petersen of the Des Moines Register wrote after the extension in November, "It's clear to me that Matt Campbell will be the Cyclones' coach for a while. What I've written and said before, about Campbell not — I repeat: not — even batting an eye unless coaching positions at Ohio State, Notre Dame, Michigan State or Penn State become open, is more apparent now than ever before." 
Well, guess what? One of those jobs is potentially about to be open. And if you'd ask Campbell, it's probably the one of those three he desires the most.
Now that's not to say Ohio State would even be interested in Campbell if Meyer is fired, which is still a big if. But if the Cyclones go on to have another impressive season at a program that is not known for it's consistent football prowess, he will continue to turn heads around the college football landscape. Plus, Campbell has always been known to put integrity very high on his list of priorities and there have been no reports or rumors that he is in any way hypocritical of those beliefs and values.
Of course all this still has a long while to play out, and I desperately want Matt Campbell to remain at Iowa State for a very long time to come. But even the most diehard Cyclones fan has to be shaking in his or her boots just a little bit right now. It's only natural.
**Sign up here for our HCS weekly e-mails for a chance to win FREE Heartland College Sports and Big 12 team gear!!**