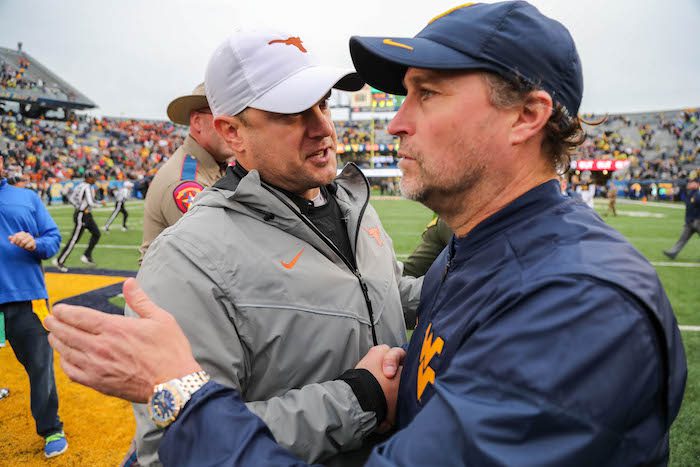 It's that time of year where football is scarce across Big 12 country. If you're like me, you need a football fix and quick. This mailbag is for all you football junkies out there who root for a Big 12 school who not only have questions about your team, but other teams in the conference as well. So, join me, grab a cold brew or your favorite drink and relax as I answer all your Big 12 questions in my mailbag. For those interested, I will send out a tweet (@Derekduke25) every Monday at noon until last call (No, not 2 AM) at 8 PM CT for you to send in your questions to be answered every Tuesday right here at Heartland College Sports.
I will pick the best question for each mailbag and label it as my question of the week. The winner gets a free HCS Koozie to keep your beer cold (Unless you like it warm, but that's just plain wrong). It was busy question day which tells me that this mailbag is working harder than me at my day job. Unlike the "Big 12 blog" over at ESPN (I say that loosely because one story a week is a tragedy), we here at HCS are determined to give you the best Big 12 coverage on the planet. I want to thank each one of you who submitted a question this week and for those reading, I am glad you could join me. I am enjoying a late-night cocktail myself and let's get this party started!
There are probably some that don't give a rats you know what about how my weekend was. If you do care or even if you don't, I am going to tell you anyways. I went to Fredericksburg, Texas this weekend to spend some time with family. While there were plenty of interesting shops there (and crap tons of people walking the streets), one thing stood out to me. Where is the beer? If you don't know, that area is heavy wine country and I don't know about you, but I am not qualified to drink wine. Ok, I just don't like it alright? Anyways, it turns out that finding a cold beer downtown and a bathroom are harder to find than you think in Fredericksburg. On to the mailbag!
@FitzDaddy85 asks: Do you think it's better to name a starting QB sooner rather than later or do you believe keeping up the competition through fall camp is beneficial?
Duke: I think it depends on the situation. If you had a guy play well last season and is returning, I would be in favor naming him the starter at the beginning of spring/fall camp and see how he and the team respond to it. I don't take a ton away from spring games but how about the practices? I think you can get a lot figured out then heading into the fall for the guys already on campus in the spring. When fall camp arrives, then you likely have newcomers that are trying to play catchup a little bit while others are ahead. My bottom line here: If there is a clear-cut number one guy, book it early in fall camp. If there is uncertainty or any doubts, let it play out into camp and see how things go. I am not crazy about the "fake" quarterback competitions now days, but I am ok with that if a coach has doubts.
@Doc_Texas asks: A lot of hype surrounding WVU. Do they finish in the top 25?
Duke: Well, I picked them to finish third in the Big 12 so I sure hope so. This team has a chance to reach a Big 12 title game and could be a fringe top 10 team if the cards fall right for them. Will they be undefeated if they reach a Big 12 title game? I doubt it, so I could see them anywhere in the 10-15 spot with one loss. The Big 12 doesn't get a ton of respect so every loss is like a loss and a half compared to a team from the SEC. Again, this team has the talent offensively to go far and compete for a conference title, but it would be a shame to see that go to waste if their defense can't stop anybody like last year. I keep referring to this defense when I talk about the Mountaineers because it is something that is potentially holding them back when it comes to serious talks about a Big 12 title or a playoff spot. If the Mountaineers finish with 3 or less losses (including a possible championship game), I would say yes. The chances of that happening in my opinion are very high. So, the final answer for me is yes.
@RPTexans asks: If (Huge if) Meyer is let go from Ohio State and Kliff Kingsbury is let go, would you put it at or above 90% that Urban Meyer is Texas Tech's next coach?
Duke: You may want to take off your Red Raider sunshine shades here for a minute and hear me out. While you are looking at this situation as the glass three quarters full, I see the Urban Meyer to Texas Tech situation as the glass completely empty. In fact, there is no water and no glass when it comes to this impossibility. If Meyer is let go, my guess is that he would give the NFL a shot. If he did for some reason go back to the college level, I don't think Texas Tech would be on his list of options. Not to bash Texas Tech here too much but I wouldn't hold my breath on this happening unless you let me call the ambulance to come pick you up before you do.
@StrawnBob asks: Have you done a Big 12 uniform ranking? How about logos and mascots?
Duke: I didn't do a full uniform ranking because there isn't enough time in the world for me to rank them in a certain order. However, I did answer a question in my mailbag a few weeks ago and I dished out my favorite uniform combo for each school. As far as logos and mascots go, I am indifferent about them. I truly feel like you can make any mascot or color look good if done right. Let Nike get ahold of something and they will likely make it work. Under Armour can be a bit out there sometimes and I don't care for Adidas, but they do have some uniforms and color schemes that work for me. Anyways, here is my best uniform for each team.
WVU- All Gold (Gold helmet, top and pants)
OSU- White Helmet, orange top and white pants or any homecoming combo
ISU- Chrome red helmet, white top and white pants (Liberty Bowl combo)
KU- White helmet, powder blue top and white pants (2011 season throwbacks to honor 1961 team)
KSU- Classic home uniform (Silver helmet, purple top and silver pants)
Baylor- Chrome gold helmet, green top and green pants
Texas Tech- Throwback double T uniforms (Black helmet, black top and silver pants)
TCU- Chrome purple helmet, black top and black pants
OU- Crimson helmet, crimson top and white pants
Texas- All whites (White helmet, white top and white pants)
@HypeManHarry asks: Where does the Big 12 rank in the conference power rankings?
Duke: I am going to assume you are asking my opinion on this since you participated in the mailbag. I am not going to look at ESPN or any other website for this because well quite frankly, I don't read that garbage. So, in terms of revenue, the Big 12 is behind the SEC and Big Ten when it comes to money coming in. In fact, they aren't exactly far off when you go look at the numbers and the Big 12 is ahead of the ACC and Pac-12. So, if we are talking about money, the Big 12 is ranked third out of five. Now, if we are talking about on the field, I would say second. The SEC was very top-heavy last season and like most seasons it's Alabama and a huge gap. Georgia is doing well in closing that gap, but they aren't consistently on that level yet. The ACC and Pac-12 are one team ponies and I would put the Big Ten possibly at one (Even though I make fun of them for not scoring a point in the CFP since the 2014 season). The Big Ten proved themselves during bowl season last year. I feel like the Big 12 is deep even though other folks in the media won't say so. Just go back and look and the last few bowl seasons and see for yourself. Numbers don't lie.
@KBehr68 asks: Put all the Big 12 head coaches' names in a hat for summer secret Santa. What would you get each of them if pulled and who are you hoping for?
Duke: Take notes people, this is what the mailbag is all about right here. It's questions like this that make my day better. So, if I had to pick one coach to get a gift for it would probably be Mike Gundy. Why? Because I could probably get him a six pack of beer and he would be happy. Of course, I would hope he would offer one to me and I would listen to that man ramble on about everything under to sun from his ranch to Boone Pickens. Here would be my gift list for every Big 12 coach.
 Tom Herman– The book called "Construction for Dummies". We all remember that disastrous sledge hammer swing last year and this book could help.
Matt Rhule- A bible. I think he is a family man and when it came to dealing with all the Art Briles questions when he started, a bible may have helped him get through that easier. This one was tough.
Gary Patterson– One of those stay cool towels. I would get him this because the man sweats on the sidelines like crazy and I am sure a nice cold towel would help him on those hot days.
Kliff Kingsbury- Sleeping pills. I don't know why and maybe it's just me but every time I see Kliff during an interview on TV or in person, the dude looks like he hasn't slept in a week.
Lincoln Riley- A fishing shirt. I don't know why but he looks like if he didn't coach football, he would be a fishing guide down at the coast.
Mike Gundy- Like I mentioned earlier, I think he would be happy with a six pack of beer.
David Beaty- A big bottle of his favorite liquor. Trust me, he will need it coaching this season.
Bill Snyder- A new jacket. Bill seems to roll with one jacket for years so why not get a new one for the ageless purple wizard?
Matt Campbell- Probably some sort of inspirational book or calendar. The man makes me want to run through a brick wall when he speaks. I think this would help him be an even better motivator if that's even possible.
Dana Holgorsen- A gift card to some hair stylist. Seriously, the visor is fine on game day, but something needs to be done with the hair style.
**Sign up here for our HCS weekly e-mails for a chance to win FREE Heartland College Sports and Big 12 team gear!!**