Big 12 News
Kansas State Extends Bill Snyder's Contract Through 2022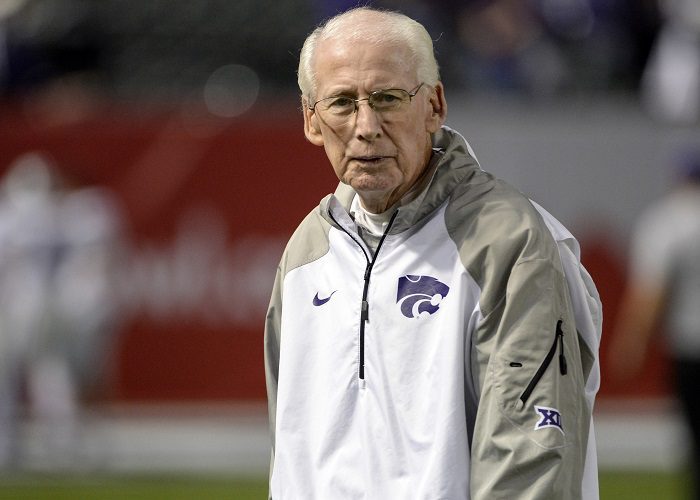 Kansas State announced Thursday that head football coach Bill Snyder has been signed to a five-year contract extension through the 2022 season.
At 78 years old, if Snyder finishes the contract, he will be 82 years old. By comparison, Joe Paterno was 84 years old when he was still coaching Penn State in 2011. At Florida State, Bobby Bowden retired when he was 80 years old.
There has been plenty of speculation as to when Snyder might hang 'em up and who might be his successor, but it seems like that conversation does not yet need to be had.

Snyder's second stint with Kansas State began in 2009 and he's won 73 games since, while winning 10+ games twice in 2011 and 2012.
Snyder will make $3.45 million in 2018, and his salary will increase by $300,000 each of the following two seasons, while the deal has a salary renegotiation clause after the 2020 season.
In a statement, Snyder said, "My entire family and I have been so very grateful for the genuine, caring and loyal support K-Staters have provided our coaches, staff, families and young people on a yearly basis. And, as I have stated so often we came to Kansas State because of the people, stayed because of the people and returned because of the people, and that remains unchanged. We have continued to make daily improvement as a football program, and I am grateful for the opportunity to continue and will do so as long as I am healthy and feel that I am having a positive impact on our university, community and football program and the young men that are involved. I appreciate so very much the leadership of President Myers and Gene Taylor, in addition to all past administrators and staff, and their commitment to our football program. And I am grateful for the exceptional players, coaches, support staff, student body, faculty, community and fans across the nation for all they have meant to our program and University."
Kansas State opens the season September 1 at home against South Dakota.