Big 12 News
Tom Herman, Brett McMurphy Deny Rumors of Herman's Ties to Urban Meyer Investigation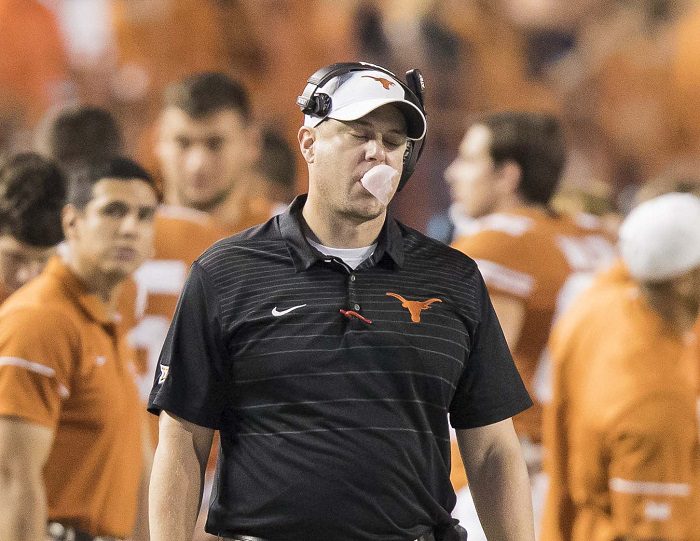 It's not college football season yet, but we are certainly having a wild Saturday afternoon in places like Austin, Texas and Columbus, Ohio.
There has been plenty of speculation as to what exactly went on between Urban Meyer, Zach Smith, Smith's wife, Meyer's wife, Ohio State University and who knew what and when. Meyer is currently on paid administrative leave until Ohio State finishes its investigation over the coming days.
But in the meantime, Texas head coach Tom Herman got tied up in the entire saga when Ohio State reporter Jeff Snook alleged that ESPN reporter Brett McMurphy was tipped off on the entire story by none other than Herman himself. Herman was the Ohio State offensive coordinator from 2012 to 2014 and worked with Meyer and Smith. But why now? Well as the story goes, per Snook's Facebook page:
"They wanted Zach Smith fired," one source said. "They had some dirt on him and wanted him off of Ohio State's staff."

The Hermans have even helped pay for Courtney Smith's legal fees, two of my sources told me.

Tom Herman's motive?

Herman was furious after five-star receiver Garrett Wilson committed to Ohio State in April over Texas, sources say. Wilson played at Austin (Texas) Lake Travis High, just miles from the Longhorns' campus. Zach Smith was the Buckeyes' primary recruiter in getting Wilson's commitment.
Since the report, McMurphy has responded on Twitter denying that Herman had anything to do with his story.
For those who have asked for my response to Jeff Snook's claim Saturday: "I have never revealed my sources in my nearly four decade journalistic career & I am not going to start now. However, I will say unequivocally that Tom Herman was not my source."

— Brett McMurphy (@Brett_McMurphy) August 11, 2018
There have also been allegations of the Hermans paying the legal fees for Courtney Smith. Herman has admitted to helping Smith, but nothing in the past year and a half.
Herman also addressed the Snook claim that he and Michelle helped pay Courtney Smith's legal bills: "In March of 2017, my wife assisted her friend Courtney Smith during a time of financial need. We have not provided any financial assistance since then." @statesman

— Brian Davis (@BDavisAAS) August 11, 2018
So what do we make of all this? I have no idea. Ohio State fans can be irrational at times, just like that bizarre rally they held for Meyer this week (I discussed that and more in this week's podcast). And as we know, the top reporters at various blue blood college football programs can often times end up as cheerleaders for their respective teams. Is that going on here? I don't know. None of us know right now.
But as the story continues to turn and change, we will continue to update it here at Heartland College Sports … Stay tuned.