Big 12 News
Sam Ehlinger Confident Texas Longhorns Offense Will Improve in 2018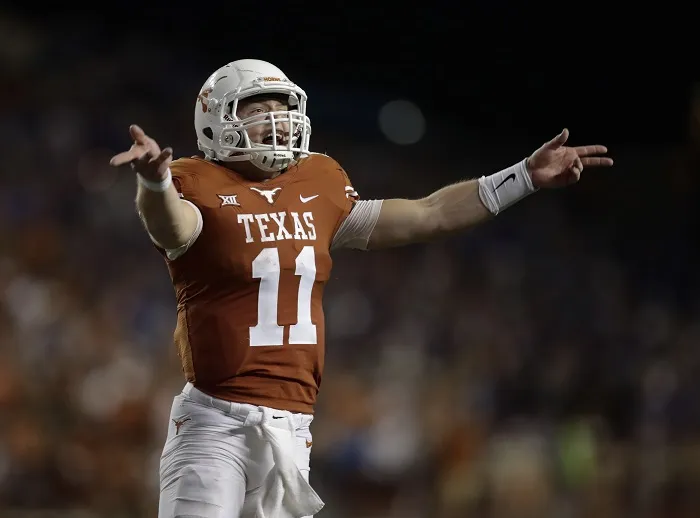 The Texas Longhorns were held back last season by the offense. The quarterbacks were green and made their share of mistakes, the offensive line was a mess, while the wide receivers and running backs were inconsistent. In 2017, the Longhorns ranked 7th in scoring offense and total offense. Meantime, their scoring defense was 3rd and the total defense was 2nd.
But as the program gets ready for Year 2 under Tom Herman, one of the expected leaders of the offense thinks his side of the ball is ready to turn the corner. Sophomore QB Sam Ehlinger was asked if he thought the Longhorns offense would be improved, to which he responded, "I 100-percent know." He pointed to the amount of experience many players on the team received last season.
"It's Year Two — we're not trying to figure out what we're doing on every play. We know what we're doing and now it's fine tuning the parts of the offense to make it excel even more."
That may be true, but another helping hand should be Herb Hand, no pun intended. Tim Beck had some rough stretches last season and Tom Herman has not yet indicated who will be calling plays this fall. Hand comes by way of Auburn where he was a very successful offensive line coach.
As for his own performance, Ehlinger said, "So at that point, you can be a quarterback and attack the defense and understand where you're trying to hurt them and what hurts defenses instead of just trying to figure yourself out."
Ehlinger is technically still in a quarterback battle with Shane Buechele, but I expect the sophomore to get the nod for Week 1 against Maryland. As for the offense as a whole, we have started rolling out our position rankings, and we are not in love with what Texas has at running back or wide receiver, but feel a little bit better about their quarterback situation.