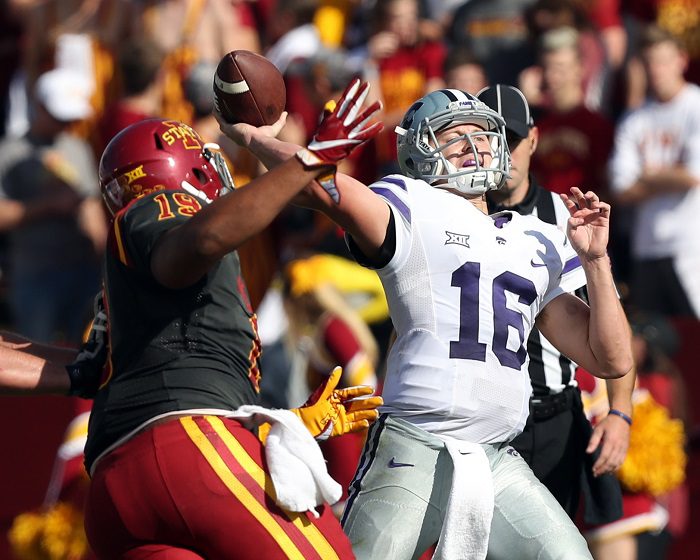 As we continue to roll out our various position rankings, let's head to a unit that has hampered the Big 12 Conference in recent seasons: the defensive line. Since conference realignment, many of the top defensive tackles and lineman in Texas have elected to take their talents to the SEC. This, along with the Big 12's propensity to spread it out on offense, has affected the conference's ability across the board to recruit the top-tier talent at the position. But the Big 12 might be starting to turn the corner at defensive line. So let's get to our rankings heading into the 2018 season.
Plus, if you missed our other position group rankings in the Big 12 Conference, here they are:
Quarterbacks
Offensive Line
Wide Receivers
Running Backs
1. Iowa State Cyclones
Depth, depth and more depth. What a job Matt Campbell has done with the big boys up front. Ray Lima will anchor the line in the middle, but there will be several players receiving playing time to keep the unit fresh in a fast-paced Big 12 Conference. JaQuan Bailey was fifth in the Big 12 with seven sacks last season. Eyioma Uwazurike was a key reserve last season and is poised for a much bigger role this fall. Also, don't forget about Matt Leo, the defensive end who was a top-40 JUCO prospect in the Class of 2017 and chose Iowa State over over Arizona, Oklahoma, Mississippi State and UCF. He played in just three games last season before a medical redshirt. Speaking of who not to forget: Kamilo Tongamoa. At 6'5", 310, he was a stud JUCO player who arrived late last season and didn't see much playing time. But the former four-star recruit picked ISU over Oklahoma State, Arizona State, Colorado, Oregon and Texas. This unit has so much potential, depth and quality to it that's unmatched in the Big 12 Conference.
2. TCU Horned Frogs
Well, to kick things off, the Horned Frogs have the preseason Big 12 Defensive Player of the Year in Ben Banogu. The defensive end decided to pass on the NFL Draft and continue to improve his craft this fall, which was a wise move. He finished second in the Big 12 with 8.5 sacks and third with 16.5 tackles for loss. L.J. Collier lines up on the other end, and the senior had four sacks last season. The defensive tackle position took a huge blow with a season-ending injury to Ross Blacklock, who had a chance to be the best defensive tackle in the conference. In fairness, if Blacklock was healthy, TCU would probably be No. 1. This is why I like to do the rankings as close to the season as possible. But fellow defensive tackle Corey Bethley shouldn't be forgotten. He is 6'2", 302 and had one sack plus five QB hurries and a fumble recovery. Replacing Blacklock is going to be a tall ask, but this unit is deep and very strong. An interesting player is Brandon Bowen, who was at Baylor and granted his release in the wake of the Art Briles scandal. He's a former four-star recruit who had offers from Michigan, Ole Miss, Oklahoma, Oregon and Texas.
3. Texas Longhorns
Health is the key for this unit in Austin, but boy is the potential enormous. Breckyn Hager had four sacks and eight tackles for loss in conference play last season and is ready to become a household name in college football. Marqez Bimage is a sophomore who many peg as a rising start at the position. Replacing Poona Ford at nose tackle won't be easy, but Chris Nelson, another senior, has a chance to be that log jam, along with Gerald Wilbon, who is 6'2", 310 and has played in 21 games. The other defensive end spot is held down by Charles Omenihu, who tied for the team lead in sacks, and also quarterback hurries with six.
4. Oklahoma Sooners
There is a lot of potential here for OU, but who is the star? The surprising early departure of D'Vonta Lampkin leaves a hole in the line that no one projected. Lampkin could have been a stud at defensive tackle. Kenneth Mann returns as the leader of the unit after five sacks last season and he will be joined by Marquise Overton, who led team's defensive linemen with 43 tackles and finished with 3.0 tackles for loss. At 6'3", 320, Dillon Faamatau adds nice depth to the rotation as well. Keep an eye on a true freshman defensive end who enrolled early and impressed thus far: Ronnie Perkins. Perkins was the No. 1 player in Missouri and 5th-ranked defensive end and picked OU over USC, Texas and Michigan. Another true freshman, Ron Tatum, joins the discussion after the fellow top-10 defensive end picked OU over Alabama, Notre Dame and Texas. Someone possibly ready to burst onto the scene is Neville Gallimore, who famously squated 500 lbs 23 times this offseason and can squat 800 lbs. Ridiculous! Next year this might be the top defensive line in the conference, but right now it's all speculative.
5. Oklahoma State Cowboys
This is a sneaky good unit that is not getting enough attention. New defensive coordinator Jim Knowles steps in and has a chance to put something special together this season with his defensive line. Jordan Brailford finished last season with five sacks and 11 tackles for loss and should continue to make a name for himself in the Big 12. He also led the OSU defensive linemen with 57 tackles. Cole Walterscheid came on strong late in the season, starting the final six games and racking up 20 tackles. It's believed that Knowles will let his guys play upright at defensive end, better utilizing their athletic abilities off the edge. Mike Scott steps in as the fourth-ranked JUCO defensive end as part of the Class of 2018 and should be in the rotation. Darrion Daniels and Trey Carter should hold down the inside with Daniels having a chance to be one of the best at his position in the conference this fall.
6. Baylor Bears
The unit had just 14 sacks last season, which was the second-fewest in the Big 12 Conference. Xavier Jones earned a fifth year of eligibility after he played in just four games before breaking his leg. He has lots of experience and leadership ability, but has yet to prove he's a top tier Power 5 defensive end. On the other side is Greg Roberts, also a veteran with 30 games played, but has yet to prove he's an edge rusher offensive lines need to double team. Texas A&M transfer James Lockhart might turn out to be the best of the bunch. The former four-star prospect sat out last season due to transfer rules, but the talent is there as he held offers coming out of high school from Alabama, Notre Dame, Oklahoma and Ohio State. Ira Lewis leads a group of defensive tackles who could exceed expectations with a nice trio to start things off of Lewis, Tyrone Hunt and Bravvion Roy. Lewis was top 10 in the Big 12 last season in sacks and tackles for loss.
7. Texas Tech Red Raiders
Like much of the Texas Tech defense, the Red Raiders return a ton of production along the defensive line. There's defensive end Eli Howard and defensive tackle Broderick Washington leading the charge. Howard had 5.5 sacks and 8.5 tackles for loss last season, while Washington was able to stuff the middle at 6'5", 305. There's also Joe Wallace in the middle, who got lots of playing time in 2016 as a freshman, but redshirted last season. He's 6'1", 315, and played in eight games two seasons ago with ten tackles. Lonzell Gilmore and Nick McCann add depth to a line that has a lot of capable pieces to it.
8. West Virginia Mountaineers
Gone are Adam Shuler and  Lamonte McDougle, two big blows for Dana Holgorsen's defensive line. This is a very tough break for a unit that was already thin on experience and bodies. Ezekiel Rose was had 4.5 sacks last season and the rising senior should lead the line which is looking for answers from USC transfer Kenny Bigelow, who is on board as a graduate transfer. Another transfer in tow is Jabril Robinson from Clemson. He played in 11 games and had 19 tackles last year as a part-time player along arguably the best defensive line in the country. Then there's the brother duo of Darius Stills, who saw some playing time as a freshman last season, and Dante Stills, the top prospect in West Virginia in the Class of 2018, and 7th-ranked defensive end in the country. Reese Donahue surprised some with his production last season and earned All-Big 12 Conference Honorable Mention. But one injury and this unit will be even thinner than it already is.
9. Kansas State Wildcats
Reggie Walker leads the unit at the defensive end spot. The redshirt junior was a 2017 Second Team All-Big 12 selection after piling up 36 tackles, six tackles for loss and a pair of sacks. But these numbers were down from 2016 when he was named the Big 12 Defensive Freshman of the Year. At the other defensive end spot, Bronson Massie may have the upper hand as he came on strong late last season, but expect players like Kyle Ball and Wyatt Hubert to be in the mix. Trey Dishon is back to anchor the defensive tackle spot after earning Honorable Mention All-Big 12 accolades last season. He was also voted a team captain for the upcoming season. Next to Dishon is also up in the air, but expect to see names like Texas State transfer Jordan Mittie, Butler CC transfer Tyquilo Moore and Drew Wiley in the mix, along with redshirt freshman Eli Huggins. But a lot remains unknown about how this unit will perform and its potential.
10. Kansas Jayhawks
Dorance Armstrong didn't repeat his 2016 season in 2017, but he decided to bolt for the NFL anyway, where he was selected by the Dallas Cowboys. But one of the best defensive lineman in the Big 12 resides in Lawrence, KS and he's Daniel Wise. He was fourth in the Big 12 with seven sacks last season and fourth with 16 tackles for loss. Meantime, David Beaty added some help in the Class of 2018 with two top-10 JUCO linemen in Najee Stevens-McKenzie and Azur Kamara. Both are long defensive ends, standing at 6'4", 215 and 6'6", 230, respectively. J.J. Holmes heads into his senior season after 11 starts at defensive tackle in 2017 where he racked up 24 tackles, including 14 solo tackles, 2 tackles for loss and a sack. Despite their low ranking, if KU struggles like last season, it's unlikely to be because of the defensive line.
**Sign up here for our HCS weekly e-mails for a chance to win FREE Heartland College Sports and Big 12 team gear!!**