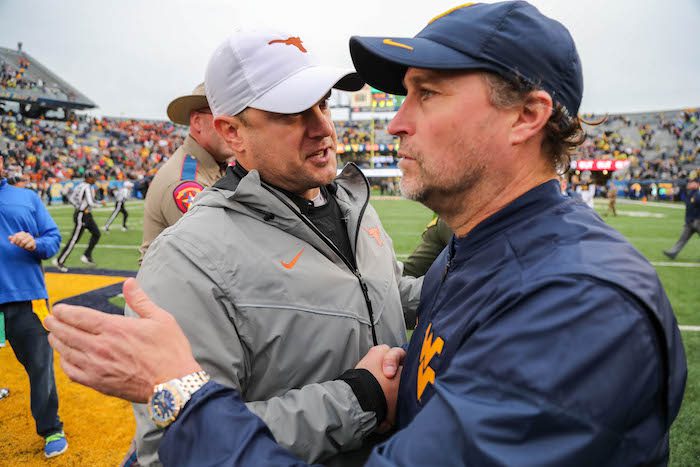 As we get ready for the upcoming college football season, the guys at Heartland College Sports decided to have the debate over who will be the most overrated team in the Big 12 Conference this fall. There appeared to be a common theme in many of the answers. We will let you debate away in the comments! Reminder: We are partnered with BetNow.EU – the website we are using to place our Big 12 bets this fall! Using promo code "Heartland" for a 100% sign up bonus!
Pete Mundo: Texas. Was there ever a doubt? Every year we've wondered, "Is this the year Texas is back?" Tom Herman had a great recruiting Class in 2018 and I believe that starts paying dividends in 2019. But for this season, the program is ranked in the Top 25 in the AP Poll, and I'm not quite sure why. The team has concerns on the offensive line and running back, inconsistencies at wide receiver, while the defense loses a lot of production from last season. I do believe Tom Herman can turn around this program, but the media is getting ahead of itself believing that it'll happen this fall.
Derek Duke:  This one is tough but I have had to pick one overrated team this season, it would be TCU. I see a lot of people putting them in the Big 12 title game or finishing third in the Big 12 this season. I think that's a little high in my book. The offense has plenty of question marks. Kenny Hill is gone at quarterback and now its Shawn Robinson turn to take the reins. While I think Shawn has the tools to succeed (Big arm, size), his accuracy needs some work not to mention, taking care of the football. Also, the offensive line is definitely still in a rebuilding mode as I ranked them as the 7th best offensive line in the Big 12 right now. Bottom line, I think there will be some offensive growing pains this season for TCU. Defensively, I still like them but don't forget, they lose some veteran guys on that defense from a season ago. As long as Gary Patterson is coaching, defense shouldn't be a problem but I think the offense makes TCU take a step back this season.
Matthew Postins: The Texas Longhorns. That's an easy one for me. This is a program that hasn't won more than seven games in a season since Mack Brown left (remember the Longhorns won 8 games that last season under Brown). Yet the Longhorns were in the Top 4 in the Big 12 preseason poll and they're in the AP preseason Top 25. It's time for the Longhorns to show me they're worthy of that type of hype. Sam Ehlinger has been named the starting QB, but that situation still concerns me enough to think they're overrated.
Cameron Brock: Texas is not back. In fact, the Longhorns will not make a bowl game this season if Tim Beck calls the offensive plays. Texas lost their best lineman to the NFL, and the line was not good to start with. Additionally, Tom Herman has managed to piss off most of Charlie Strong's guys. Hence, why he lost three key players to last season's bowl eligible team. Texas will have to replace Unanimous All-American Deshon Elliott, Big 12 Defensive Lineman of the Year Poona Ford, All-American Malik Jefferson, and a solid Holton Hill. Altogether, half of the defense is gone. As if that wasn't bad enough, Texas Bowl Most Valuable Player Michael Dickson will not be switching field position either. Yes, even the punter chose to forego his senior season. It doesn't help that Herman's entire tenure at Texas has been filled with drama. If Herman doesn't get this ship turned around quickly, he may just be Charlie Strong 2.0.
Dave Beall: West Virginia. I know they are the trendy pick to challenge OU this season but I just don't believe in them. The Grier/Stills combo should be potent but Holgorsen's Mountaineer teams have a history of fading down the stretch and not meeting expectations. With the Big 12 having three of the top running back groups in the nation this year they need their run defense, last in the Big 12 in 2017, to make a serious jump or OU, OSU, ISU, heck even KSU will just grind them to death while while the WVU passing attack sits on the sidelines and watches.
**Sign up here for our HCS weekly e-mails for a chance to win FREE Heartland College Sports and Big 12 team gear!!**