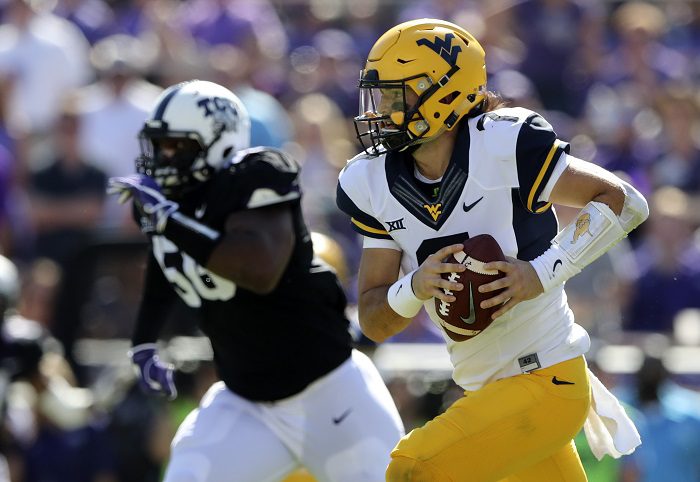 FOOTBALL SEASON IS UPON US! Welcome to the HCS Big 12 mailbag. This mailbag is for all you football junkies out there who root for a Big 12 school who not only have questions about your team, but other teams in the conference as well. So, join me, grab a cold brew or your favorite drink and relax as I answer all your Big 12 questions in my mailbag. For those interested, I will send out a tweet (@Derekduke25) every Monday at noon until last call (No, not 2 AM) at 8 PM CT for you to send in your questions to be answered every Tuesday right here at Heartland College Sports.
I will pick the best question for each mailbag and label it as my question of the week. The winner gets a free HCS Koozie to keep your beer cold (Unless you like it warm, but that's just plain wrong). It was busy question day which tells me that this mailbag is working harder than me at my day job. Unlike the "Big 12 blog" over at ESPN (I say that loosely because one story a month is a tragedy), we here at HCS are determined to give you the best Big 12 coverage on the planet. I want to thank each one of you who submitted a question this week and for those reading, I am glad you could join me. I am enjoying a late beer myself to help me work my way through the mailbag.
There are probably some that don't give a rats you know what about how my weekend was. If you do care or even if you don't, I am going to tell you anyways. My weekend was bland. Friday night I relaxed at home and Saturday I mowed the grass (Talk about some fun huh?). However, I did go to a local brewery here in San Antonio to try some unusual beers which was quite interesting. Of course, my Saturday night ended up at a Texas favorite, Whataburger to soak up the beer. As for Sunday, I spent most of my afternoon prepping for week one not only for here but for some high school games I will be covering as well. On to the mailbag!
@Chrissboom_ asks: What if any teams are upset week 1? Vegas has Tech as a favorite, but I am not buying that one.
Duke: Personally, I don't see an upset in week one happening in the Big 12. Texas Tech and Ole Miss is probably the one game I would worry about in terms of the conference. Would I call it an upset if Ole Miss beat Tech? I wouldn't but that's just me. Out of the 10 Big 12 games heading into the weekend, I would be shocked if the Big 12 finished worse than 9-1 coming out of the weekend. Weeks 2 and 3 have a much better slate of Big 12 games than this first weekend. If I were you, I would come back and visit the mailbag sometime in the next two weeks and ask the same question. Cheers!
@mundodelovoide asks: What is your W-L prediction for the Big 12 in week 1? What teams are on upset alert?
Duke: Let's start with teams that could be on upset alert. Texas traveling to Maryland at FedEx Field is one because it will depend on which Texas team comes to play that game, but I think Texas will get their revenge from a year ago. Nicholls at Kansas is interesting just because they fact that Kansas is playing, and I have no idea what to expect but they should take care of business this weekend, but I wouldn't hold your breath on that one. FAU at Oklahoma is a game everyone is buzzing about but the Sooners have too much talent for me not to pick them in that game and the last one I would say West Virginia and Tennessee. What will that WVU defense look like? Those four games I would say they are on "upset watch" but I think they will take care of business. Overall my conference W-L after week one is 9-1. I think the Texas Tech and Ole Miss game is a toss-up and if I say the Big 12 goes 10-0 after week one, I would probably jinx myself, so I'll say 9-1 coming out of the weekend.
@Doc_Texas asks: Looking at SOS (Strength of Schedule), which Big 12 teams do you think can survive 1 loss and still make the playoffs?
Duke: I am going to make this simple. Well, sort of. Here would be my criteria for a 1 loss Big 12 team making the CFB Playoff. Any Big 12 team can get to the playoff, yes even Kansas if the circumstances are right. These would be the ONLY ways a 1 loss Big 12 team wouldn't get in the playoff for THIS SEASON.
Lose in the Big 12 title game

Lose to a non-power 5 school in the non-conference (Except for Boise State)

Lose any game by more than 20 points

The CFB Playoff committee being dumber than usual or changing the criteria to get in (Again)
@jonkev50 asks: Rank the teams by cheerleaders in the Big 12
Duke: If they all have some female cheerleaders, they are all good in my book.
@KBehr asks: What stadiums will you be visiting each week?
Duke: With as much going on week to week in the Big 12, plans can change faster than you can blink. You may think one matchup may be great down the road and a quarterback injury can throw a wrench into all of that or if the team starts going downhill by losing games. We try our best as a staff to go to the best games each week but at the same time, we try to be fair and go to all the stadiums if possible. Right now, I am planning on going to Austin (If Texas cooperates with us), Lubbock (Texas Tech), Waco (Baylor), Norman (Oklahoma), Fort Worth (TCU) and maybe one more but I am not totally sure yet. I usually don't know until the week before but for the first three weeks I will likely be heading to Baylor at UTSA in week 2 and I haven't made up my mind for week 3 just yet. So many great games in week 3 that I may decide not to leave my couch at all and just soak it all in.
@LongHorn Frenzy asks: Give us your game predictions for the weekend
Duke: Here is my full list game by game:
Missouri State @ Oklahoma State-

Oklahoma State

Texas Tech vs Ole Miss- Toss up but say

Ole Miss

Texas @ Maryland-

Texas

Southern @ TCU-

TCU

FAU @ Oklahoma-

Oklahoma

Tennessee vs WVU-

WVU

Nicholls @ Kansas-

Kansas

South Dakota @ Kansas State-

Kansas State

Abilene Christian @ Baylor-

Baylor

South Dakota State @ Iowa State-

Iowa State
@FitzDaddy85 asks: What's your first beer of choice to start the first full weekend of college football?
Duke: My beer drinking usually goes in phases because a lot of times I go try a new beer and buy a couple six packs of it before rotating in a new one just to keep things interesting. Right now, for week one, I would have to say my favorite beer now is a Dallas Blonde made by Deep Ellum Brewing Company out of Dallas, Tx. It's an American Blonde Ale that is VERY refreshing especially down here in south Texas where we will see 100 degree plus weather for a few more weeks. Maybe once it cools down a bit (I am looking at you October), I will start a new beer journey.
JCobbs90 asks: What quarter do you think all the Tennessee fans start to file out of bank of American Stadium on Saturday? I'm thinking 5 minutes before halftime, so they can grab a hotdog for the road?
Duke: I can't speak on the behalf of Tennessee fans, but my guess would be late third quarter or early fourth quarter. I think WVU wins this game like 35-17 or something close to that. I think it will still be interesting at the half and then you will see the Mountaineer offense to start pulling away in the third quarter or so. By the way, I am enjoying the smack talk between these two fan bases. For any Tennessee fan who is clueless, tell me, what your program has done in the last 10 years? The Vols haven't won ten games in a season since 2007 and that was also the last time they won the SEC East. 2007! Also, since 2008 Tennessee is on their fifth different head coach. Even though Tennessee may not be a great team this season anytime a Big 12 team can beat an SEC team it always helps the conference because everyone and their mother worships the SEC, especially the media.
@StrawnBob asks: Who are the dark horse candidates to win the league and finish in the cellar (One each)? Also, zero, one or two programs have a new coach next year at this time?
Duke: Great question Bob. I mentioned Texas Tech as my most underrated team in our weekly HCS roundtable but to win the Big 12 as a dark horse, give me Kansas State. I feel great about the offensive line and with Alex Barnes running the football, I see a recipe for success there. The biggest question for the offense is wide receiver to me, who will step up there with the loss of Byron Pringle? Isaiah Zuber maybe? I am not sure, but I do like both Skylar Thompson and Alex Delton at quarterback, so I think the offense will be fine. If they can clean up some things on defense, watch out for the Wildcats this season to contend for a conference title. As my cellar dweller, it's not a hard pick but Kansas will finish last in the Big 12. I don't think there can be any valid argument against that.
For the last part, I am going to say only one program will have a new head coach by this time next year and it will be (Drum roll please) Kansas. What a total shocker right? It's no secret this is a win or go home situation for David Beaty and with a new AD in Jeff Long, I am sure he will want to bring in someone he wants to rebuild this Kansas football program.
**Sign up here for our HCS weekly e-mails for a chance to win FREE Heartland College Sports and Big 12 team gear!!**