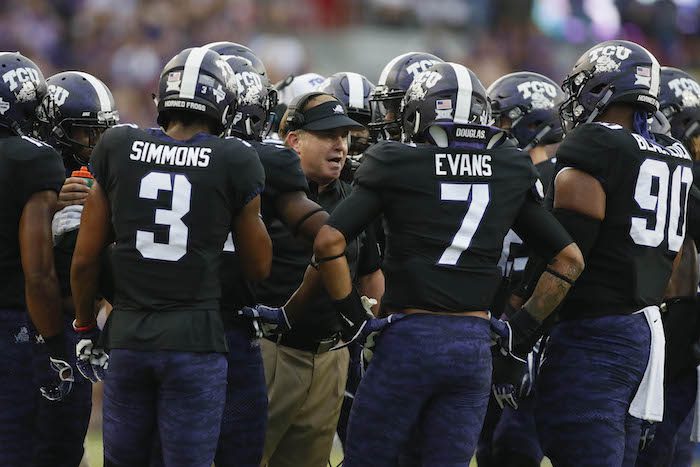 Here is everything you need to know about the Horned Frogs' season opener in our Southern vs. TCU Preview.
11 a.m. Central Time, Saturday, Sept. 1, 2018, Amon G. Carter Stadium, Fort Worth, Texas
TV: FSN (Mark Followill, Brian Baldinger and Lesley McCaslin)
Radio: WBAP 820 AM, Sirius 113, XM 200
Key players
Southern
RB Devon Benn. The New Orleans native represents the most experienced player in the Southern backfield. The redshirt sophomore rushed for 453 yards last year and must replace Herbert Edwards, who rushed for nearly 1,000 yards in 2017.
WR Jamar Washington. With no returning starting quarterback Washington will have to work with whichever quarterback wins the starting job. Washington caught a team-high 37 passes last season.
DB Andre Augustine. He is the Jaguars' leading returning tackler from 2017, with 54 tackles and  a half-tackle for loss. He'll anchor a secondary that only gave up 2,032 passing yards last season.
TCU
QB Shawn Robinson. He had a solid debut as a starting quarterback last season, leading the Horned Frogs to a 27-3 win over Texas Tech in Lubbock. He threw for 85 yards and rushed for another 84 yards in the win. Now, the job is his to lose.
RB Darius Anderson. The back had three 100-yard rushing games before an injury prematurely ended his 2017 season. With Kyle Hicks gone, Anderson slides into the lead rushing role for an offense that could use his toughness and burst.
DE Ty Summers. The senior, who plays more like a linebacker (he's a two-time All-Big 12 LB), has the kind of leadership and production his head coach, Gary Patterson, is looking for. Summers enters the season as the defense's active leader in tackles with 271. That's 138 tackles ahead of CB Niko Small.
DE Ben Banogu. He flirted with leaving early for the NFL, but he decided to stay for another season and that has the chance to pay off big time for the pass rusher, who had 8.5 sacks last season.
Key storylines
Southern
The Jaguars won seven games last season, but they have some major holes to fill. Their starting quarterback and leading rusher are gone, along with their top two tackles and leading pass rusher. The Jaguars need Benn to be a big part of the run offense early so that the passing game can find its balance. Meanwhile, the Jags need to cultivate a pass rusher and get a couple of linebackers to emerge as highly-productive players. For all those holes to fill, Southern has plenty of team speed and some experience to work with this season.
TCU
The Horned Frogs are coming off a trip to the Big 12 championship game in 2017 and should contend again, assuming Robinson plays as advertised and the Horned Frogs are able to rebuild their offensive line, which lost four starters. The defense should be its usual self, especially at defensive end, linebacker and the corners. The key is how the Horned Frogs will respond on its interior defensive line, where they lost a key tackle, Ross Blacklock, to an Achilles injury during fall workouts. The Horned Frogs have former freshman All-American Corey Bethey, a sophomore, and redshirt freshman Terrell Cooper, set to start.
Prediction: TCU 37, Southern 10. The Horned Frogs shouldn't have much trouble in this one. Southern is coming off a below-.500 season in 2017 and doesn't offer much in the way of serious competition. For the Horned Frogs, they're hoping this one turns into a blowout early so that they can dig into their depth chart and see what they have on their roster as they prepare for SMU and Ohio State the next two weeks. In fact, TCU doesn't have to leave the state of Texas for a game until Oct. 27 when it travels to Kansas.