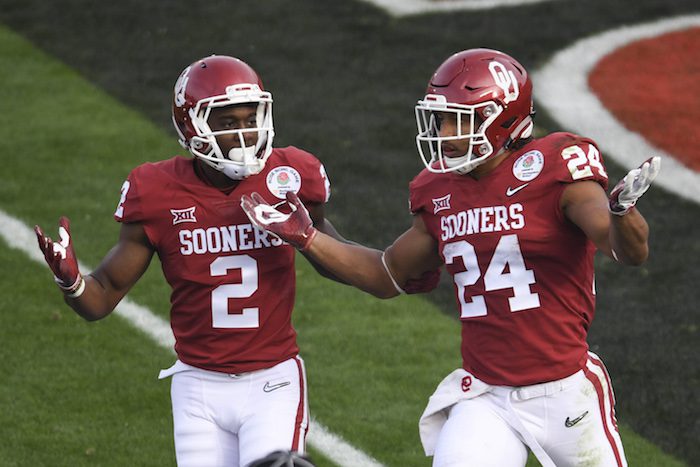 Here is everything you need to know about the Sooners' season opener in our Oklahoma vs. FAU Preview.
Game info
11 a.m. Central Time, Saturday, Sept. 1, 2018, Memorial Stadium, Norman, Oklahoma
TV: FOX (Gus Johnson, Joel Klatt, Jenny Taft)
Radio: KOMA 1520AM and KRXO 107.7 FM; Sirius/XM 83
Fun Fact: Oklahoma is 21-0 all-time against teams currently in Conference USA.
Key players
FAU
RB Devin Singletary
Singletary is the preseason Conference-USA Offensive Player of the Year and was a third-team All-American in 2017. He rushed for 1,920 yards (leading the nation) and 32 touchdowns, while catching 19 passes for 198 yards.
LB Azeez Al-Shaair
Speaking of players of the year, Al-Shaair is the preseason Conference-USA Defensive Player of the Year selection. He had 147 tackles last season, which ranked fifth in the country, while also racking up 11 tackles for loss and 2.5 sacks.
Oklahoma
QB Kyler Murray
Welcome to the big leagues, fella. It's time to prove that delaying those millions of dollars from the A's was a wise decision. It's the first time since 2014 that Baker Mayfield will not be under center, or out of the Pistol, for the Sooners. Murray completed 18 of his 21 throws for 359 yards and three touchdowns without an interception in seven games in 2017, while rushing for 10.1 yards per carry. All the potential in the world is there, let's now see it.
RB Rodney Anderson
The Big 12's second-leading rusher is back in the mix and ready to lead a loaded ground attack. Anderson had over 1,100 rushing yards last season and was a second-team All-Big 12 selection. With Mayfield gone, Lincoln Riley may rely even further on his running game, especially early as Murray gets comfortable.
LB Kenneth Murray
After a standout true freshman season, Murray is one of six returning starters on defense. He was named the co-Big 12 Defensive Freshman of the Year and was named a Freshman All-American. With Obo gone, Murray and Caleb Kelly will look to help fill the role at linebacker.
Key storylines
FAU
The Owls return all 11 starters on the offensive side of the ball under Lane Kiffin. Chris Robison is in on the action at QB, ironically a former OU transfer, with his dual-threat ability (he was one of the top dual-threat QBs coming out of high school), alongside Singletary in the backfield having the potential to cause a slew of issues for the Sooners. The Owls averaging 40.8 points per game last season, which was 8th in the country. Lake Kiffin's defense is solid, but it is unlikely to truly slow down Lincoln Riley, Kyler Murray and Co. So if FAU has any chance of winning, they should be looking for a shootout and hope they have the ball last.
Oklahoma
The Sooners are working in Kyler Murray at QB, who is a veteran in many ways, but not so much in others. He's had a long, winding journey to this moment from A&M to OU, but he obviously wants it, as he delayed his baseball money. So with that being said, will their be any jitters? I expect to see Lincoln Riley's playbook include plenty of run plays, options and tosses in the flat to start things off. From there, he may begin to open up the playbook. There is some pressure on Mike Stoops to not have his defense get embarrassed by a Conference-USA program, even though it is an explosive unit they're going up against. Stoops might have the most pure talent OU has had on defense in a long time. If so, it's time for his guys to pick up the slack.
Prediction: OU 52, FAU 38. Hey, don't sleep on the Owls. Lane Kiffin has an offensive machine coming to town that won the Conference-USA at 11-3 and the won the Boca Raton Bowl. OU will take care of business with relative ease, but FAU knows how to put points on the board. With all 11 starters back in the fold, this game almost has a similar feel to the 2016 OU game against Houston that really put Tom Herman on the map as a Power 5 coach. Could it re-do that for Lane Kiffin? Let's hope not and I don't think it will. But the game has intrigue.