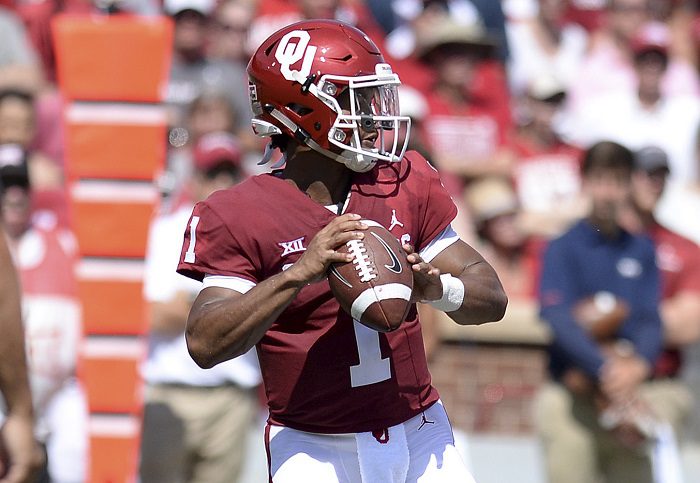 Baker who?
That might have been the sentiment across Gaylord Memorial Stadium on Saturday afternoon after the Oklahoma Sooners rolled over Florida Atlantic 63-14.  It was the first time since 2014 that Baker Mayfield was not the quarterback under center to start a season for the Sooners and Kyler Murray more than held his own. Murray was only needed for a handful of drives thanks to OU's incredibly efficient offense and overwhelming defense, and finished 9/11 for 209 yards and two touchdowns, along with four carries for 23 yards.
Not only did the QB have the accuracy and wheels, but Murray's 65-yard touchdown hook up with Marquise "Hollywood" Brown gave OU fans a glimpse of the arm that Murray possesses that earned him a five-star rating coming out of Allen High School in the Class of 2015.
Murray's scramble out of trouble in the first half was shades of Johnny Manziel and Lamar Jackson mixed into one. As good as Baker Mayfield was with his feet, he did not have this quality to him. That's an exciting prospect for the Sooners and will keep Big 12 defensive coordinators up even later at night.
Kyler Murray is GOOD at this football thing pic.twitter.com/0ZYJTuRxrP

— Jack McGuire (@JackMacCFB) September 1, 2018
Replacing a Heisman-winning quarterback is not supposed to look this easy. Sure, it's against a Group of 5 school, but it was against a program who received votes in the Preseason AP Poll. Murray made the Owls defense consistently look silly. His afternoon was done following the aforementioned 65-yard touchdown to Brown. His replacement, Austin Kendall, who Murray was in a quarterback battle with all summer long should give OU fans even more optimism for what's to come in 2019 when Murray takes his talents (and $5 million) to the Oakland A's.

Lincoln Riley also gave us a glimpse of what he is likely to do even more of this season: run the ball. Yes, OU was in control all afternoon, so keeping the ball on the ground made sense, but even so, the Sooners averaged 8.1 yards per carry with 316 rushing yards. Rodney Anderson ripped off touchdown runs of 30 yards and 65 yards, while Trey Sermon looked even more impressive than his true freshman season, with Kennedy Brooks, Marcelias Sutton and T.J. Pledger all looking like very capable pieces to an extraordinary backfield.
Murray told the FOX broadcast, "We've come up short the last three years, and for me, in my eyes, it's to win a national championship."
If Saturday was a sign of things to come, along with Mike Stoops' defense, which held one of the most efficient offenses in the country last season to zero first half points and 3.1 yards per carry, then watch out. Murray might be able to ultimately fulfill his promise during his brief stint in Norman, Oklahoma.
**Sign up here for our HCS weekly e-mails for a chance to win FREE Heartland College Sports and Big 12 team gear!!**