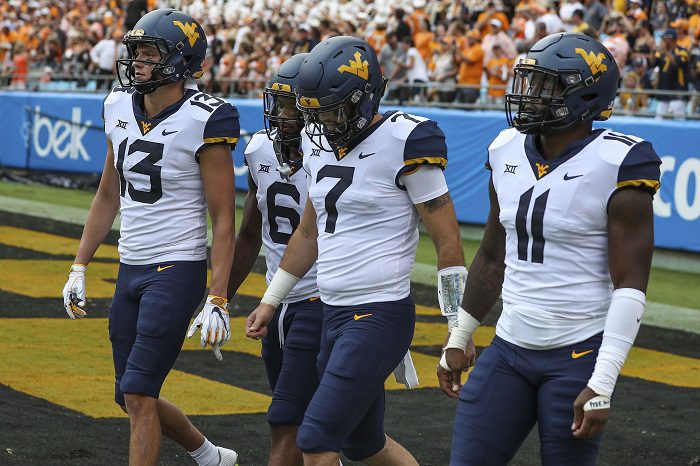 Entering the season, the West Virginia Mountaineers had a Heisman contender at quarterback in Will Grier, arguably the best wide receiving corps in the country and a pair of offensive minds running the show in Dana Holgorsen and Jake Spavital that are nationally renowned for their abilities to scheme to put points on the board.
But on Saturday, in a 41-14 win over Tennessee at Bank of America Stadium in Charlotte, North Carolina, it was the West Virginia defense that stole the show.
The Mountaineers offense got off to a bit of a rocky start, by their standards. There was a pair of dropped touchdown passes and Grier with a couple of unusual over/underthrown passes, possibly due to some early-season nerves of playing in his hometown. Eventually, the Mountaineers got the offense rolling following an hour-long weather delay at halftime, where WVU was leading 13-7.
But as the West Virginia offense was getting itself settled and working out some kinks, it was the defense, yes the Mountaineers defense, that picked up the slack and helped WVU roll to victory.
After the win, defensive coordinator Tony Gibson said about his guys,  "There were questions about people had about our defense and I think our kids responded." 
And respond they did. Gibson's unit held Tennessee to 301 total yards, along with an incredible 12 tackles for loss and a sack. Kenny Bigelow, the USC transfer at defensive tackle, made his presence felt early and often with two tackles for loss, but more importantly, clogging up the A gap, drawing two offensive linemen, and creating opportunities for several other players on the defense.
For Bigelow, the former five-star recruit who played sparingly at USC after dealing with two ACL tears, said after the game he's been waiting for this moment. "I dreamt about this last night to be honest with you. I was so excited to get out here. I've been working really hard with these guys. I thank God for the opportunity to allow me to come to West Virginia. I live for what happened on that first play. It told me that I'm here now, I'm healthy, I'm focused and I'm ready to do work."
It's early, but the 6'4", 307 pounder looks poised to become one of the most feared interior lineman in the Big 12 Conference this fall. Jabril Robinson, the Clemson transfer at defensive end, had a more quiet afternoon with three tackles, but both have already become leaders on the team, with Tony Gibson adding, "Those two [Bigelow and Robinson] were excited all week to play and they're grateful for the opportunity  and we're grateful to have them. They're a joy to coach and they play their butts off – I'm really excited about those guys."
Meantime, the secondary including Kenny Robinson, Hakeem Bailey, Dravon Askew-Henry, Josh Norwood and Toyous Avery all held their own, and more, as well. The Mountaineers had three pass break ups and allowed only 172 passing yards from Tennessee QB Jarrett Guarantano.
On Saturday, West Virginia's defense held Tennessee to 3.4 yards per carry and 6.9 yards per pass. By comparison, WVU lit up the UT defense for 12.6 yards per pass. Keep those numbers up, and the Mountaineers will end up having a heck of a 2018 season.
When it comes to discussing the Mountaineers moving forward, the focus will still be on Will Grier, David Sills and the rest of the explosive offense in Morgantown, but don't overlook this defense. If WVU wants to reach its goals and find itself playing in Arlington in December, it will ultimately be the defense that helps carry them there. The offense can't do it alone.
**Sign up here for our HCS weekly e-mails for a chance to win FREE Heartland College Sports and Big 12 team gear!!**