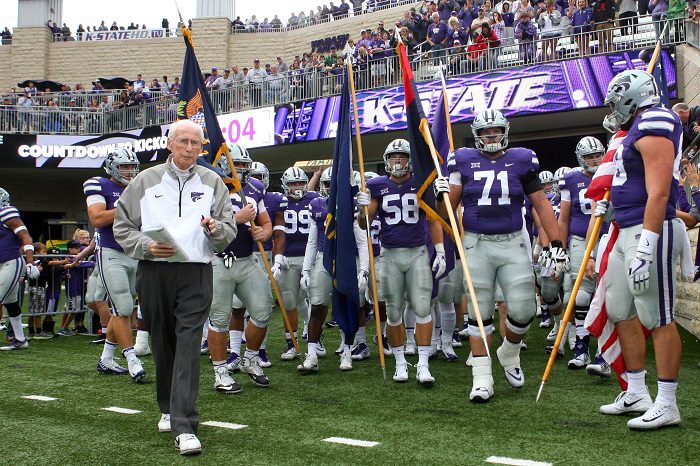 Here is everything you need to know about the Wildcats' second game of the season in our Kansas State vs. Mississippi State preview.
Game info
11:00 a.m. Central Time, Saturday, Sept. 8, 2018, Bill Snyder Family Stadium, Manhattan, KS
TV: ESPN (Mark Jones, Dusty Dvoracek, Molly McGrath)
Radio: K-State Sports Network (39 stations), Sirius 134, XM 199
Fun Fact: Kansas State has not beaten a ranked non-conference opponent since 2002 (USC), but this is mostly because of Bill Snyder's preference to an easy non-conference schedule. K-State is 55-3 in September home games under Snyder since 1992.
Key players
Mississippi State
QB Nick Fitgerald
Fitzgerald was suspended for Week 1 of the season after a violation of team rules. But one of the top quarterbacks in the SEC is back in the saddle to go up against a K-State pass defense that allowed the most passing yards in the Big 12 last season. But he's not just a passer, but a runner, as Fitzgerald threw for 1,782 yards and 15 touchdowns last season. He also rushed for 984 yards and 14 touchdowns.
WR Stephen Guidry
Guidry comes to Mississippi State as the No. 1 JUCO wide receiver in America from Hinds CC. In the opener against Stephen F. Austin he had one catch for 39 yards, but with a lot of youth and new faces at the wide receiver position for Mississippi State, it could be Guidry that turns out to be the leader, and best playmaker, of the bunch.
DL Montez Sweat & Jeffery Simmons
This is Mississippi State's bread and butter. Simmons is a Preseason All-American who had 3.5 tackles for loss in the opener. As for Sweat, he had an SEC-best 10.5 sacks last season with 15.5 tackles for loss. He's had 10 tackles for loss in his last four games played. K-State's offensive line needs to be prepared for this entire unit.
Kansas State
Who's at QB?
Is it Alex Delton or Skylar Thompson? Who knows. Bill Snyder said earlier this week that both quarterbacks will continue to play after their respective mediocre performances against South Dakota in Week 1. After being down 12 points for much of the game, it was Thompson leading the Cats to his third fourth-quarter comeback win in the Wildcats' last six total game. Delton struggled passing the ball (5 of 14), but was more effective on the ground last week. Either way, the fact that both quarterbacks looked shaky against an FCS opponent should be concerning.
DE Reggie Walker
Walker is now the focus of the K-State defensive line and will have his hands full trying to get by a Mississippi State offensive line that returns four starters from last season. But getting some pressure on Nick Fitzgerald is imperative, especially with Kansas State's secondary proving to be very leaky at times last season. Walker got off to a good start last week against a solid offensive line, by FCS standards, racking up 3 tackles, 1 sack, 1 tackle for loss, 1 pass defended and 3 quarterback hurries.
WR Isaiah Zuber
Zuber had the best game of the K-State wide receivers last week with five catches for 68 yards and a touchdown, along with a big special teams play returned for a score. It's not a position of strength for K-State, but the Wildcats are going to need a safety net for whoever is at quarterback and be able to get the ball into their hands quickly if the pocket is closing against this defensive line.
Key storylines
Mississippi State
Even though they lost their head coach Dan Mullen to Florida, this program was left in very good shape for Joe Moorehead. He has one of the best dual-threat quarterbacks in the conference, a stable of running backs, returning starters on the offensive line, with only some question marks at wide receiver. On defense, the line is one of the best in the conference, two safeties, and the team's two leading tacklers in Mark McLaurin and Johnathan Abram are back, and the main new pieces are at linebacker. Mississippi State needs to be able to take advantage of Kansas State's weak secondary that gave up over 250 passing yards to South Dakota last week and over 300 yards per game last season, which was last in the Big 12. A few shots downfield will open up the running game for Fitzgerald and 1,000-yard rusher Aeris Williams. On defense, the battle is on the line where Sweat, Simmons and company can make Thompson or Delton's life miserable.
Kansas State 
While Thompson played better than Delton last week, I wonder if we will see more of Delton against the Bulldogs because of his ability to run the ball. Something very  concerning last week against South Dakota was the fact that K-State's offensive line, that should be one of the best in the Big 12, was getting pushed around at times. The Wildcats have some of the best offensive linemen in the Big 12, so I'm not sure what happened there, but that unit needs to have itself an awesome afternoon for K-State to even think about pulling off the upset. Defensively, Duke Shelley led the way in the secondary last week with eight tackles and three passes defended. He needs to rally his unit to hold its own and force Mississippi State to run the ball. That's K-State's best chance to win the game. Oh yeah, and K-State was very uncharacteristic last week in losing the turnover battle 4-0 and having 129 penalty yards. That can't happen.
Prediction: Mississippi State 31, Kansas State 24. I'm not trying to overreact to a Week 1 game, but that was quite concerning last week from the Wildcats. The team's supposed strengths (o-line) looked anything but, and the quarterbacks did not look comfortable. Mississippi State doesn't get the love of Alabama and Auburn, plus they did not have the sexy Week 1 win like LSU, but this is a team that can be a player in the SEC West. They won't go quietly. K-State might find itself with a big special teams play at some point in this game, because they always seem to, but otherwise, I find it difficult to see how the Wildcats are going to put points on the board against this defensive. Meanwhile, Nick Fitzgerald will need to knock off the rust, but his dual-threat ability will be troublesome for Kansas State.
**Sign up here for our HCS weekly e-mails for a chance to win FREE Heartland College Sports and Big 12 team gear!!**