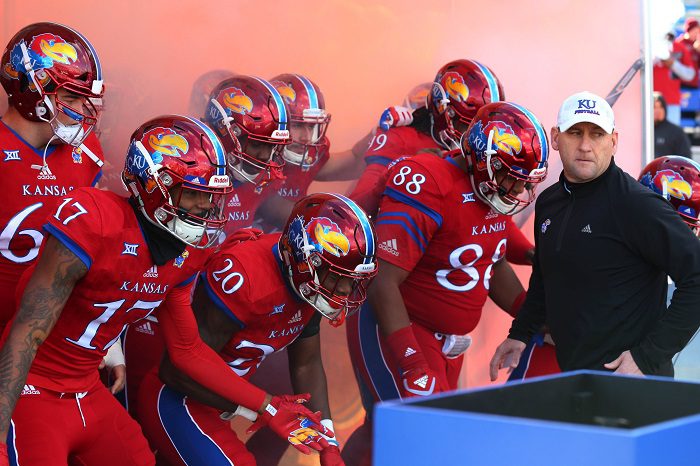 Here is everything you need to know about the Jayhawks' upcoming game in our Central Michigan (0-1) vs. Kansas (0-1) Preview.
Game info
2 p.m. Central Time, Saturday, Sept. 8, 2018, Kelly/Shorts Stadium, Mount Pleasant, Michigan
TV: ESPN+ (Chris Vosters, Marcus Ray)
Radio: Jayhawk Radio Network, Sirius Ch. 126; XM Ch. 200; Internet 954
Key players
Kansas Jayhawks
QB Peyton Bender. The numbers? 19-of-35 for 187 yards and 2 touchdowns. Those were OK numbers, but Miles Kendrick did get some time under center last week as well and the loss to Nicholls State should have the Jayhawks on the defensive. Bender got the start last year against CMU, a game the Jayhawks lost. He should start Saturday, but what if the level of play isn't there? How long before KU pulls the trigger on another QB?
RB Khalil Herbert. The returns are early, but it looks like Herbert is the early favorite for the majority of KU carries. Last week he rushed for 62 yards on just 12 carries against Nicholls State. The significance is that he carried twice as much as any other running back (Bender had 10 carries). The Chippewas gave up 118 rushing yards last week and the Jayhawks want to take advantage of it.
LB Joe Dineen Jr. Yes, I highlighted him last week. But, he had 16 tackles against Nicholls State and looks to be well on his way to another 100-plus tackle season. What more can you say?
LB Kyron Johnson. He's the only Jayhawk to register a quarterback sack against Nicholls State. The Jayhawks need more of that this weekend.
Central Michigan
RB Jonathan Ward. He's the back to watch in this offense. He rushed for more than 1,000 yards last season and, in the opener against Kentucky, he gained only 36 yards on 11 carries. But expect that to change soon.
S Devonni Reed. The opener was a high-volume game for Reed, as he notched 14 tackles against the Wildcats. That's good news for CMU, as he wasn't among their top three tacklers last year.
QB Tony Poljan. The Chippewas were breaking in a relatively new QB last week and Poljan had a nice game, throwing for 137 yards rushing for another 47 in the 15-point loss. That bodes well for an offense that has consistently produced NFL-caliber quarterbacks the past 10-15 years.
Key storylines
Central Michigan has won 10 of its last 11 home openers. The one loss came in 2015 against Kansas' Big 12 rival, Oklahoma State. CMU has hosted five Power 5 teams previously and lost all five games. Kansas leads the all-time series, 2-1, but lost last year's meeting with CMU in Lawrence. KU is 9-9 against teams from the Mid-American Conference.
Kansas Jayhawks
Um, well, things are not rosy in Lawrence, nor should they be. The Jayhawks' loss to a solid Nicholls State team gave the program its second loss to an FCS teams in three-plus seasons under head coach David Beaty and only provides more fuel to heat his coaching seat. Beaty has tried to keep things optimistic in Lawrence, but it's getting harder with the loss, coupled with the factors we outlined last week (new athletic director, new facilities to pay for) to justify keeping Beaty. The Jayhawks need better QB play, more Herbert out of the backfield and a better defensive outing, especially when it comes to getting to the quarterback.
Central Michigan
The Chippewas lost by 15 points to Kentucky, but that's par for the course when you're a Group of 5 program playing a Power 5 team. But, of course, CMU beat Kansas handily on the road last year. But that was a different team, especially at quarterback, where the Chippewas had Michigan transfer Shane Morris. Poljan is not as experienced as Morris, but he knows the offense after sitting behind Morris a year ago. The Chippewas want to get Ward the ball more often this weekend and get more defensive production out of some of their top returning players from a year ago, including Malik Fountain. Oklahoma State went to Kelly/Shorts three years ago and won, but found it a tough place to win.
Prediction: Central Michigan 31, Kansas 21. I'm not picking Kansas to win another game until it wins a game. It's that simple. That loss to Nicholls State may be the beginning of the end for Beaty in Lawrence, as unfair as that might seem.