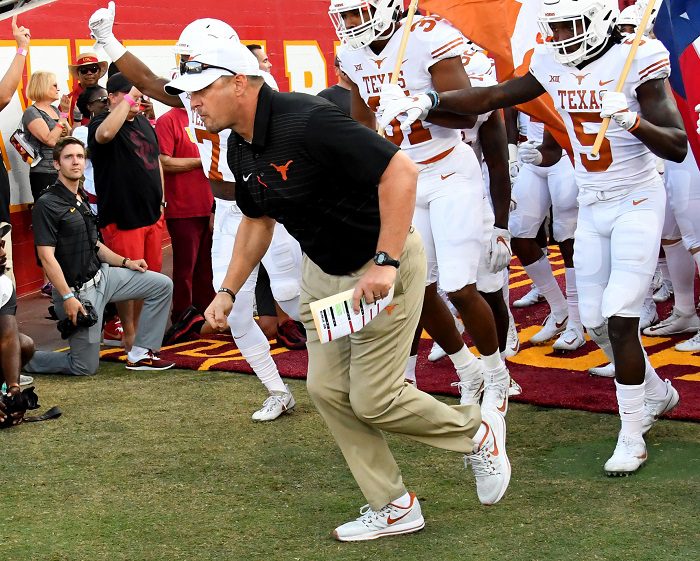 Here is everything you need to know about the Longhorns' home opener in our Texas vs. Tulsa preview.
Broadcast Info
When: Saturday September 8th @ 7 P.M. CT
Where: Darrell K Royal-Texas Memorial Stadium in Austin, Texas
TV: LHN
Radio: Longhorn IMG Network
Key Players
Tulsa
QB Luke Skipper- Taking over the starting job late last season, this is Luke Skipper's first full season of starting. He played decently against Central Arkansas last week going 15/24 for 196 yards and 2 touchdowns. Luke also added 53 yards on the ground last week and if you didn't already know, he is a dual threat quarterback.
RB Shamari Brooks- While Shamari is the lead back for the Golden Hurricane, he will split carries Corey Taylor as they combined for 47 carries last week against Central Arkansas. Both of them ending up rushing for over 100 yards and I expect Tulsa to try and stay balanced on offense against Texas to keep the defense honest.
LB Cooper Edmiston- There is no doubt that Cooper is the leader of this Tulsa defense not only by his play but from a leadership standpoint as well. Cooper racked up over 100 tackles last season and should have plenty of opportunities to chase down running backs in this game.
Texas
QB Sam Ehlinger- If Sam wants to continue to be the starter for the Longhorns, he has got to play better than he did last weekend. He completed just 54% of his passes last week and threw 2 interceptions in the final 3 drives of the game. That's not going to cut it if he is going to be "The guy" for Texas moving forward.
RB Keaontay Ingram- Even though he just had 6 carries last week, Keaontay was able to average 6.2 yards per carry on limited touches. In fact, I thought that he looked like the best running back Texas had against Maryland. While the coaches were hesitant to play him on the road, it appears that he will see more touches in this game after his performance last week.
S Brandon Jones- Brandon Jones was everywhere in that Maryland game leading the team with 10 tackles. It appears that the lightbulb finally has come on fully for this former 5-star recruit and he should see plenty of action due to the fact that Tulsa loves to throw the football plenty.
Key Storyline
Can Tulsa stop the run?
To me, this has to be the biggest thing to watch on Saturday. Sure, Tulsa held Central Arkansas to just 82 rushing yards last week but that was Central Arkansas and they are playing Texas this weekend. Just a little different am I right? What you should know is that Tulsa gave up an average of 265 rushing yards per game last season. That's insane! Has that truly been fixed? It's hard to say right now but my guess would be that it hasn't magically been fully fixed just yet.
After a disappointing loss to start the season (Again), Texas needs to bounce back in a big way this weekend and who better to take that out on than a team like Tulsa at home? I believe Texas will want to keep the football on the ground and come in with a physical game plan. This is a great game to not only get Sam back on the right track but find out who is going to be the lead back in a backfield full of questions right now.
Prediction
Texas 35 Tulsa 14
This should be a bounce back win for Texas as they play for the first time in Austin this season. I think Texas will have their way against Tulsa offensively in the ground game and should rush for 200 yards or so. Tulsa may hang around for a bit but the Longhorns will wear out the Tulsa defense as the game goes on. Tom Herman knows how important it is to not only win this game but win comfortably so the fans won't be still scratching their heads on their way back home.