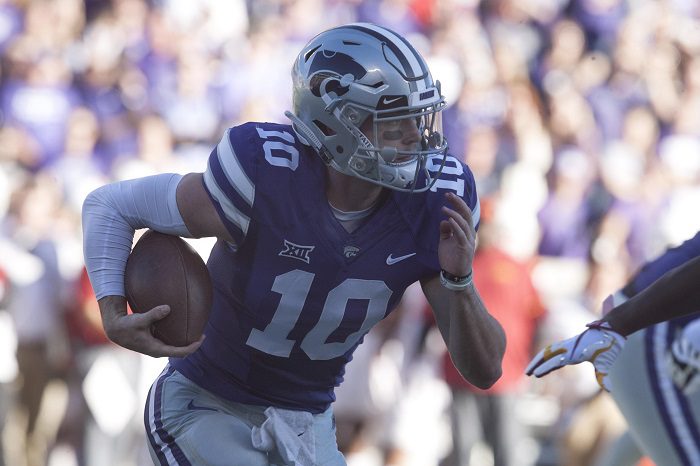 Two games into the 2018 season and Kansas State is still searching for answers. One week after having a scare against South Dakota, where they needed a second half comeback for a 27-24 win, the Wildcats never kept it close in a 31-10 loss to Mississippi State at Bill Snyder Family Stadium.
The quarterback situation is probably the most concerning. It once looked like K-State would have two quality options to play under center, now it looks like they don't have one. Both Skylar Thompson and Alex Delton saw the field on Saturday and neither were all that impressive. The play of the game came on Thompson's beautiful throw to the left corner of the end zone resulting in a 23-yard touchdown to Dalton Schoen. Outside of that, there was not much to like.
What head coach Bill Snyder seemed most concerned by was how his team has started through two games, saying, "Just look at the numbers. We've scored six points in the first three quarters of each game… we're not starting very well. That period of start time is lasting a long time." 
Thompson received the start at quarterback and finished the afternoon 7/17 for 86 yards and one touchdown, with 12 carries for 34 yards. Meantime, Delton came in and was not much better when he got a chance, completing 2 of 4 passes for 14 yards and one interception, while rushing it six times for four yards.
"A work in progress, both of 'em are," Snyder admitted. Thompson received the large majority of the snaps, but the head coach added that there was nothing to read into, implying the quarterback battle will continue.
Thompson added after the game, "There's a lot of things we've got to work on as an offense. I'm really going to buckle down and do my best to learn and improve from this game." 
In my preseason group rankings, I thought the Wildcats had the second best group of quarterbacks in the Big 12 Conference. Both Thompson and Delton had won Big 12 games and had very impressive moments towards the end of last season. Thompson's game against Oklahoma State stands out, along with Delton's Cactus Bowl performance against UCLA. Who looks like a fool now? This guy.
Both of those now feel like distant memories.
Sure, there are certainly other problems that the Wildcats have right now on the offensive side of the ball. The offensive line looks far from one of the best in the Big 12 Conference. The unit struggled last week against South Dakota and once again on Saturday against Mississippi State's strong defensive line of Jefferey Simmons and Montez Sweat. However this was supposed to be the strength of this team with the likes of Scott Frantz, Dalton Risner and Co. back in the saddle. It's not.
But Thompson was not going to place the blame there saying, "The line wasn't perfect, but I was not perfect [either]. There were plays out there that I missed a guy wide open or didn't go through my progressions the right way. It's a team effort and I got to get better. A lot of this falls on me and I want it to fall on my shoulders." 
The team also lacks a true No. 1 wide receiver and had trouble creating space against Mississippi State's defensive backs on Saturday.
The Wildcats are now 1-1 on the season and have one more weekend to try and figure things out against UTSA before Big 12 play begins. K-State will have no time to ease into the conference schedule with a road match up against West Virginia in two weeks before welcoming Texas to town at the end of September.
For Bill Snyder, having his team believe in themselves and each other remains key, saying,  "The most important thing for me right now is that our players maintain confidence in each other. It's not just in yourself it's about your other teammates as well. It's easy for one side of the ball to lose confidence and become critical, whether it's verbally or within, of the other side of the ball. I don't expect that out of our players."
Hopefully that remains true for Snyder's team, because this team finds itself in a precarious situation and we're just a week into the month of September.
**Sign up here for our HCS weekly e-mails for a chance to win FREE Heartland College Sports and Big 12 team gear!!**