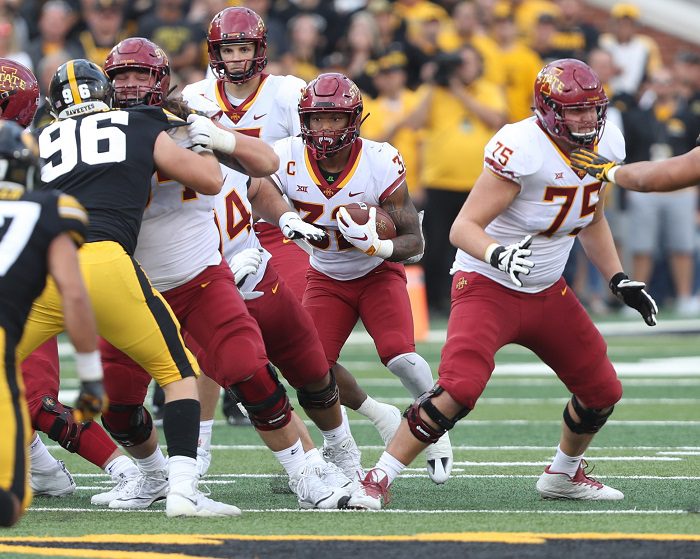 The final numbers were ugly: 169 passing yards on 31 attempts to go with 19 rushing yards on 25 attempts. That's maybe passable for halftime, but that was what Iowa State's offense produced after four quarters of football in Iowa City.
Iowa State lost it's CyHawk showdown with Iowa 13-3 in Iowa City, falling for a fourth-straight year.
The ironic part is that it did not look like it was going to go this way. The Cyclones began the game with a 13-play, 66-yard drive that lasted nearly seven minutes and ended with a field goal. But that would be the extent of the offense.
Yes, there was the injury to Kyle Kempt, who was injured midway through the third quarter and resulted in Zeb Noland taking over the stagnant offense. When Kempt left he was 15/21 for 126 yards. Noland finished 4/10 for 43 yards. The running game was even less impressive, with David Montgomery finishing with 17 carries for 44 yards, an average of 2.6 yards per carry.
After the game, Iowa State tight end Chase Allen said, "We just tried to replicate that (drive) the whole game, and they've got such a good defensive front it's hard to get those easy yards. So we started playing behind the chains."
The Iowa defensive front is very solid, with A.J. Epenesa leading the way at defensive end. We told you to watch out for him in our game preview and he made his presence felt with two sacks, two tackles for loss and one pass defended.
But as much credit as Iowa's defense deserves, the Iowa State offensive line remains a serious work in progress that needs to pick things up with the Oklahoma Sooners coming to town next week.
After the loss, head coach Matt Campbell admitted, "At the line of scrimmage, where games are still won in this sport, they dominated. And unfortunately, we didn't have the ability to respond. I thought our defensive line really hung in there for the majority of the football game. (But it's) hard when offensively, we couldn't sustain any consistency, especially up front."
Iowa State's offensive line woes are especially obvious considering their quarterback situation. There is no Kyler Murray running around that backfield with the ability to find holes, dodge defenders and create something out of nothing. Kyle Kempt is a good quarterback, but he's different. He does it with his accuracy and smarts. But he's a statue who needs time in the pocket. Noland is more mobile, but even he struggled with a collapsing pocket, none more evident than on the final drive when he fumbled, essentially sealing the win for the Hawkeyes.
Campbell added, "This group's going to have to grow and I wish you could rub your hands and make it happen but they need to (get) experience and they've got to go play."
Getting the experience for this Cyclones offensive line is going to have to happen against a very tough schedule with not just OU this week, but TCU two weeks after, followed by Oklahoma State and West Virginia.
As frustrating as it was to watch the offense, the defense, as we predicted, is likely to be one of, if not the best, in the Big 12 Conference. Freshman Mike Rose stole the show by leading the Cyclones with 11 tackles, including a tackle for loss and a pass defended. As a unit, the defense allowed only 271 yards and gave up 13 points, which any Iowa State fan would've signed up for an expected a win if you told them those would be the numbers by the Hawkeyes when the game ended.
But if Iowa State wants to compete near the top of the Big 12 Conference this fall, the offensive line needs to find its groove quickly.
**Sign up here for our HCS weekly e-mails for a chance to win FREE Heartland College Sports and Big 12 team gear!!**