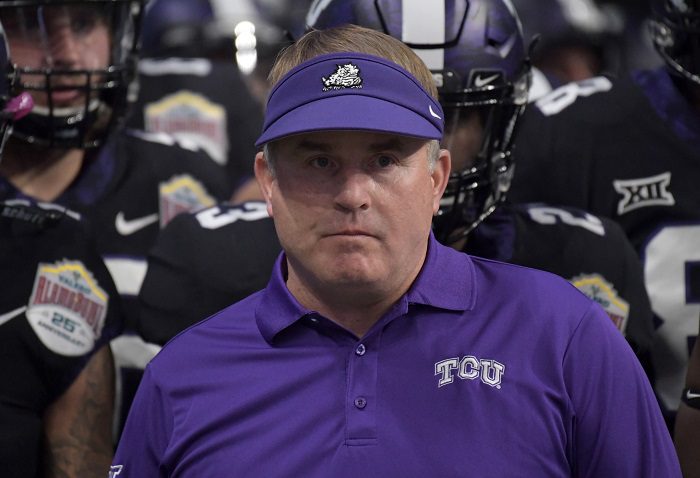 Here is everything you need to know about the Horned Frogs' game with Ohio State in our Ohio State (2-0) vs. TCU (2-0) preview.
7 p.m. Central Time, Saturday, Sept. 15, 2018, AT&T Stadium, Fort Worth, Texas
TV: ABC (Chris Fowler, Kirk Herbstreit, Maria Taylor)
Radio: WBAP 820 AM, KTCU 88.7 FM, SiriusXM 84
Key players
Ohio State
QB Dwayne Haskins. The Buckeyes are the No. 2 offense in college football and are averaging 64.5 points per game. Haskins is the triggerman and he's looked like an experienced hand running that offense. He's thrown for 546 yards, 9 touchdowns and 1 interception in two games, including the conference opener against Rutgers.
RBs Mike Weber and J.K. Dobbins. They've been used equally in two games, with Weber gaining more yards (217) than Dobbins (147). Weber also has 3 touchdowns. As the Buckeyes haven't been challenged to this point, the time share has made sense. But TCU's defense is far and away better than anything the Buckeyes have faced to this point. Expect a heavier dose of Weber on Saturday.
DE Nick Bosa. Nick is already looking the part of his older brother, Joey. A preseason All-America pick by several publications, he already has 3 sacks and 5 tackles for loss in two games. TCU's goal on Saturday has to be keeping Nick off of Robinson's back.    
DB Kendall Sheffield. Dubbed the "fastest player in college football" by NFL.com, it's not hype. Sheffield runs track and broke the school indoor record for the 60-yard dash with a time of 6.663. Through 2 games he has an interception and 3 pass break-ups. Will Robinson even want to throw in his direction?
TCU
QB Shawn Robinson. Robinson's first three collegiate games as a starter have come against Texas Tech, Southern and SMU. So now we find out what the highly-recruited QB is made of. Robinson is off to a nice start this season and has worked both the run and the pass well. But the Buckeyes are a completely different animal. This will be his first true test.
WR KaVontae Turpin. He was relatively quiet against Southern. But against SMU he came alive, returning a punt 78 yards for a touchdown and then scoring on a 42-yard touchdown pass after the Horned Frogs sat through a near-two hour rain delay. It's the kind of multi-faceted impact we expect from Turpin, and the Horned Frogs will need all of it on Saturday.
DE Ben Banogu. His strip-sack of SMU quarterback Ben Hicks led to a Horned Frogs touchdown in the third quarter, a score that effectively game them control of the game. Pressure on the quarterback will be key against Ohio State, and Banogu must be at the forefront of that push.
DL Corey Bethley. A 247Sports.com True Freshman All-American, Bethley has burst onto the scene in Fort Worth with three sacks in two games (he had just one last season). With Banogu on one edge, Bethley inside, and the use of Ty Summers on the edge (he has two sacks), the Horned Frogs have plenty of firepower on the front line.
Key storylines
This was supposed to be a home-and-home showdown for the Horned Frogs and the Buckeyes, but the two program combined the contract into one neutral site game. ESPN College Gameday will take place on the TCU campus. TCU is 5-5 in its last 10 games against Top 5 teams (Ohio State is No. 4). But only two of those games have come at Amon G. Carter Stadium. Ohio State is 4-1-1 in its all-time series with TCU. The two teams have not met since 1973 and they have never met outside of Columbus, Ohio. Ah, and TCU and Ohio State are conference rivals … in rifle.  
TCU
If the Horned Frogs are entertaining thoughts of reaching the College Football Playoff, a win on Saturday would surely help. These are the types of games TCU typically plays well in and head coach Gary Patterson should have them prepared. For the TCU defense it's all about limiting the big plays. Ohio State has a lot of them already this season, and that means not giving up the edge on the run game and limiting Haskins' options downfield. Offensively, Robinson has to minimize mistakes, especially in the passing game. Plus, TCU's backfield, which hasn't needed to be a bellwether to this point, must be on Saturday. Darius Anderson and Sewo Olonilua need to have quality games.
Ohio State
Just a reminder — no Urban Meyer. This is the third and final game of his suspension, which means Ryan Day remains the head coach. The lack of continuity hasn't hurt the Buckeyes to this point. But let's be real — their first two opponents are each 1-1 now, but OSU punked each of them by a combined score of 129-34. TCU will be the best opponent the Buckeyes have faced to this point. Ohio State must be mindful of the Horned Frogs' overall team defense, a persistent pass rush and an underrated secondary. Haskins has the makings of a quality passer, and Weber can present real problems to the TCU defense. On defense, Ohio State must get to Robinson early and often and turn the offense one-dimensional. The Buckeyes have the talent to do both.
Prediction: TCU 37, Ohio State 33. Yep, taking the Horned Frogs in this one. Why? Well, I feel both teams stack up pretty evenly on the field. The difference, if there is one, is the coaching. Patterson has the experience to make the adjustments in-game that Day doesn't. That will make the difference in a close game.
**Sign up here for our HCS weekly e-mails for a chance to win FREE Heartland College Sports and Big 12 team gear!!**