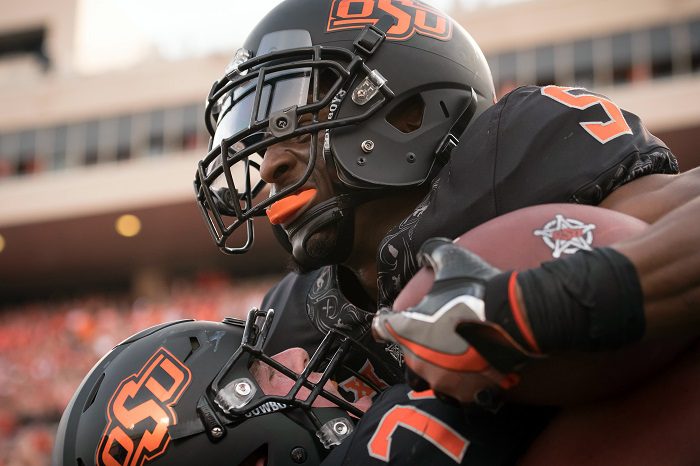 Here is our closer look at the upcoming game in Stillwater, Oklahoma in our Oklahoma State vs. Boise State preview and prediction.
Game info
2:30 pm CT  | Saturday, September 15, 2018  | Boone Pickens Stadium, Stillwater, Oklahoma
TV: ESPN (Adam Amin, Rod Gilmore, and Quint Kessenich)
Local Radio: Cowboy Radio Network (Dave Hunziker, Dave Holcomb, and Robert Allen)
Internet Radio: https://okla.st/osutunein
Fun fact: Boise State is the first nationally ranked non-conference opponent to play in Stillwater since #13 Georgia came to town in 2009 for the first game in the then newly refurbished Boone Pickens Stadium.
Key Players
Taylor Cornelius, OSU QB
After two games questions still surround the 5th year senior's ability to be the guy in Stillwater.  Despite being statistically impressive with an almost 67% completion rate, 728 yards and 6 touchdowns over two games there are obvious flaws in his game. He's made more than a few poor reads leading to having 3 interceptions with defenders dropping 2 more.  He also lets his mechanics break down often, not using his body or setting his feet, resulting in under thrown deep balls despite having elite arm strength. His short to medium passes are beyond the abilities of departed star Mason Rudolph who struggled in that area but the deep ball is what makes the Cowboys offense thrive.  If his receivers are running open behind the secondary he has to be able to connect to back the defense up and make room for his talented running backs.
Justice Hill, OSU RB
Mike Gundy in the preseason said he wanted to limit Hill to around 15 touches a game to keep him fresh all year. True to his word last years Big 12 rushing leader has only had 21 touches through the first two games of the season, 19 rushing for 154 yards and 3 touchdowns and 2 receptions for 33 yards.  Don't expect that to be the case this week. The backfield is crowded but Hill is a game changer and will be needed against a quality opponent. Throw in the fact that Hill, a junior, is on pace to graduate this year and will most likely be on his way to the NFL he'll want to take the opportunity to make a difference in every big game in his likely finally season in orange and black.
Tylan Wallace, OSU WR
It's quite obvious who the quarterback is comfortable with as Wallace is OSU's leading receiver so far this season.  He has been impressive on his 14 catches for 214 yards and looks like he may have the potential to become the next great receiver in Stillwater.  He'll need to continue to perform as the go to guy downfield and the safety net for Taylor Cornelius.
Brent Rypien, Boise State QB
Rypien is a seasoned passer and a great field general, and is the best quarterback OSU will face all season not named Will Grier or Kyler Murray. With a 73% completion rate and 7 tds versus 0 picks he rarely makes a poor throw and has to be licking his chops to play against Oklahoma State's new look defense. In Jim Knowles 4-2-5 scheme bringing pressure via extra rushers is an almost every down thing, and a smart QB just needs to find to opening left by the rusher and completions are easy.  If Rypien finds a groove early and Knowles can't find a way to shake him off his game he could have career day against the Cowboy secondary that is thin at corner and inexperienced at safety.
Key Storylines
What do we actually know?  On paper this game is a fantastic match up!  Both teams are in the top 5 for total offense in the country, and also both in the top 25 for defense.  Of course that means nothing as both teams have beat up on over matched teams their first two games. I will note that Boise State has looked better doing it than have the Cowboys, who had long stretches of concerning play in both of their games.
I really just have two things in my mind that will really effect the outcome, and both revolve around the Cowboys and the changes this year as Boise State is an established team from last season.  Can Taylor Cornelius and the offense get it done, and can the new defensive scheme slow down Boise State?
Boise State is going to score so OSU has to be able to point some points on the board.  Cornelius can't afford to throw a red zone interception for the third game in a row, and the Cowboy offensive line has to find a way to block better up front.  Mike Yurcich has been phenomenal at manufacturing a run game with below average line play during his time in Stillwater but if he has keep multiple cowboy backs (OSU's tight end/full back hybrids) on the field for blocking purposes then there are less skilled playmakers running the field and making things for difficult for a decent Bronco's defense.  I'd expect Boise to follow South Alabama's plan from last week an stack the box and force a sometimes shaky Cornelius to beat them.
Jim Knowles' Cowboy defense has made easy work of two opponents they out manned.  OSU should still probably have a skill advantage over the Broncos but not enough they can breeze through the game with sloppy play. Rypien will make them pay if they are too far out of position or blow a coverage.  Knowles will have to find a way to disguise blitzes and converges and try to confuse the BSU offense enough to let his rushers get home and hopefully cause a few turnovers.
Prediction
Boise State 37, Oklahoma State 31
OSU fans should be nervous about this one.  Boise State isn't Alabama, but they aren't Rutgers either.  They are above average in all three phases of them game, have a veteran quarterback, and a good coaching staff.  Gundy has a bad habit of playing extra vanilla in the non-conference as to not put too much on film for Big 12 opponents to look at.  I think that sometimes hurts the team development, not allowing them to get in rhythm, and occasionally gets him beat (see Central Michigan two years ago).  He won't be able to stay vanilla against the Broncos obviously, and for the Cowboy's sake I hope they've been working on the game plan for this matchup in practice the last two weeks.  But I can't shake the feeling of a sluggish outing against their first real competition of the year, similar to the egg laid by a much better Cowboys team against TCU in the conference opener last season.  If OSU gets off to a slow start and has to try to play catch up behind Cornelius' arm things could get out of hand.
The Bronco's experience at key spots overcomes the home field advantage in Stillwater.
**Sign up here for our HCS weekly e-mails for a chance to win FREE Heartland College Sports and Big 12 team gear!!**