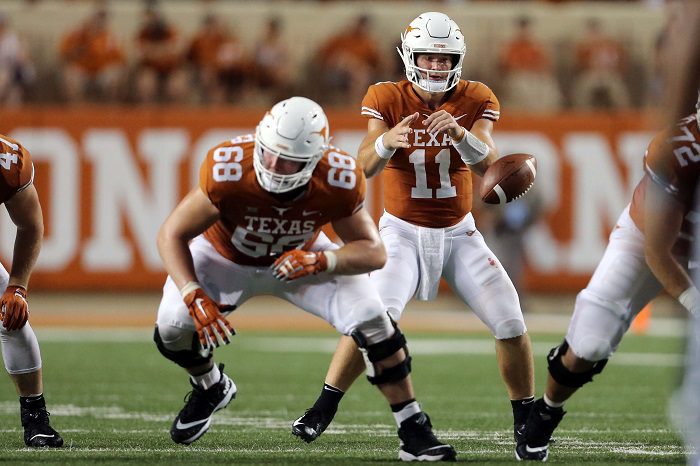 Here is everything you need to know about the Longhorns' upcoming game in our Texas vs. USC preview and prediction.
Broadcast Info
When: Saturday September 15th @ 7 P.M. CT
Where: Darrell K Royal-Texas Memorial Stadium in Austin, Texas
TV: LHN
Radio: Longhorn IMG Network
Key Players
USC
QB JT Daniels- JT is a true freshman QB who has been very sporadic so far in just two games. I know that is expected from a freshman but at a place like USC, they expect excellence and there is no such thing as rebuilding there. They want to reload. JT has thrown 1 touchdown to 2 picks so far this year and has only completed 53% of his passes. That's going to have to have to improve if USC wants to compete for a Pac-12 title.
RB Aca'Cedric Ware- Ware had a great opener against UNLV averaging 10 yards per carry in that game but that quickly went away the following week against Stanford where he averaged 3.3 yards per carry. With a young struggling QB on the road, the run game will be crucial for the USC offense to build some momentum in this game.
LB Cameron Smith- This senior leader will be everywhere around the football in this matchup much like he has been throughout his career at USC. Last season Cameron had over 110 tackles and appears to be on pace to go over 100 once again this season. He is the leader of this defense that kept USC in the ball game last week against Stanford.
Texas
QB Sam Ehlinger- Despite some second half woes last week against Tulsa, Sam Ehlinger looked better overall last week compared to week one against Maryland. Against Tulsa, Sam went 21/27 for 237 yards and 3 scores. He will need to continue to improve and this time the competition will be much better against the Trojans.
RB Tre Watson- With freshman Keaontay Ingram banged up, it appears that senior RB Tre Watson will get most of the touches this week. While he hasn't broken off any runs over 15 yards, Tre does have a 4.2 yards per carry average in his first 2 games as a Longhorn. With an improving offensive line ahead of him, I expect Tre to really show what he can do this week.
DE Breckyn Hager- Texas hasn't had many sacks in their first two games and that needs to change this week. USC QB JT Daniels is a true freshman and Texas needs to get pressure on him and hope he forces a few throws. JT has some accuracy issues and if the Longhorns can add some pressure to that watch out.
Key Storyline
Who can establish the run game?
I mentioned earlier that USC QB JT Daniels is a true freshman that has some accuracy issues in his first couple starts. Add that to the fact that USC is playing on the road and that should tell you how badly the Trojan offense needs to run the football well to take some pressure off their young QB. The USC offensive line is still a work in progress, so it will be very interesting to see if the Trojans are able to successfully run the football in this matchup.
Much like their opponent, Texas must run the football well if they want to win this game. That's what this offense is built for. It's made to run the football and wear down defenses. We saw what happened last season when the Longhorns couldn't do that, and it was a mess offensively. Sure, QB Sam Ehlinger is a year wiser but it is always nice to be balanced on offense especially against a team as talented as USC.
Prediction
Texas 24 USC 21
Call me crazy here, but I like the Longhorns in this matchup. Texas has a serious problem playing up or down to their competition and after all the rumblings last week against Tulsa, I feel like Texas will come out with a chip on their shoulder in this game. Defensively, USC is giving up well over 200 yards rushing per game and I feel like Texas may be able to take advantage of that. Throw in the fact that USC has a freshman quarterback who appears to still be figuring things out and it makes me feel better and better about this pick. Again, right or wrong this is my guy feeling for this one.
**Sign up here for our HCS weekly e-mails for a chance to win FREE Heartland College Sports and Big 12 team gear!!**