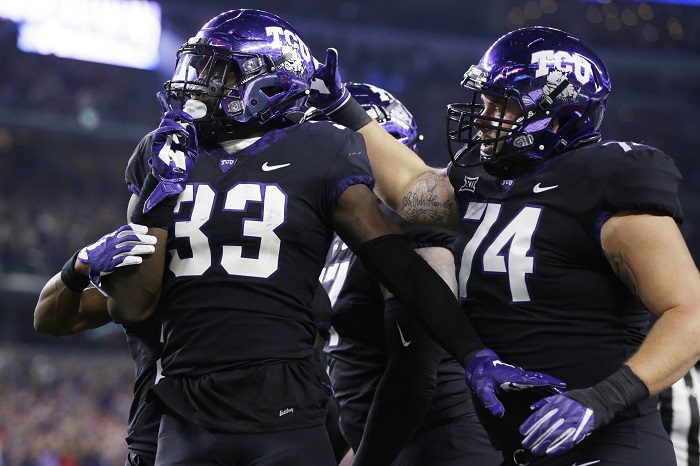 I hate to be one of those "moral wins" type of guys, but what the TCU Horned Frogs did on Saturday night at AT&T Stadium in a 40-28 loss to Ohio State can classify as one of those.
In many ways, Ohio State needed this win more than TCU did. Saturday was a horrible day for the Big Ten. The conference lost seven games to unranked opponents. No. 6 Wisconsin was shocked by BYU, Kansas blew out Rutgers, Temple smoked Maryland, Troy edged out Nebraska, South Florida topped Illinois, Missouri hung on against Purdue and Akron handled Northwestern. That's a bad, very bad, day.
Meantime, there was the Big 12 on Saturday night at halftime of its two primetime games with a pair of leads over blue bloods. Texas was up two points over USC at home and TCU had a one-point lead over Ohio State. And while Texas took care of business, rolling the Trojans 37-14, TCU was unable to hang on against the Buckeyes, losing its first game of the season.
But with the ratings for the Ohio State-TCU game far exceeding Texas-USC, the game put the Big 12 in a positive light. The Horned Frogs' speed on defense, especially on the line, gave the Buckeyes fits, with Ben Banogu leading the way, while the secondary held its own against a very talented group of wide receivers. On the offensive side of the ball, TCU racked up over 500 total yards, with 203 on the ground, led by Darius Anderson's 154, for a 12.8 yard per average clip.
Garpy Patterson said after the loss, "You can't give them 21 points. Defensively we had to turn on the knob late and we had to make a couple of adjustments. … But outside of that I think we played a really good football game. Ohio State's a really good football team. On to Texas."
Patterson was referring to the three big mistakes that hampered the Horned Frogs. There was the strip sack of Shawn Robinson in the end zone in the first quarter, giving Ohio State its first points of the game. Then there was the third quarter pick six by Dre'Mont Jones. And on the next drive, TCU had its punt blocked by Shaun Wade which gave Ohio State the ball at the TCU 25-yard line and scored a touchdown two plays later on 24-yard pass from Dwayne Haskins to K.J. Hill.
That third quarter was the difference between TCU winning and losing this football game. But anyone who watched the four quarters from start to finish can admit that TCU was not overmatched on the field against arguably the most talented team in America this side of Alabama.
The Big 12 Conference always deals with a credibility problem in the eyes of national pundits. Even though the conference had a great 2017-18 bowl season and looked like it was on the upswing, Week 1 of this season was horrible with the Texas loss to Maryland, Kansas loss to Nicholls, Ole Miss crushing Texas Tech and K-State barely holding on against South Dakota. And what the conference needed was a decent credibility boost in Week 3, and it did just that, with Patterson's team playing a big role. It didn't allow an offensive touchdown in the first half against Ohio State's explosive offense.
Patterson added after the loss, "Do I think we are one of the better college football teams? I think we are." And he's right to point that out. The Horned Frogs should not slip one spot in the AP Poll, although they probably will based on the antiquated ways that voters continue to operate in 2018.
But the head coach quickly pointed out that while he was happy with the team's performance, "We came into this ballgame to win, we didn't come here to play well." And that's where TCU is as a program. It's no longer in the business of playing well against major Power 5 opponents, it's here to win games. And that's a massive positive for TCU fans and the Big 12 as a whole. The conference needs it.
And as the Big 12 continues to try and figure out who is going to help Oklahoma carry the torch as a premier program in the conference, Gary Patterson continues to build his case, even in a tough loss on Saturday night.
**Sign up here for our HCS weekly e-mails for a chance to win FREE Heartland College Sports and Big 12 team gear!!**