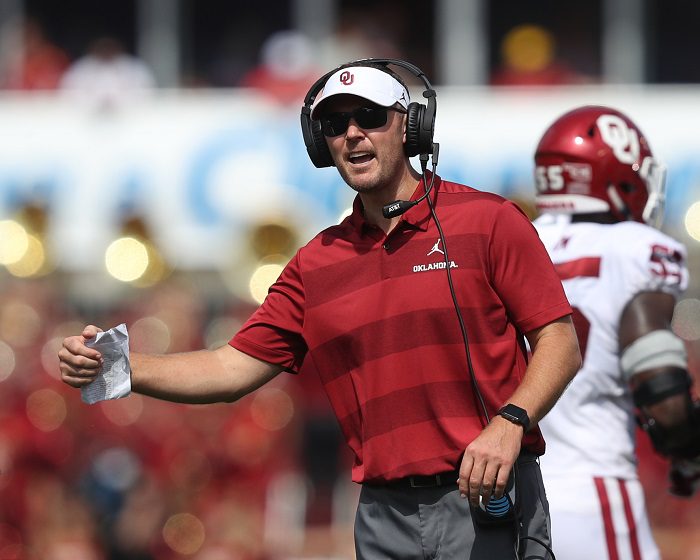 Ah yes, they are BACK. The power rankings are here as we wrap up the first weekend of Big 12 football. In our 2018 version of the Big 12 power rankings, we have averaged out the rankings of our main contributors at Heartland College Sports. These will be done on a weekly basis and released every Monday morning. A friendly reminder before trolling: Power Rankings can swing drastically week to week and are not simply a ranking based on who we think are the best teams in the conference, but rather based on the games that have been played to date.
1. Oklahoma Sooners (Last week: 1)
I'm just trying to figure out if OU will ever not be in our No. 1 spot this season. There will be some tough tests against the upper half of the Big 12, but the ease with which the Sooners dominated a really good Iowa State defense, without Rodney Anderson, was very impressive. Kyler Murray was not phased by a difficult road environment, the first of his collegiate career, throwing for 348 yards and rushing for 77 more, which led the Sooners in the absence of Rodney Anderson. And while the defense does have its issues, notably in the secondary, it still looks like it'll be better than what OU has had the past couple of years. This is still the team to beat in the Big 12 this fall.
2. West Virginia Mountaineers (Last week: 2)
The No. 2 through 4 spots were hotly debated between the HCS staff, mostly because it's tough to figure out how exactly to grade out the Mountaineers. Their game against N.C. State was cancelled, which was a great opportunity for the Mountaineers to boost their resume against a quality ACC opponent, while also giving the Big 12 a solid non-conference win. Unfortunately neither of that was able to happen, but the staff, barely, gave WVU the benefit of the doubt by keeping it in the No. 2 spot.
3. Oklahoma State Cowboys (Last week: 4)
The Pokes made an argument to move up to No. 2 after their big win over Boise State as a home underdog on Saturday. The defense looked the part in Jim Knowles' new 4-2-5 scheme, Taylor "Corndog" Cornelius had his Ben Roethlisburger moments, and the special teams came through with two blocked punts. There might not be that rock star offensive player that we are used to seeing in Stillwater, but this team might have more balance in all three phases than Mike Gundy has had during his time in Stillwater. This is going to be a fun team to keep a close eye on.
4. TCU Horned Frogs (Last week: 3)
The Horned Frogs lost on Saturday night to Ohio State, but they had the Buckeyes on the rope at halftime. TCU proved that it's at the point where it can play with anyone in America. Pinch TCU fans. Gary Patterson is "America's Coach" and while the third quarter was one to forget, TCU didn't allow an offensive touchdown in the first half, while racking up 500 yards of offense on the night. Despite losing 20+ seniors from last year's team, the Horned Frogs showed the entire Big 12 that they no longer rebuild, they just reload.
5. Iowa State Cyclones (Last week: 5)
It was a loss on Saturday to OU, but in many ways, it was a loss that probably made Cyclones fans feel better about where this program is than they did throughout most of last week. Sure, OU put a lot of points (37) and yards (519), but the Sooners are going to do that against everybody. The Cyclones still have an excellent defense that should be able to keep them in most games this fall. Iowa State got the offense going behind Zeb Noland, who has more pure talent than Kyle Kempt, and Hakeem Butler remains a rising star in the sport with some incredible catches down the sideline. Iowa State is off to an 0-2 start, but the Cyclones will be heard from throughout the fall.
6. Texas Longhorns (Last week: 7)
Boy did Tom Herman need that one on Saturday. A 37-14 win over blueblood, and Top 25 USC, is exactly what the head coach needed to get the critics off him… for at least a week. The Longhorns offensive line looked vastly improved from recent weeks, actually getting solid push up front against USC's slew of four and five-star players. Sam Ehlinger looked like a legitimate quarterback when given time in the pocket. Oh, and Texas' defense didn't allow any points over the final three quarters of the game. This weekend's game against TCU is a must-watch.
7. Texas Tech Red Raiders (Last week: 8)
There was a lot to like about what Texas Tech did on Saturday. Alan Bowman set a Big 12 record for a freshman in the 63-49 win over Houston. But if we're being fair, the defense was a hot mess. The Red Raiders had over 700 yards of total offense, but gave up more than 630. Yikes. Before the season, we thought Texas Tech might build on last year's defensive improvements under DC David Gibbs. The unit appears to have regressed from last fall. But the good news is that Texas Tech is 2-1 after non-conference play, which is exactly what Kliff Kingsbury needed, at least, heading into Big 12 action. But it looks like the Tech-style of football will continue this fall in Lubbock.
8. Baylor Bears (Last week: 6)
There was a big drop off in the HCS votes between five through seven and eight through ten. So the Bears got off to a 2-0 start, but it appears like that might say more about Abilene Christian and UTSA than it does about Baylor. BU was out of the game early against the Duke Blue Devils in a 40-27 loss in front of the home crowd at McLane Stadium. We expected the defense to be an issue after seeing this team the first couple of weeks, but it's scary to thing what Big 12 teams might do against the Bears this fall. The Blue Devils rushed for nearly 230 yards in their win over Baylor at a 5.1 YPC clip. Also, at some point, Matt Rhule needs to settle on a quarterback to allow his offense to get in a flow with just one guy under center.
9. Kansas State Wildcats (Last week: 8)
Finally Bill Snyder has picked his QB, at least for now. Skylar Thompson got the start against UTSA and proved Snyder right finishing 13/18 for 213 yards and 66 rushing yards with a score in a 41-17 win over the Roadrunners. The offensive line looked much improved and tougher than they had been in recent weeks against South Dakota and Mississippi State. Heck, KSU even scored its first rushing touchdown of the season in this game! There are still plenty of reasons to be concerned, as the Wildcats lost the turnover battle and allowed UTSA to finish 8-17 on third downs. But it's baby steps for this team and this program right now.
10. Kansas Jayhawks (Last week: 10)
Rock Chalk! KU's 55-14 win over Rutgers on Saturday was astonishing. The win was the Jayhawks' biggest margin of victory against an FBS opponent since they beat Baylor, 58-10, in 2007, when they went 12-1 and reached No. 2 in the polls under then head coach Mark Mangino. It was the first time that KU has won back-to-back FBS games this decade. KU forced six turnovers, three interceptions and three forced fumbles. Who are these guys?! Even ESPN's Joey Galloway is telling folks to "Watch out for Kansas." Easy there, Joseph. Let's not get carried away. But regardless, KU is still at the bottom of our Power Rankings, although some HCS staff members were considering pulling the trigger and putting them at No. 9. But suddenly, their game this weekend against Baylor is very intriguing and is their best opportunity to dig themselves out of the basement of our Big 12 Power Rankings.
**Sign up here for our HCS weekly e-mails for a chance to win FREE Heartland College Sports and Big 12 team gear!!**