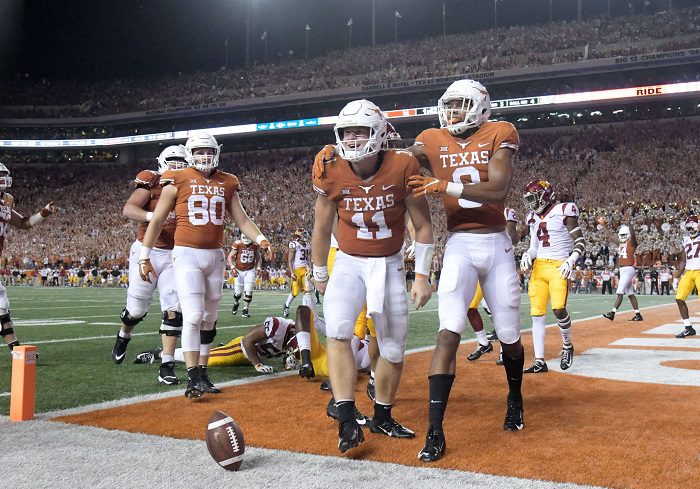 I hear it all the time, "Who has the best conference in college football?" SEC? Big 10? ACC? What about the Pac-12? Very rarely are you going to hear the words "Big 12" coming out of someone's mouth in that conversation. Whether you do it or not, there are plenty of folks out there who love to bash the Big 12 conference (cough, Paul Finebaum, cough). It was a fantastic week for the Big 12 as the conference went 5-2 in out of conference games. While plenty of other conferences (Looking at you Big Ten) had their struggles this weekend, the Big 12 got chance to flex their own muscles after this weekend. As always, there was some good, bad and just plain old fashioned ugly.
The Good
Oklahoma (Beat ISU 37-27)
Give some credit the Sooner offense here, the Cyclone defense is no joke. Kyler Murray once again had a great day going 21/29 for 348 yards and 3 touchdowns. He also added 77 yards on the ground to lead his team in rushing in this game. I can't talk about the offense without also talking about WR Marquise Brown who caught 9 passes for 191 yards and a score. Scoring 37 points on the road? Not bad at all. I thought the defense for Oklahoma did a great job of slowing down ISU RB David Montgomery, but they had a few collapses in the secondary because ISU WR Hakeem Butler made them look silly at times. Other than that, the Sooners had a solid performance. At the end of the day, they won by double digits on the road and in Ames, that's no easy task with a team as well coached as Iowa State.
Kansas (Beat Rutgers 55-14)
That's right, Kansas is back on the good list once again! Two weeks in a row! You know when the last time Kansas won back to back games? 2011. It's been awhile but make that two streaks broken in two straight weeks. I usually start with offense, but this game was all about the Jayhawk defense. The defense had 2 touchdowns thanks to Bryce Torneden and Mike Lee pick sixes. They did give up some rushing yards but only gave up 124 passing yards. Not to mention, this defense got 6 turnovers in this game alone. Solid performance for this defense and I give a tip of the cap to them. Offensively, they didn't have to do a whole lot thanks to the defense getting the ball back plenty of times. The star of the show? Freshman RB Pooka Williams Jr. who once again went over 100 yards on the ground. The Jayhawks are now 2-1 heading into Big 12 play. The question is, what can they do in Big 12 play? On another note, late Saturday night on College Football Final, ESPN CFB Analyst Joey Galloway said "The Big 12 is wide open. Keep an eye on Kansas." HA.
Oklahoma State (Beat Boise State 44-21)
I had PLENTY of questions about this football and not only did they answer them, they made a STATEMENT on Saturday. QB Taylor Cornelius did what he needed to do to win this football game going 15/26 for 243 yards and a touchdown. To my surprise, he carried the ball 16 times as well rushing for 2 scores on the ground. Corndog! RB Justice Hill had a nice game with 123 yards on the ground and a touchdown and most importantly the offense didn't turn the ball over. Call me crazy but Taylor Cornelius reminds me a bit of Alex Smith. The stat line may not always be pretty, but he gets the job done as a game manager. Defensively, holding the Broncos to 21 points is fantastic in my book. Sure, they gave up some passing yards (380 to be exact) but the defense never broke. Not to mention, they held Boise State to 34 total rushing yards. Don't forget the special team's unit blocking 2 punts with one of them resulting in a touchdown. This Cowboy team is for real folks.
Kansas State (Beat UTSA 41-17)
Kansas State needed a big bounce back win and they got one. Sure, it was UTSA, but the Wildcats needed a confidence boost before heading into to conference play. QB Skylar Thompson had a great game going 13/18 for 213 yards and 2 touchdowns along with adding 66 yards rushing and a score. It also appears that WR Isaiah Zuber is going to be the number one wide out because he went off this week with 144 yards receiving and 2 touchdowns. It was nice to see this offense finally get going. The defense was looked much better this week in against the run and the pass. They gave up 7 points through 3 quarters and the final 10 points they gave up was in garbage time. This was a much-needed win for the Wildcats before they travel to Morgantown to take on the Mountaineers.
Texas (Beat USC 37-14)
At the end of the first quarter, Texas was down 14-3 and I though to myself, Texas is going to crap the bed once again and get blown out. But boy, was I wrong because Texas went on to score 34 unanswered points. Texas gave up some passing yards, but they stood their ground after giving up two quick touchdowns in the first quarter. After, that USC didn't score another point and the Longhorn defense held the Trojan offense to -5 rushing yards. The special teams played well thanks to freshman kicker Cameron Dicker and Texas even blocked field goal and returned it the other way. This is the defense we all expected from the Longhorns. Offensively, Texas woke up in the second quarter and really controlled the game on the ground. The state sheet didn't light up like a Christmas tree but that's ok. Texas wants to wear defenses down and take their shot when need and that's exactly what they did for 3 out of the 4 quarters of this game. Texas better enjoy this one for just a short period because they face a tough TCU team at home next week.
Texas Tech Offense (Beat Houston 63-49)
A standing ovation is needed for Texas Tech true freshman QB Alan Bowman who went 43/59 for 605 yards and 5 touchdowns. Yes, you read that right, 605 yards and 5 touchdowns. That was good enough to break the Big 12 single game freshman passing record and most importantly win the game. Hell of a performance by Alan Bowman and now Tech should have zero questions about who should be their quarterback this season. Also, how about freshman RB Ta'Zhawn Henry? He carried the rock 24 times for 111 yards and 4 touchdowns. Don't think I forgot about WR Antoine Wesley either who caught 13 passes for 261 yards and 3 scores. Wesley was Bowman's favorite target and had a monster game in the big win. In fact, he may be still running around wide open somewhere in Lubbock and Houston still can't cover him.
The Bad
Texas Tech Defense (Beat Houston 63-49)
For as good as the Texas Tech offense was, the defense was horrible. Week one against Ole Miss, I gave them a pass for playing poorly. There were way too many big plays for the Houston offense and there was just no excuse to play like that. They gave up 635 yards of offense and even though they won, they won't win consistently with defensive performances like that. I think maybe this defense was way overhyped entering the season because it doesn't look like much has changed.
Iowa State (Lost 37-27 to Oklahoma)
It is hard to really bash this team because they played a top 5 team in Oklahoma. The defense struggled to contain and get consistent pressure on Kyler Murray and let WR Marquise Brown have a field day offensively. Either way, you can't give up 37 points at home and expect to win. Offensively, they were much improved with QB Zeb Noland in the game. Zeb threw for 360 yards and brought new life into this offense. Even though they couldn't get the ground game going Zeb was able to make plays with his arm that I am not sure Kyle Kempt could do. The connection between Zeb Noland and Hakeem Butler kept the Cyclones in this game and I think going forward, the Cyclones need to stick with Zeb Noland at QB.
TCU (Lost to Ohio State 40-28)
For the first 2 quarters, TCU stood toe to toe with the Buckeyes and even lead 14-13 at the break. In fact, TCU lead 21-13 early in the third quarter before the break down. TCU gave up 3 touchdowns in the third quarter and one was thanks to a bad Shawn Robinson shovel pass that resulted in a pick six as the Buckeyes took the lead and never looked back. TCU tried to claw their way back but came up short in the end. The Horned Frogs broke down defensively a bit in the second half and that was the difference in the ball game even though the offense stalled a bit as well. QB Shawn Robinson made some mistakes but overall, he played tough out there. Also, RB Darius Anderson was lights out rushing for 154 yards that was highlighted by a 93-yard touchdown run. I am not going to be too harsh because I thought they held their ground well in this game against a powerhouse like Ohio State.
The Ugly
Baylor (Lost to Duke 40-27)
Baylor had 8 drives in the first half that went like this: missed FG, fumble, punt, missed FG, punt, punt, punt and end of half. 4 out of the 8 first half drives lasted 3 plays or less which was good enough to put them down 23-0 at halftime to the Blue Devils. Between the quarterback changes and the poor defensive effort, it was an atrocious first half. Baylor was able to score 4 touchdowns in the second half, but the halftime deficit was too much to overcome. One of those touchdowns was due to a blocked punt and the offense overall was bleak. Defensively, stopping the run is still an issue. The Bears gave up over 200 yards on the ground which is a huge concern heading into Big 12 play. If the Bears don't clean these things up, it's going to be another LOOONNNGGG season in Waco.
**Sign up here for our HCS weekly e-mails for a chance to win FREE Heartland College Sports and Big 12 team gear!!**