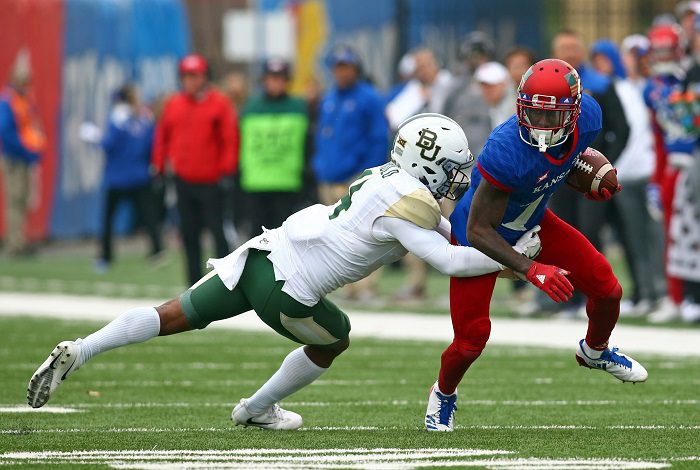 Here is everything you need to know about the Big 12 opener between Baylor (2-1) and Kansas (2-1).
2:30 p.m. Central Time, Saturday, Sept. 22, 2018, McLane Stadium, Waco, Texas
TV: FS1 (Eric Collins, Evan Moore)
Radio: Kansas: Jayhawk Radio Network; Baylor: Baylor IMG Sports Network/ESPN Central Texas; Satellite Radio: Sirius 211/XM 199/Internet 953
Key players
Kansas Jayhawks
Before we get to the key players …
APOCALYPSE!!!!!!!!! #rockchalk pic.twitter.com/q11X3hDImk

— Heartland College Sports (@Heartland_CS) September 15, 2018

That just needed to be seen one more time. OK, let's get to it.
WR Kerr Johnson. Steven Sims Jr. may have the bigger name in the Big 12, but Johnson is putting up similar numbers. Both he and Sims have 10 receptions each, but Johnson leads the team in receiving yards (147) and receiving touchdowns (2). Sims needs someone to take the head off of him. Perhaps Johnson is that guy.
QB Peyton Bender. Here's the important thing. The job appears to be his. He's thrown 72 of Kansas' 89 passes so far this season. While his numbers aren't huge, he's efficient and getting the job done. This is what head coach David Beaty has been looking for in his three years in Lawrence.
LB Joe Dineen Jr. Dineen has 40 tackles in three games. To put this in perspective, he has 26 solo tackles, twice as many as Keith Loneker, the only other Jayhawk with double-digit solo tackles. Dineen is that good.
DT Daniel Wise. Kansas needs him to make an impact this week. He missed the Central Michigan game and had just one tackle against Rutgers. Against Nicholls State in the opener he had six tackles. The Jayhawks need more of that from their top defensive lineman.
Baylor Bears
QB Charlie Brewer. The Bears' starting quarterback has ceded some time to Jalan McClendon so far this season, but I suspect that will change once Big 12 play begins. Brewer's numbers have been quite solid (641 yards passing, 3 touchdowns, 1 interception, 60 percent completion rate) but he's going to have to elevate his game a bit in league action. Kansas has a defense that has proven adept at forcing turnovers so far this season, so ball protection is key.
WR Jalen Hurd. The Tennessee transfer has made an immediate impact once given the chance to play in Waco, as he leads the Bears with 18 receptions for 251 yards and 2 touchdowns. Not bad for a converted running back who hasn't played a game since 2016 due to his transfer from Knoxville.
DE James Lynch. The sophomore leads the Bears with 2 sacks. The Bears have only produced five sacks in three games, so Lynch's consistent ability to get to the quarterback right now is key to the Bears winning games.
DB Derrek Thomas. He's the only Bear with an interception and two pass-breakups this season so far. The senior graduate transfer from head coach Matt Rhule's old school, Temple, has worked his way into a starting role and understands Rhule's overall system.
Key storylines
The Bears are 8-14 all-time in Big 12 openers, dating back to 1996. Baylor has won eight straight meetings with the Jayhawks. Baylor and Kansas meet for the 18th time in series history on Saturday and the Bears lead the all-time slate 13-4. The Bears have won eight consecutive meetings. The last loss came in 2007 in Lawrence.
Kansas
The Jayhawk defense goes into this game ranked No. 1 in the Big 12 in seven different defensive categories and No. 15 in FBS in total defense. That's not likely to last, but it does speak to the fact that things have improved defensively this season under Beaty and his staff. How much of that momentum the Jayhawks can sustain is another matter. Offensively I like the balance they're striking, though they're not consistently productive at a high level yet. But there is stability at quarterback, production out of RB Pooka Williams Jr. and two wide receivers to contend with as opposed to just one.
Baylor
The Bears have outgained all three of their opponents this season and that's an encouraging sign for an offense that underwent some change in Rhule's first season in 2017. Brewer has shown growth as a QB so far, but the emergence of Hurd at receiver has given the offense a different dynamic that it needed. The loss to Duke exposed some weaknesses on the defensive side of the ball, specifically against the run where the Bears have actually given up more rushing yards than they've gained. That must change in Big 12 action.
Prediction: Baylor 33, Kansas 27. I sense a close game between a couple of teams would love nothing more than to grab a bowl bid this year. All year I've felt that Baylor is a slightly better team than Kansas, and if that's the case then I have to give the Bears the nod here. Kansas' recent uptick in play means we'll likely have a fun game, but the Bears, to me, just seem like the winner here.
**Sign up here for our HCS weekly e-mails for a chance to win FREE Heartland College Sports and Big 12 team gear!!**