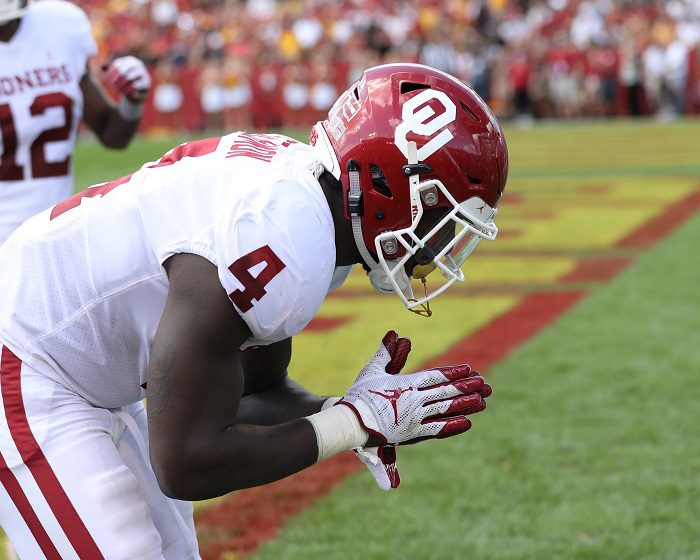 Here is everything you need to know about the Sooners' upcoming game in our Oklahoma vs. Army Preview.
Game info
6 p.m. Central Time, Saturday, Sept. 22, 2018, Memorial Stadium, Norman, Oklahoma
TV: FOX PPV (Brendan Burke, Gary Reasons, Christian Steckel)
Radio: KOMA 1520AM and KRXO 107.7 FM; Sirius 99/XM 200
Fun Fact: The Sooners are making their 408th all-time appearance in the AP poll's top five this week, more than any other program. That means OU has been in the top five in 36 percent of all AP polls (1,139 total polls) which started in 1936. This is OU's 13th appearance in the AP top 5 since the start of 2017.
Key players
Army
RB Darnell Woolfolk 
In an offense where it's about the rushing attack first and foremost, Woolfolk is the team's top returning rusher. He was second on the team last year to Ahmad Bradshaw, who graduated, but set a single-season rushing record at Army with 1,746 yards. So far this season, Woolfolk has 188 rushing yards through three games, and is tied for the team lead with three touchdowns.
LB James Nachtigal
Nachtigal is the team's leader thus far with 18 tackles through three games, he also has 1 sack and 1 tackle for loss. He was named on the preseason Nagurski Award, given to the nation's top defensive player. He's the team's top returning tackler with over 100 sacks in 2017, plus eight tackles for loss and five sacks. He will need to be the leader and captain of this defense to keep the entire unit's head on straight going up against this OU offense.
Oklahoma
RB Trey Sermon
With Rodney Anderson done for the season, OU is going to need each member of its rushing attack to step up. Kyler Murray led the team in rushing last week, which is probably not something Lincoln Riley wants to have happen every game. Sermon now shifts into the role of starting running back for the Sooners. Last week he had 13 carries for 74 yards, good for a 5.7 YPA clip, but more will be expected with each passing week. And while Sermon has been very efficient, he has yet to prove he has that breakout ability. In his career (16 games), he has three rushes of more than 25 yards.
CB Parnell Motley
Motley had a brutal game last week against the Iowa State Cyclones. Sure he had the interception to seal the win, but he was burnt so many times by Hakeem Butler, that's the only reason it even was a game last week in Ames. Army runs the ball first and foremost, but they have been passing it far more this season than last season. OU will likely stack the box on defense and leave the corners on an island. If so, Motley needs to improve from last week. Clearly, the coaching staff still has confidence in him as he's listed as a starter.
Key storylines
Army
As mentioned above, Todd Monken's Black Knights have been throwing the ball more so far this season than one would expect to see in the triple-option offense. Quarterback Kelvin Hopkins has thrown for over 400 yards through three games, with 18 pass completions, which is two fewer than Arm'y passing total from last season. Most importantly, he's hit the big play. Army leads the nation with 23.3 yards per completion. So the Black Knights know how to pick and choose their spots. Hitting the big play over the top against an OU secondary that gave up 360 passing yards to Zeb Noland last week would go a long way to potentially pulling off the big upset in Norman. On defense, Army has nine starters who are upperclassmen. That should bode well as they head into a very difficult road environment and try to stop the most explosive offense in the country. Putting a spy on Kyler Murray at linebacker is probably the way to go to try and contain him in the pocket and hope your secondary can match up well enough to avoid the big plays from the OU offense.
Oklahoma
It's important that Oklahoma's secondary doesn't get complacent and doesn't make some of the same mistakes it made last week against the Iowa State wide receivers. Stop the run, but be wary of the passing game. The Black Knights will lull a secondary to sleep as they run, run and run… before the deep shot. OU has a young secondary with Brendan Radley-Hiles, Justin Broiles and Tre Norwood in the mix as freshmen or sophomores. And playing a unique offense that few teams face any more always present challenges. Offensively, OU should be able to throw the ball around with ease. Army has given up over 300 passing yards each of its past two games against… Liberty and Hawaii. Marquise Brown and Cee Dee Lamb must be licking their chops.
Prediction: OU 45, Army 17. The Sooners will roll the Black Knights, a team that should not take them by surprise as they are a solid opponent who won 10 games last season. The Sooners should not be caught looking ahead either since it's Baylor on deck and they'll be in the friendly confines of Memorial Stadium. Also, it's the first night game of the season for OU, so there should be some extra juice with the fan base having a little more punch to it as well. OU's offense will overwhelm Army and the triple-option is not build to play from behind by multiple scores.
**Sign up here for our HCS weekly e-mails for a chance to win FREE Heartland College Sports and Big 12 team gear!!**