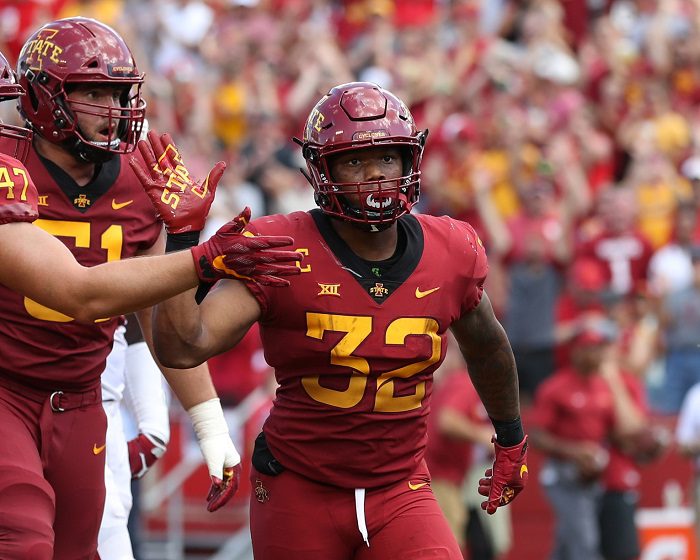 Here is everything you need to know about the upcoming game in Ames in our Iowa State vs. Akron preview and prediction.
Game info
11 a.m. Central Time, Saturday, Sept. 22, 2018, Jack Trice Stadium, Ames, Iowa
TV: FSN (Mark Followill, Brian Baldinger, Lesley McCaslin)
Radio: Cyclone Radio Network/Learfield Sports
Fun Fact: Iowa State is 25-5 all-time vs. MAC schools. ISU has played a MAC school in four of the last five seasons, splitting with Toledo in 2014 and 2015, a team coached by current ISU head man Matt Campbell.
Key players
Akron
QB Kato Nelson
Akron is currently the nation's leader in red zone offense and QB is a big reason why. Nelson was 17/28 for 277 yards with two touchdowns and zero interceptions last week in the upset over Northwestern. He's thrown five touchdowns to one interception so far this season and is averaging 15 yards per pass completion.
CB Alvin Davis Jr.
Who's going to go up against Hakeem Butler? Alvin Davis is. The Ford Lauderdale, Florida native is No. 1 in the country with 1.5 interceptions per game. His pick six last week went 97 yards and started the Zips comeback win over the Wildcats.
Iowa State
QB Zeb Noland
Can Noland keep the momentum going from last week against OU? He lit up the Sooners for 360 passing yards in last week's loss, looking far more prepared and confident than he did in his brief stint against Iowa the week prior. Noland has more physical ability than Kyle Kempt, but he has to remain efficient to keep Iowa State's offense humming.
CB Brian Peavy
Peavy has 37 career passes defended, which ranks No. 1 among active FBS players. He's the shutdown corner the Cyclones need moving forward and he should get a good test this weekend with Kwadarrius Smith, who had six catches for 90 yards against Northwestern.
Key storylines
Akron
For the Zips, they can't rest on their laurels. The MAC program shocked Northwestern last week, picking up a win for a Big Ten opponent for the first time in the program's FBS history. But if the team spent too much time celebrating, Iowa State is going to punch them in the mouth this week. Akron trailed 21-6 in last week's came but was able to make a comeback thanks to a monster third quarter where the team double its yardage output. That will be tough to do against an Iowa State defense that is only allowing 8.5 offensive points per game in the second half of its last ten games. The Zips also need to win the turnover battle against backup QB Zeb Noland who is more of a free wheeler than Kyle Kempt and can occasionally take risks that Kempt wouldn't (and Matt Campbell would prefer he not). Akron will have opportunities for a turnover or two, but they need to take advantage.
Iowa State
The Cyclones are still in search of win No. 1 this season after the opener was cancelled due to lightning. In this game, they need to take their frustrations out from the past two weeks on the Zips. The Cyclones offense still needs to get the running game going. After 19 rushing yards against Iowa, the Cyclones had 87 against OU, but only averaged 3.0 yards per carry. Hakeem Butler was outstanding last week and needs to continue to become the All-Big 12 caliber receiver he has the potential to be. Defensively, this might be the best in the Big 12. All three levels have an enormous amount of talent and should be able to give the Zips far more trouble than either Northwestern or Morgan State.
Prediction: ISU 35, Akron 17. The Cyclones have waited far longer than they ever expected to have to this season to pick up a win and they'll do just that on Saturday. Akron will still be on Cloud 9 after beating a Big Ten team last week, while Iowa State comes into this game looking to lay a beating in someone. Wrong place, wrong time. The Zips were down 21-3 last week at halftime before their third quarter comeback, but that won't happen against this Iowa State defense. No chance. Iowa State rolls to its first victory of the season.
**Sign up here for our HCS weekly e-mails for a chance to win FREE Heartland College Sports and Big 12 team gear!!**