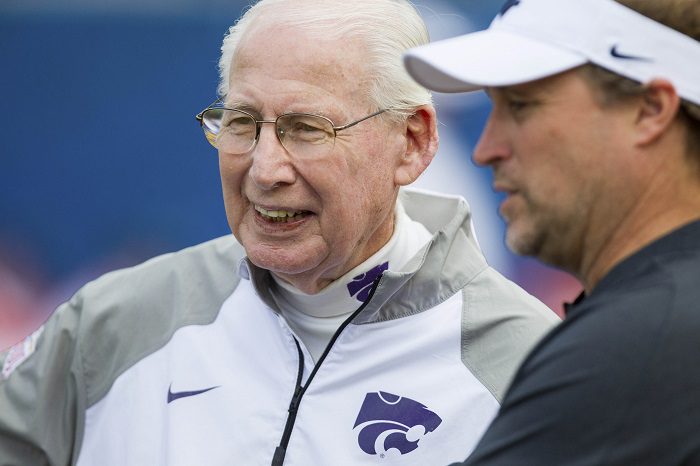 Here is everything you need to know about the upcoming conference opener in Morgantown in our West Virginia vs. Kansas State Preview.
Game Info
3:30 p.m. ET/2:20 P.M. CT, Saturday, Sept. 22, 2018, Milan Puskar Stadium, Morgantown, W.V.
TV: ESPN (Clay Matvick, Dan Orlovsky, Paul Calcaterra)
Away Radio: K-State Sports Network; Sirius 99/XM 383
Home Radio: Mountaineer Sports Network; Sirius 103/XM 202
Fun Fact: Kansas State has opened Big 12 play away from Manhattan 18 times in the league's 23 seasons.
Key Players
Kansas State
DE Reggie Walker
Kansas State must give Will Grier happy feet. He will tear up any defense in the nation if given time to do so. Walker needs to get a sack early and send a message to the West Virginia offense.
RB Alex Barnes
The wizard knows how to play the game and pinpoint the opposing team's weakness. The weakness for the Mountaineers is clearly their defense. Bill Snyder will likely look to his 6-foot-1, 225 pound running back to pound the rock, wear down the defense, and milk time off the clock. The longer Will Grier is on the sidelines, the higher chance Kansas State has of pulling the upset.
West Virginia 
The offensive line
If the Mountaineers can protect Grier, this game should be over quickly. Kansas State has been a disaster this season. Grier and David Sills V are Heisman contenders. The Mountaineers have on the best lineman in the nation with Yodny Cajuste. Protection provides an easy victory for West Virginia.
LB David Long Jr.
The West Virginia rush defense was atrocious last season. Long has racked up at least 10 tackles in each of the Mountaineers' first two games. He is on the Bronco Nagurski and Bednarik watch lists. If Long can keep the Kansas State rushing attack locked down, it will provide this defense a major confidence boost and give the ball to Will Grier.
Key Storylines
Kansas State
Can Skylar Thompson lock up the starting position at quarterback? He finished 13-of-18 against UTSA. This West Virginia defense is weak compared to most of the Big 12. In fact, the Mountaineers' Big 12 Championship and College Football Playoff hopes rest on the defense. Whoever starts at quarterback will have a golden opportunity to take advantage of a Big 12 defense. Will they make the most of it?
West Virginia
The campaign continues for both Will Grier and David Sills V. West Virginia lost a game, so that will hurt the stats for both, unless they make up a game. Additionally, this team may have some cobwebs after the cancellation. If they show rust, it may lead to a ballgame.
Prediction: West Virginia 42, Kansas State 20. I can certainly see the Mountaineers' offense starting slow after the cancellation of one of the most high profile non-conference games this season. Kansas State will likely try to play keep away from Will Grier as well. However, this Mountaineer's team just overmatches the Wildcats. Talent will help West Virginia cruise in the second half. The Wildcats offense will score some points, but it isn't going to keep up with West Virginia.
**Sign up here for our HCS weekly e-mails for a chance to win FREE Heartland College Sports and Big 12 team gear!!**