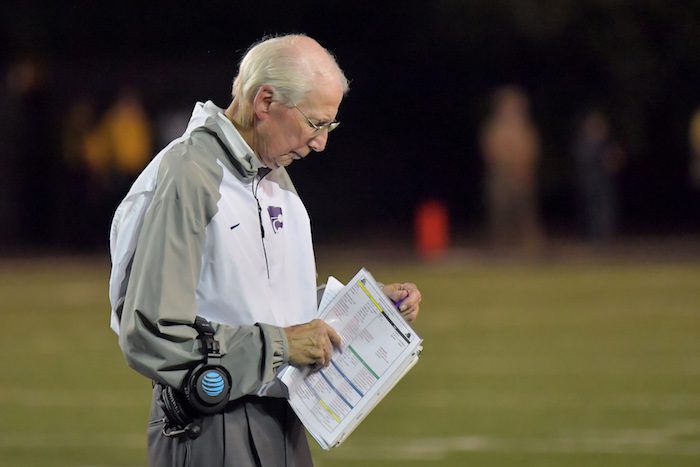 The Big 12 opener for Bill Snyder and the Kansas State Wildcats didn't go as planned in a 35-6 loss to the West Virginia Mountaineers in Morgantown. The Wildcats couldn't slow down Will Grier and the Mountaineers offense for most of the game, but worse than that, the offense was incompetent.
Kansas State averaged 2.5 yards per carry against WVU and was 3 of 14 on third downs. The game turned in the second quarter when the Wildcats decided to go for it on a 4th and 1. At the time, the Wildcats were down just 7-0. Despite the offense's ineptness, the defense was holding its own against Will Grier and his slew of weapons. Instead of continuing to play the field position game, the Wildcats went for it and went with a pitch left from QB Skylar Thompson to Alex Barnes, which was stuffed by the Mountaineers.
What's less inspiring than the #KState offense this season? Goodness. Kudos to #WVU D so far though. #WVUvsKSU

— Heartland College Sports (@Heartland_CS) September 22, 2018
It made no sense at the time, it still makes no sense as I write this. You are supposed to have one of the best offensive lines in the Big 12 (although it hasn't lived up to the hype thus far). If you are going to decide to go for it, then keep it between the tackles, where WVU isn't exactly Alabama on the defensive side of the ball.
After the game, Snyder reaffirmed his decision to go for it and run the option, but added, "I can't coach a team that can't get six inches on a play."
I'm not even sure what that means, coach. This is your team. You didn't just show up on Saturday to coach a bunch of guys you just happened to meet in purple and white jerseys. Maybe Snyder misspoke, but he sounds like someone who is shifting the blame from the coaches to the players. That's not fair and not right. This one is on the coaches. And if you don't have the players to "get six inches on a play", whose fault is that? Oh right, the coaches as well.
That decision led the 14-straight points from WVU, as the Mountaineers ended the first half with a 21-0 lead. Everyone knew by the time both teams went to the locker room that this game was over.
The Wildcats had an uncharacteristic eight penalties for 69 yards. Alex Delton replaced Skylar Thompson at quarterback in the second half and finished 7 of 12 for 82 yards and had eight carries for 28 yards. For his efforts, Snyder said that Delton played, "extremely well". Delton led the team to three points in a quarter and a half on a drive that started at WVU's 30 and took two sacks on third downs to force longer field goal tries than the Wildcats should have had.
Extremely well?
Oh, and what about K-State attempting a field goal while trailing 35-3. Can Snyder explain that one to us?
I don't want any of this to take away from the Mountaineers, who are clearly going to be a force to be reckon with throughout the Big 12 Conference. I predicted before the season they'll be playing in Arlington at AT&T Stadium on December 1st and nothing's happened so far this season to change my position.
But two things can be true. 1) West Virginia is really good. 2) Kansas State embarrassed itself on Saturday.
At this point, Kansas State fans should be hoping this team can reach a bowl game, but based on how the Big 12 is shaping up, that's no where close to a guarantee.
Much will be made about whether or not Bill Snyder is in Bobby Bowden territory. I'll write more on that during the coming week. But considering this loss lies at the feet of the coaching staff, I can't help but look at new coordinators. Andre Coleman replaced Dana Dimel at offensive coordinator, who took the head coaching job at UTEP. Meantime, Blake Seiler is the new K-State defensive coordinator taking over for the retired Tom Hayes. Both were internal hires. Why? Because what rising star or big-time coordinator (cough, Jim Leavitt, cough) is going to take a job when the head coach is going year-to-year and appears to have some friction with his athletic department as to who his successor will be?
It's another storyline that needs to be addressed if it appears like the Wildcats continue to get out coached as the season moves along. With the Longhorns coming to Manhattan next week, we'll get another feel for what exactly this Kansas State team is all about. My hunch? It won't be pretty.
**Sign up here for our HCS weekly e-mails for a chance to win FREE Heartland College Sports and Big 12 team gear!!**