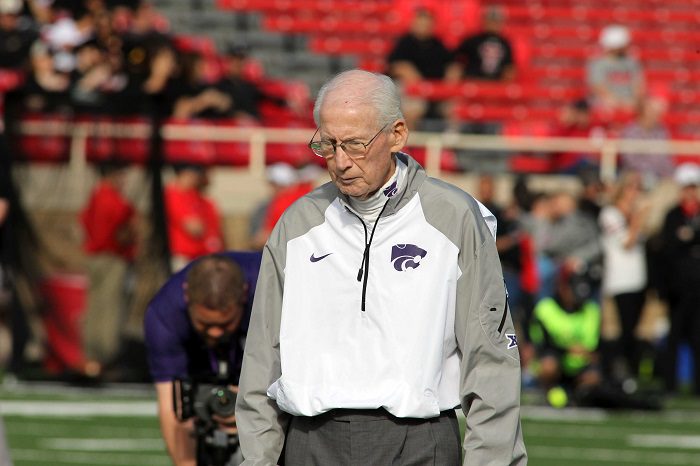 It's the debate that many Kansas State fans have been having in recent seasons, but has really come to a boil through the first four weeks of the 2018 season. Is it finally time for Bill Snyder to call it quits? I mentioned I'd write about it at some point this week, so as I find myself with some time on Wednesday afternoon, I figure there is no better time than the present.
Let's start here. I don't blame Bill Snyder for trying to wield his power in helping decide, or just flat out deciding, who is going to replace him one day as the leader of the Kansas State football program. The track record speaks for itself. 212-112-1. Two-time conference champion. Seven-time conference coach of the year. National coach of the year awards. Stadium named after you. Monuments.
Snyder turned the worst program in college football history into a consistent winner, and some will argue, saved the university from irrelevancy. Bill Snyder is Kansas State football.
Snyder signed a contract extension before the season that runs through 2022 and would take him through 82 years old. Granted, it's still going to continue on a year-by-year basis. If Snyder wants to call it quits, he can and he will. But clearly, the role of his successor is an issue that he continues to fight tooth and nail. We all know, and Bill has admitted as much, that he wants his son, associate head coach Sean Snyder, to one day be his replacement. That is not a sentiment that is agreed upon by all involved in the process at Kansas State. And nor should it be.
I understand Snyder's want to keep things "in the family". Family is important to the man. Heck, when K-State wanted to name the stadium after him he insisted it be called Bill Snyder Family Stadium. That's honorable.
But what's not honorable is putting your wants and needs in front of the University's. Bill Snyder did a great job turning around this program. Also he was, and continues to be, very handsomely paid to do his job. But that doesn't give someone carte blanche over the future of Kansas State football. Sean Snyder should be given a fair shot to become the next head coach at Kansas State. He's earned that right. But he's not earned the right to have the job handed to him on a silver platter.
Yet Bill Snyder won't have any of it and he's possibly holding the University hostage over its future. At Florida State, the Seminoles had a similar problem with Bobby Bowden. Bowden reached the Orange Bowl in 2005, but then hung around four years too long. His last four seasons went: 7-6, 7-6, 9-4, 7-6. That was underwhelming by Florida State standards and the program then had to be revived by Jimbo Fisher, who was the coach-in-waiting.
The difference is that reviving a program like Florida State, with far more resources and in a talent-rich state, is far more easier than trying to revive Kansas State. Also, at least Bowden was open to the idea of a coach-in-waiting with Fisher, something Snyder did not apparently care for with Jim Leavitt, because, once again, it was potentially hurting his son's ability to get the job.
As I wrote a few days ago, you are starting to see issues come to the forefront due to Snyder's questionable future as the head coach. With defensive coordinator Tom Hayes retiring and offensive coordinator Dana Dimel leaving for UTEP, Kansas State had to promote internally with Andre Coleman and Blake Seiler. Two first-time coordinators got the job because, frankly, Kansas State was not going to be able to get a cream-of-the-crop candidate. What young stud coordinator would go take the K-State job when he might not have the same boss in a year? Snyder did not decide until January of this year he was going to coach again in 2018. And you have to believe at this point he's going year-to-year.
Hell, let's be honest, if the Kansas State administration told Bill Snyder that Sean would get the job, he'd retire yesterday.
So let's get to what's going on with the Kansas State administration, or more importantly, what isn't going on.
Bill Snyder made some eyebrow-raising comments after the loss to West Virginia, when he said, "I can't coach a team that can't get six inches on a play." For someone who preaches personal responsibility, this was about as disappointing as it gets. He rolled his players, by the way the players and team he recruited and coaches, right under the bus. It was a ridiculous comment to make.
So, athletic director Gene Taylor, who is in his second year on the job, was asked about those comments on Tuesday and said, "I was surprised. I would say that it seemed a little out of character for coach. He's probably frustrated and maybe he wants to send a message."
I'm not saying Taylor should've knocked Snyder, but once again, the head coach is getting a pass. This was a soft response. And that's been the problem in recent years. Who is standing up to Snyder? He deserves enormous respect. But he's not God. He's a great football coach who is approaching 80 years old and is 14-14 in his last 28 Big 12 games, with reason to believe this fall could really turn into an ugly one.
The future of Kansas State hangs in the balance here. We are years away from the next round of conference realignment in 2025-26, but it'll be here before we all know it. And Kansas State has some hurdles. It's not near a major city like KU, it's not a flagship state school like Oklahoma and it's not a member of the Association of American Universities like Iowa State. K-State needs to keep the forward momentum going as a program and I'm fearful the program is losing it. And unfortunately, they're losing it because of the guy who has the his name on the stadium and a monument outside of it.
So, who's going to step up in Manhattan, specifically within the powers that be inside the university, and finally say it? Bueller?
**Sign up here for our HCS weekly e-mails for a chance to win FREE Heartland College Sports and Big 12 team gear!!**