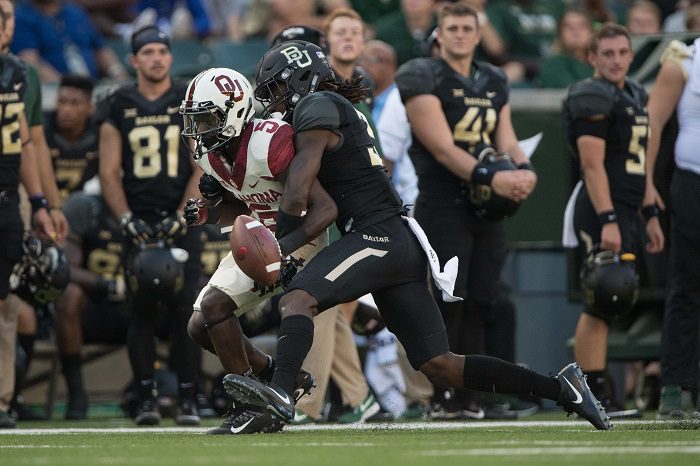 Here is everything you need to know about the upcoming Big 12 Conference game in our Oklahoma vs. Baylor preview.
Game info
2:30 p.m. Central Time, Saturday, Sept. 29, 2018, Memorial Stadium, Norman, Oklahoma
TV: ABC (Mark Jones, Dusty Dvoracek, Molly McGrath)
Radio: KOMA 1520AM and KRXO 107.7 FM; ESPN Central Texas; Sirius 105/XM 199
Fun Fact: Since Baylor won three of four meetings against Oklahoma — in 2011, '13 and '14 for its only series victories — the Sooners have won three straight against the Bears (have averaged 46.0 points). OU scored 44 points in 2015, 45 in 2016 and 49 last year. It has scored at least 30 points in 17 of the last 19 series games, and at least 40 in 11 of those.
Key players
Baylor
DT James Lynch
If Baylor wants to have a chance and keep the OU offense somewhat in check, Lynch is going to have to have himself a big game. The sophomore already has three sacks through four games and five tackles for loss, both are top 10 in the Big 12. But now he goes up against, by far, his toughest offensive line test to date.
WR Jalen Hurd
Hurd is actually about to play the Sooners for the third time in his career because he faced them twice at Tennessee. As a freshman in 2014, he rushed for 97 yards on 14 carries, and in 2015, he had 109 rushing yards and a score. So far this season, Hurd has been spotty in his transition to with a few drops, but he's also getting more work at running back as well. He had four carries for 19 yards against Kansas. I expect to see more of this from Hurd in a dual-threat role at WR and RB. He is a player that can give the Sooners trouble.
Oklahoma
RB Trey Sermon
Ever since the season-ending injury to Rodney Anderson, Sermon has become RB1, but even he has taken on more of the load than he probably expected. He was the only running back to get any carries last week against Army with 18 carries for 119 yards. Baylor has been better against the pass (3rd in pass defense efficiency in the Big 12) vs. the run (5th in run defense). Plus, OU now runs more than it passes, so once again, a lot of the pressure will fall on Sermon in the backfield.
LB Kenneth Murray
Murray has been living up to expectations this year. He was named Walter Camp National Defensive Player of the Week after registering a school-record 28 tackles in last week's win over Army. Murray ranks second in the Big 12 Conference with 47 tackles and his 11.8 per game rank in the top 10 in the nation.
Key storylines
Baylor
The Bears have to be able to protect Charlie Brewer. Baylor's offensive line has been a rebuilding process since Matt Rhule took over the program. There has been improvement this season, but this will be the group's toughest test to date. The Sooners have been disruptive behind the line of scrimmage, recording 33 tackles for loss (8.3 average) to rank 18th nationally. By comparison, last year, OU averaged 5.4 TFLs per game. Also, OU's nine sacks this season have come from seven players. Baylor has several skill players like Hurd, John Lovett, JaMycal Hasty, Denzel Mims, Chris Platt and more who could give the Sooners trouble if they get into space. But Brewer is going to need time and the line is going to have to open up some holes to make this happen and keep up with OU's offense.
Oklahoma
There wasn't much for the secondary to do last week against an Army team that threw a total of 9 passes on the night for 40 yards. That will be different this week with Brewer and the Bears coming to town. Parnell Motley struggled mightily against Hakeem Butler and Iowa State two weeks ago and, as expected, he's back in the starting line up this week. Now, he'll go up against either Platt or Mims, in what will be a tough battle. Both would be better match ups for Motley than putting him up against the bigger-bodied Hurd. OU will also have to be better against the run than they were last week when they were gashed for well over 300 yards on the ground against Army, granted it was against a tricky triple-option offense. Baylor did rack up 190 rushing yards last week against Kansas.
Prediction: OU 45, Baylor 24. The Sooners will not be caught looking ahead to the Texas Longhorns. I thought that might end up happening before the season. But considering they just had to go to overtime against a team they were favored by 33 points against, there will be no trap game this week against the Bears, who are still a work in progress. Baylor gave up 225 rushing yards to Duke two weeks ago, and with OU's stable in the backfield, I expect a big game from Murray, Sermon and Co.
**Sign up here for our HCS weekly e-mails for a chance to win FREE Heartland College Sports and Big 12 team gear!!**