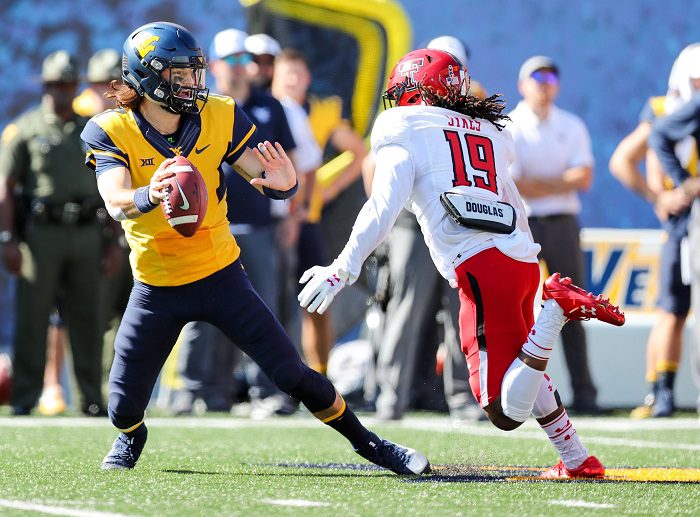 Here is everything you need to know about the upcoming top 25 match up in our Texas Tech vs. West Virginia Preview.
Game info 
Noon ET/11 a.m. CT, Saturday, Sept. 29, 2018, Jones AT&T Stadium, Lubbock, Texas
TV: ESPN2 (Anish Shroff, Ahmad Brooks, Roddy Jones)
Away Radio: Mountaineer Sports Network; Sirius 113/XM 202
Home Radio: Texas Tech Sports Network; Sirius 106/XM 200
Fun Fact: Texas Tech head coach Kliff Kingsbury and West Virginia head coach Dana Holgorsen were roommates while working together at the University of Houston.
Key Players
Texas Tech
QB Alan Bowman
All eyes will be on the freshman gunslinger this game. He's 3-0 as a starter and has 10 touchdowns as opposed to two interceptions. He also leads the nation in passing yards per game at 389.2. Against a Houston team featuring Heisman candidate Ed Oliver, Bowman finished 43-of-59 for 605 yards and five touchdowns. This broke the single game freshman passing record, once held by a guy currently lighting up the NFL. You may have heard the name Patrick Mahomes.
DB Adrian Frye
The Aldine Eisenhower product has three interceptions and six pass break-ups this season. Will Grier will be looking to stay away from Jah'Shawn Johnson, but Frye's name is not quite as well known. If Grier underestimates Frye as just another Texas Tech defensive back on a secondary that was smoked by Ole Miss, he might throw some regretful passes.
West Virginia
WR Gary Jennings Jr.
David Sills V is going to haul in his receptions, but West Virginia is going to need more than one big-time receiver this game. It's air raid vs. air raid. These defenses know what's coming. The Mountaineers are going to need extra help at wide receiver, just as Texas Tech is.
DB Dravon Askew-Henry
We mentioned Bowman's touchdown-to-interception ratio earlier. This is a freshman quarterback. The West Virginia defense must force him into making mistakes and punishing him. Askew-Henry has the lone Mountaineers interception this season. Turnovers will be key in this game. West Virginia has two turnovers this season. The offense has coughed up four. Texas Tech's defense has managed seven turnovers this season, including two last week against Oklahoma State. Ball protection will be significant.
Key Storylines
Big 12 Championship implications 
The winner of this will be the new favorite to challenge Oklahoma in the Big 12 Championship Game. It's worth noting that Texas is also seen as a strong contender after defeating TCU in its conference opener one week ago.
Texas Tech
Is this the most complete team Kliff Kingsbury's had since taking over the program? The Red Raiders are looking to start conference play 2-0 for the first time since Kingsbury's first season at the helm in 2013. Tech started conference play 4-0 that season with two true freshman quarterbacks taking turns as the starter. Both of those are now in the NFL. Alan Bowman is a true freshman. Their defense came into the season with high expectations led by Dakota Allen and Jah'Shawn Johnson. The entire starting offensive line returned from last season. Quarterback was the missing puzzle piece. Kingsbury seems to have found the one that fits.
West Virginia 
The last time a Heisman Trophy candidate took a top-15 undefeated West Virginia team into Lubbock was 2012. Geno Smth's campaign was completely derailed, and West Virginia was exposed as frauds after a 49-17 blowout loss. This team will be reminded of that scenario all week long. It will be mentioned on the television broadcast. West Virginia must not let the 2012 reminders seek in. This team has not lost to Tech since 2013.
Also, how good is this defense? Tech's offense will be its first true test.
Prediction: Texas Tech 56 West Virginia 45. Honestly, my preseason predictions had Texas Tech starting 7-0 before a massive collapse to finish sixth. Obviously, I had Tech winning this game. West Virginia's defense has looked good in its first three games, but they still gave up way too many points to Youngstown State. Quite frankly the turnover situation is going to be a major difference. Tech's defense prides itself on turnovers. In a game featuring two gunslinging, air raid offenses, turnovers are everything. Each missed opportunity becomes points the other direction. Give me the better defense.
**Sign up here for our HCS weekly e-mails for a chance to win FREE Heartland College Sports and Big 12 team gear!!**