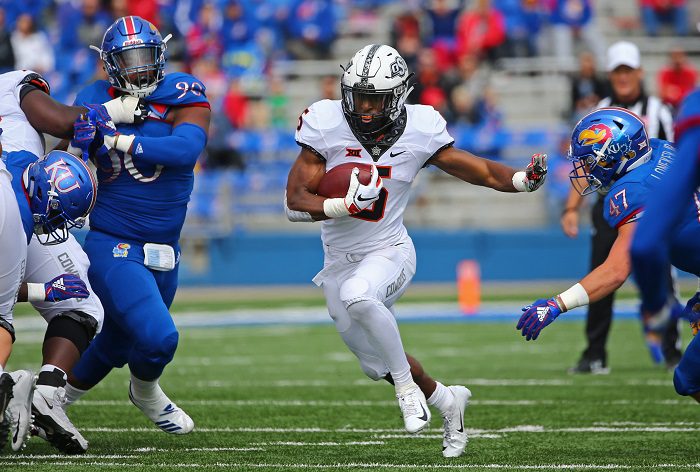 There were plenty of questions following Oklahoma State's loss to Texas Tech last week. But maybe the biggest concern and question: Where was Justice Hill?
The star running back received only 12 carries last week, despite averaging 9.3 yards per carry, with over 100 yards. Well, that all changed on Saturday. Right away, Mike Gundy and Mike Yurcich made it clear that things would be different than last week. On the opening drive in Lawrence, Hill had seven carries, as the Cowboys got on the board with a Taylor Cornelius 11-yard touchdown to Tylan Wallace, and rolled to a 48-28 win over the Jayhawks for their first Big 12 win of the season.
Hill finished his afternoon with 31 carries for 189 yards, good for 6.1 yards per carry, and just as important was his one rushing touchdown. This far surpassed the 15 carries or so Mike Gundy said he wanted Hill to average throughout the season, but sometimes the best laid plans of mice and men often go awry. His touchdown run came in the third quarter from 10 yards out and with the TD, Hill matched a Big 12 record for the most consecutive games (11) with a touchdown by a running back.
Hill is the straw that stirs the drink for the Oklahoma State offense and Mike Yurcich hopefully got the reminder he needed this afternoon.
Through the air, Taylor Cornelius passed for 312 yards and four touchdowns. But Cornelius was bailed out several times by his fantastic wide receivers. Tylan Wallace is a budding star, heck, he may already be a star for folks paying attention. Tyron Johnson is living up to expectations that came with him from LSU, while Landon Wolf stepped into the place of the recently departed Jalen McCleskey and led the team with six catches and a game-high 116 receiving yards.
However there were several times that Cornelius had underthrown or overthrown his wide receiver. Sometimes his throws off the mark were still caught by the trio mentioned above, but if you were watching, you noticed that Cornelius rarely seemed to hit his receiver in stride on the deep ball. Not that you needed this reminder, but Taylor Cornelius is no Mason Rudolph.

Regardless, the Big 12 scheduler makers didn't realize it at the time, but they put the Jayhawks on the calendar during the perfect week for the Cowboys. It was a testy several days in Stillwater. There was the loss to Texas Tech as a 14-point favorite, plus the transfer news of Jalen McCleskey, and then the threatening of reporters to not ask players about McCleskey's transfer.
A 20-point win over a KU team that is going to be lucky to find another win on its schedule this season will ease tensions for the upcoming week. But there is no time for the Pokes to rest on their laurels, as Matt Campbell and the Iowa State Cyclones will come to town next week armed with a defense far superior to the one Taylor Cornelius, Justice Hill, Tylan Wallace and company faced on Saturday.
But as long as Mike Yurcich remembers who he's got in the backfield, which is the best running back in the Big 12 Conference, Oklahoma State will continue to be in much better shape moving forward.
**Sign up here for our HCS weekly e-mails for a chance to win FREE Heartland College Sports and Big 12 team gear!!**