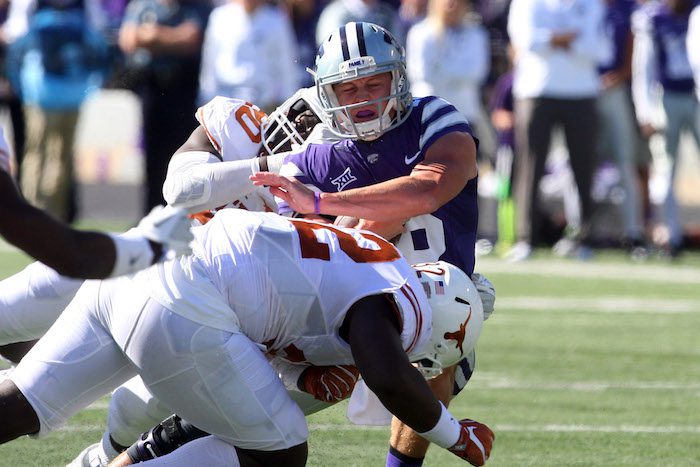 Texas is trying to win a game in Manhattan for the first time since true freshman safety Caden Sterns was two years old. The Longhorns are feeling good about themselves having won two-straight games over Top 25 opponents in USC and TCU, and tight end Andrew Beck was possibly a little too cocky before kick off on Saturday morning.
Beck was seen warming up on the Kansas State side of the field, which a few Wildcats appeared to have a problem with. That led to a bit of a scuffle before the game. Take a look below.
Because Kansas State players refused to allow Texas players to warmup on their side of the field, a fight between TE Andrew Beck and another player nearly ensued. pic.twitter.com/GzjCXPMgZy

— Anwar Richardson (@AnwarRichardson) September 29, 2018
My two cents: I never mind this stuff. I like to see opponents tweak each other, like Beck, and I like to see the pride that Kansas State showed. Was the whole thing a little petty? Sure it was. But considering the knock on "today's athlete" that they don't care and aren't as tough as players of yesteryear, I'm all into this.
**Sign up here for our HCS weekly e-mails for a chance to win FREE Heartland College Sports and Big 12 team gear!!**