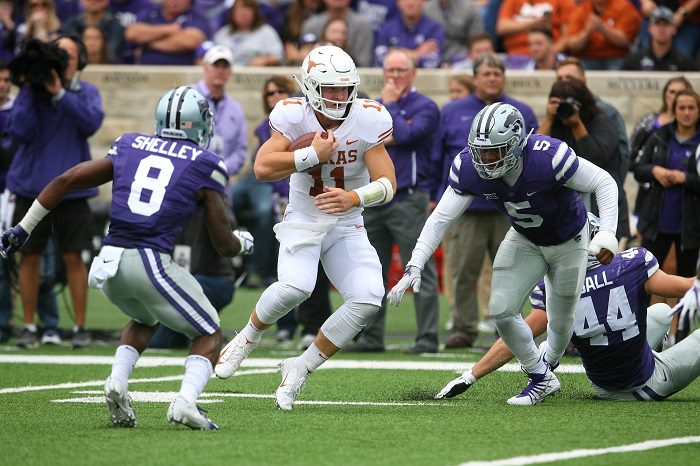 MANHATTAN, Kansas — Finish. It's the word you keep coming back to after talking with Tom Herman and the Texas Longhorns on Saturday.
Finish. It's the word the coaching staff has harped since last season ended. Texas' inability to finish games a year ago became a sort-of calling card that no football team wants to carry. Since January, the desire has been for Texas to finish those games they lead in the fourth quarter.
Finish. It's what Texas did on Saturday against Kansas State, a 19-14 win. It's what the Longhorns (4-1, 2-0 in Big 12) have done for the last four games.
Finish. It's finally becoming a thing.
"Yeah, I think we're there," Texas quarterback Sam Ehlinger said after Saturday's win, one in which he threw for 207 yards and a touchdown and rushed for another 26 yards.
Texas won in Manhattan for the first time since 2002. Texas is 4-1 to start the season for the first time since 2012. Texas exorcised its K-State demons, set up what has the potential to be an epic clash with Oklahoma next Saturday and, well, finished.
And it wasn't easy.
"Coach (Mack) Brown told me early this week that the K-State team you see on film is not the K-State team you'll see on Saturday," Herman said.
That was true. The Wildcats (2-3, 0-2) played better defensively than they had played in about a month. They gave up just one offensive score to the Longhorns, a touchdown reception by Texas' Collin Johnson in which he had to cling to the football for dear life as Kansas State's Duke Shelley had his hands wrapped around it, too.
Texas only had eight possessions. The offense wasn't explosive by Big 12 standards. Johnson caught only four passes, but two of them were huge. Keaontay Ingram rushed for 68 yards and had key carries late. Ehlinger and the offense didn't commit a turnover.
The Longhorn offense got the job done. So did the Texas defense, which rendered K-State's offense practically impotent in the first half and claimed a safety by defensive end Charles Omenihu, who had two sacks in the game. It was so bad Texas chased K-State starting quarterback Alex Delton from the game and the Wildcats put in Skylar Thompson, who put 14 points on the board for K-State. The reason? Herman said Thompson was simply a better passing quarterback, and that's what K-State had to do to get back into this one.
The Texas special teams got the job done, too. D'Shawn Jamison's first-quarter punt return for a touchdown was a thing of beauty. Cameron Dicker made a field goal in the second quarter. Texas probably should have been up by more points and been in firmer control of the game. But, well, K-State wasn't going away. And as the Wildcats put that second touchdown on the board with 9:55 left in the fourth quarter, and the student section threw itself into the Wabash Cannonball, Texas had to find a way to finish.
And finish they did. But it wasn't easy.
The Longhorns' first attempt to finish, immediately after the touchdown by K-State's Alex Barnes, didn't go as hoped. Texas did claim a first down, but it had to punt the ball away after Ehlinger's pass to Johnson was incomplete. Texas punted, but chewed 2:43 off the clock.
K-State had a chance to steal this one away from Texas. But the Longhorn defense forced the Wildcats three-and-out, and dramatically so. On 3rd-and-6 from the K-State 20 Thompson tried to complete a pass to Dalton Schoen for a first down, but Texas pass rusher Breckyn Hager batted it down. K-State punted.
Then the Longhorn offense took over with 6:20 left. Six minutes and 20 seconds to salt this win away, and they did. Texas faced a 3rd-and-10 after a false start and Ehlinger connected with Johnson on a 12-yard gain to move the chains. Then Ehlinger rushed for 2, Ingram for 7 and Ehlinger for 2 to move the chains again. The clock kept winding away and there was little the Wildcats could do to stop it.
Ingram for four, and then Ehlinger gained 12 more yards for another first down. There was less than two minutes to left to play. For the fourth straight week the Longhorns would win and take a knee in the red zone.
For the fourth straight week the Longhorns finished the game, closed the deal, whatever you want to call it. Texas doesn't seem concerned about style points right now. Only winning.
As it should be. Forget about being "back," as some Longhorns fans would like to be able to say about this team.
"Finish" is the word in that Texas locker room, and if Texas keeps doing that the "Texas is Back" will take care of itself.
**Sign up here for our HCS weekly e-mails for a chance to win FREE Heartland College Sports and Big 12 team gear!!**