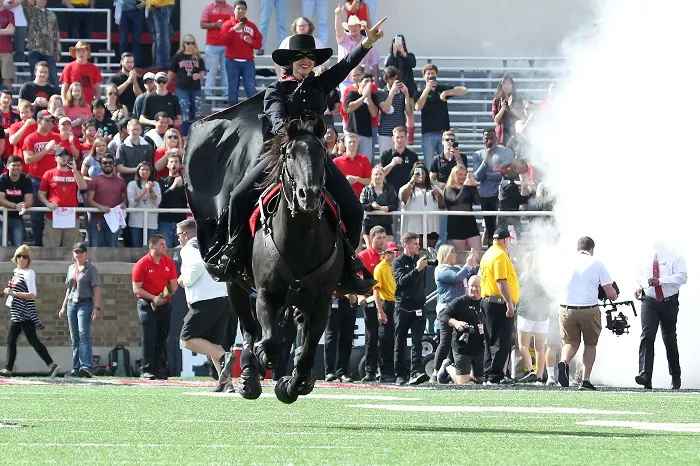 Anytime college football is played at Jones AT&T Stadium in Lubbock, Texas it seems like weird things always happen, and Saturday's Top 25 match up against West Virginia on Saturday was no different. At halftime a couple got married right at midfield and guess what, that wasn't even the craziest thing I saw on the field on Saturday!
Texas Tech started off the game against West Virginia slower than a turtle running a hundred-meter dash. While the West Virginia Mountaineers were doing everything right in the first quarter, the Red Raiders did the exact opposite and found themselves in a 28-7 deficit at the end of the first quarter. Slow start, no start, whatever you want to call it, it wasn't pretty. In the first quarter alone, West Virginia had 279 yards of offense. Even though Texas Tech held the Mountaineers to just a little over 100 yards and seven points in the second quarter, the offense couldn't keep up as Tech entered the half down 35-10.
It couldn't get any worse than that could it? Oh, why yes it did. In the second-to-last offensive possession for Tech, QB Alan Bowman was sandwiched in between two WVU defenders and was shaken up. However, I didn't notice it until I saw someone in a Texas Tech uniform being taken to the locker room and it turned out to be Bowman. With the true freshman being look at by the medical staff, backup QB Jett Duffey got his chance to play. What did Duffey do with his first opportunity? He threw an interception to WVU defender Kenny Robinson. I am not going to lie to you, I thought Tech would roll over and if Jett Duffey stayed in the game, I truly though things would get worse.
Well, it turns out that I was wrong (shocker, right?). I still have no clue what happened in the second half of this football game. Maybe Tech drank some of the Space Jam secret stuff? Maybe they got angry or pissed off? Well, it doesn't matter, because this team didn't roll over and die. They fought and clawed their way back into a football game that they had no business being in. Texas Tech scored 24 points in the second half and the defense shut out the Mountaineer offense. The 7-points West Virginia had in the second half came off a Kenny Robinson pick six thrown by Jett Duffey.
Plenty of folks heading for an early exit pic.twitter.com/o0MMmsdIXb

— Derek Duke (@DerekDuke25) September 29, 2018
In fact, the last three quarters of the game was won by Texas Tech 27-14, but as we all know, there are four quarters in the game of football. Look, giving up 28 points and 270 plus yards in the first quarter is inexcusable. You can't do that and expect to win games. That's the negative or the silver lining in this ball game because after that first quarter, Texas Tech won that game even though the scoreboard didn't show it. Like I said before, this team didn't lay down or quit like some of Kingsbury's other teams would have. This group fought their asses off and in the end, had a chance to tie this game late in the fourth quarter when they had the football down just eight points with a little over four minutes left in the game.
No, Texas Tech fans should not celebrate a loss or accept moral victories, but you know what I saw today? I saw fans piling out of the stadium at halftime because they didn't like what the scoreboard read. In fact, some people couldn't get out of that stadium fast enough. And guess what? When Texas Tech needed them most, those fans weren't there. This team had their back against the wall all game and didn't have many folks left to support them. Even when they came all the way back, the stadium was still half empty. Red Raider fans, your team didn't quit on you, so don't quit on them. You can question the performance on the field especially in that first half, but when you come back down 25 with a third string quarterback, that takes a full team effort. This team gave full effort but just came up short in the end due to the hole they dig themselves in early as Texas Tech fell short 42-34 to a very good West Virginia team. Does the loss sting? Sure, but there were plenty of things to be proud of in this game if you're head coach Kliff Kingsbury. Look, I am not saying Kliff Kingsbury is the right guy or wrong guy but when your team plays at home, show up be loud and support your team win or lose.
**Sign up here for our HCS weekly e-mails for a chance to win FREE Heartland College Sports and Big 12 team gear!!**