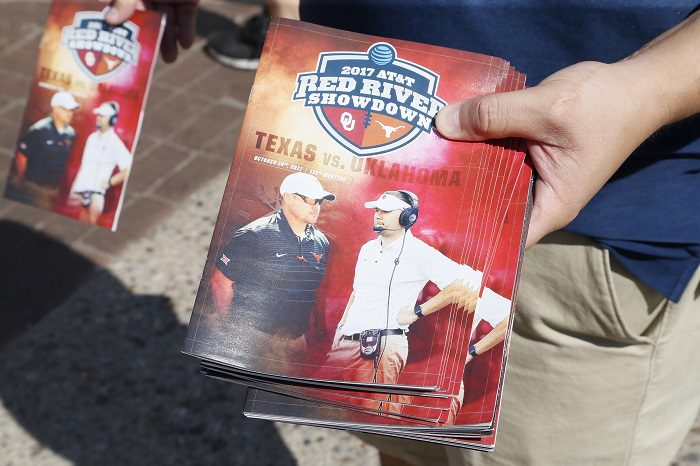 As we gear up for Week Six of the college football season, several Big 12 teams are getting into the thick of conference play, including one of the best rivalries in the sport. Also, we're getting a better idea of who the contenders and the pretenders are in the conference. So here are the top five storylines I'm watching in the Big 12 Conference heading into Week Six.
1. Big 12 Front Runner on the Line
It's the first time since 2012 that both Oklahoma and Texas are ranked heading into the Red River Rivalry. The winner of this game will become the favorite in the Big 12 Conference. Sorry, WVU fans, but this will be the most impressive win for any of these three teams, therefore moving the winner to the front of the line in the Big 12 Conference. OU comes in with one of the best offenses in the country, while Todd Orlando has had Lincoln Riley's number the past two years scheming on the other side of the ball. In 2016, it was the win over OU when he was DC at Houston. Last year, he nearly helped Texas pull off the upset in Tom Herman's first season with the Longhorns. What will the third meeting bring between Riley and Orlando? The Big 12 ramifications are huge.
2. Iowa State's Last Stand?
It's not really their last stand, mathematically. But let's be honest, the Cyclones are 1-3 and 0-2 in the Big 12, so it kind of is, mentally at least. Yes, they've already played the two Big 12 teams who met in last year's Conference Championship, but still, Iowa State fans had very high expectations entering this season and they are not being met thus far. Iowa State goes on the road to face a vulnerable Oklahoma State team in Stillwater that is dealing with injuries, inconsistency and some Mike Gundy drama. This game will be very telling for both teams and how competitive they will be through the remainder of the Big 12 schedule.
3. 8th Place in the Big 12?
We know the Jayhawks are the worst team in the Big 12 Conference. But who is the second worst? I don't know. I think most of us would argue either the Baylor Bears or Kansas State Wildcats. Well how about that, these two teams are playing each other this weekend in Waco and we'll get a sense for where these programs are. Both fan bases are frustrated with how their teams have played so far this fall. The team that wins this game will temporarily ease some of their fan concerns, while the losers of this game will be in full-blown panic mode moving forward.
4. Kansas State's QB Chaos
Who's on first? Who's on second? Who's under center for Kansas State? After another testy week between Bill Snyder and the media, it's not clear who he is going to roll with in Waco this weekend against Baylor or for how long. Skylar Thompson has clearly performed better, but Snyder either has a soft spot for Alex Delton he can't fully explain, or there is something about Thompson he is not telling us. Regardless, it remains one of the most drama-filled storylines in the Big 12 Conference through the first month of the season, and based on how these past few days went in Manhattan, it doesn't appear to be one that is losing steam.
5. Mountaineers Muscle
I'm not sure many of us our holding our breath waiting for the outcome of Saturday's West Virginia vs. Kansas game in Morgantown. But I know I'm curious to see if the Mountaineers can put together a complete four quarters and demolish an opponent start to finish, something they haven't done yet this season. Last week's 35-10 lead over Texas Tech at halftime dwindled as the second half went on, putting a little scare into what should've been an easy win for the Mountaineers. WVU is still more well rested than any other Big 12 team thanks to its cancellation three weeks ago against NC State. There's no better time than Saturday in front of the home crowd against Kansas to flex that muscle and put a beating on a subpar opponent.
**Sign up here for our HCS weekly e-mails for a chance to win FREE Heartland College Sports and Big 12 team gear!!**