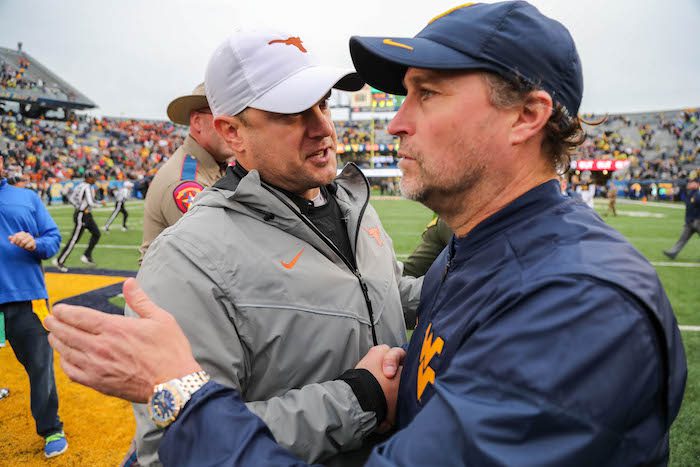 Ah yes, they are BACK. The power rankings are here as we wrap up the first weekend of Big 12 football. In our 2018 version of the Big 12 power rankings, we have averaged out the rankings of our main contributors at Heartland College Sports. These will be done on a weekly basis and released every Monday morning. A friendly reminder before trolling: Power Rankings can swing drastically week to week and are not simply a ranking based on who we think are the best teams in the conference, but rather based on the games that have been played to date.
1. West Virginia Mountaineers (Last week: 2)
Well after one week out of the top spot, it's the Mountaineers back at No. 1 for the second time in three weeks. It wasn't always pretty thanks to three red-zone turnovers from Heisman hopeful Will Grier, but a conference win is a conference win. And with the OU loss, it's the Mountaineers taking advantage. The staff was split on putting Texas or WVU in the top spot. And by split, I mean the guy who writes this (Pete Mundo) wanted Texas in the top spot, but he was overruled by the masses. When it comes to the power rankings, my vote does not count any more than Derek, Matthew, Cameron or Dave. I consider all our votes equal, even though I had to wholeheartedly disagree this week. But WVU will have its toughest test of the season to date this weekend with a road trip to Ames against a rejuvenated Iowa State team with it's stud true freshman quarterback Brock Purdy.
2. Texas Longhorns (Last week: 3)
What a weekend for the Red River Rivalry. The Longhorns won the game for the second time in four seasons in thrilling 48-45 fashion and now have three Top 25 wins, far more than anyone else in the Big 12. The offensive line is starting to get more push up front, while Sam Ehlinger is coming into his own at quarterback. Meantime, the defense is looking like the unit that we thought we'd see under Todd Orlando this season, not the one that played at FedEx Field in Maryland in Week 1 of the season. Oh, that Maryland loss. It could really start haunting the Longhorns as the season progresses. But right now, this team is playing its best football during the Tom Herman era.
3. Oklahoma Sooners (Last week: 1)
The Sooners scored 45 points… and lost the game. And it cost Mike Stoops his job. The breaking news came down Sunday night that Stoops had been let go after a defensive debacle against the Longhorns, who racked up over 500 yards of offense and 48 points, one week after mustering just 10 points in Manhattan against the Kansas State Wildcats. Despite a plethora of four and five-star players on that side of the ball, Lincoln Riley had to make this move. Kudos to him for doing it and not letting the awkward relationship with his predecessor, Bob Stoops, affect the decision. OU needs to hit the reset button on defense and with a bye week, this is the time to do it. But just like in 2015, when OU last lost to UT, the Sooners made the College Football Playoff. So not all hope is lost.
4. TCU Horned Frogs (Last week: 4)
TCU was idle this past weekend and stays steadily in the No. 4 spot. Gary Patterson's bye week came at the right time, as the Horned Frogs have some things to clean up on both sides of the ball. Shawn Robinson got a little careless with the football the past couple of games, and a week to reset before the second half of the season gets underway was probably a good thing for him. The Horned Frogs take on Texas Tech this Thursday, which is a game that will go a long way in determining which one of these teams will be at the top of the "second tier" in the conference.
5. Iowa State Cyclones (Last week: 7)
What a Purdy performance that was on Saturday, huh? Yes, I'm going to keep killing this corny joke until you all get tired of it. Brock Purdy was the man and at times the true freshman looked like a wily veteran who had been doing this for several years. He has given new life to Iowa State's offense, which was in desperate need of it and was not clicking under Zeb Noland. Purdy's dual-threat ability is a big boost behind an offensive line that has been very mediocre at times. With this defense, Purdy can do more than enough to get Iowa State back to a bowl game and keep the forward momentum going for Matt Campbell's program. The Cyclones welcome a top 6 team to Ames this weekend… last time that happened? Hello, TCU.
6. Texas Tech Red Raiders (Last week: 5)
The Red Raiders were idle this past week, but they fall a spot due to Iowa State's big win in Stillwater on Saturday. Texas Tech is in a tough spot right now, as the schedule toughens up, starting with TCU on Thursday night. The quarterback situation is in flux with Alan Bowman's injury last week, which likely puts Kliff Kingsbury down to his third-string quarterback. The second half against West Virginia, where the defense pitched a shutout, should encourage this team moving forward, but there are still concerns that persist on both sides of the ball. TCU is down from last season, so a win this week would go a long way and say a lot about Kingsbury's ability to win 6-8 games and keep his job into 2019.
7. Oklahoma State Cowboys (Last week: 6)
Oklahoma State is looking more mediocre by the week. The win over Boise State continues to look more like an aberration rather than the norm. Brock Purdy torched Jim Knowles' defense on Saturday for nearly 50 points. In fact, OSU has given up at least 40 points in two of the three Big 12 games they've played so far this season. The offense is good, but it's just not Mason Rudolph-James Washington good, where they want to play these 50-45 shootouts. There are injuries on defense which is not helping, but that side of the ball needs to improve quickly. Also, the offensive line looks like a mess for the Pokes. The Cowboys also need to clean up the penalties. They rank 9th in the Big 12 in penalty yards and are last in penalty yards in conference play.
8. Baylor Bears (Last week: 8)
Hey, the Bears on 4-2 and have won the games they're supposed to win and lost the games they're supposed to lose. But don't tell BU fans that. They just aren't showing up in Waco so far this season and there still appears to be some angst amongst the fan base. Why? I'm not sure. This is a major rebuilding process Matt Rhule has on his hands here. The defense remains a work in progress, but the offense is solid and the team speed is outstanding. If Matt Rhule really wants to rally the Baylor fan base, then a win this weekend over the Longhorns would sure do just that.
9. Kansas State Wildcats (Last week: 9)
For the first time ever, since we started this power rankings, someone other than Kansas received a last-place vote. Yes, one of our voters had the Wildcats in the No. 10 spot. It's just been a tough year all around for Kansas State. The Wildcats are now 2-4, and let's be honest, they'll be underdogs in every game they play the rest of the season, minus the Kansas game. So it's entirely possible KSU is looking at a 3-9 season. What happens then for Bill Snyder? We don't have that answer, but you better believe the talking point will be louder and more relevant than ever if the season goes like it's trending for Snyder & Co.
10. Kansas Jayhawks (Last week: 10)
So… the Jayhawks are not getting blown out as badly as last season. They were reasonably competitive against Oklahoma State and while West Virginia should've blown them out, a few timely red zone interceptions kept it closer than it should have been. Still, I don't know if having "better losses" saves David Beaty's job into 2019. He has a lot of seniors on this team, so it's entirely possible that next year's program actually takes a step backwards, if that is possible. But kudos to KU for not giving up, and Beaty certainly still appears to have his players' ears on the sideline and they're playing tough for him. That's worth something.
**Sign up here for our HCS weekly e-mails for a chance to win FREE Heartland College Sports and Big 12 team gear!!**