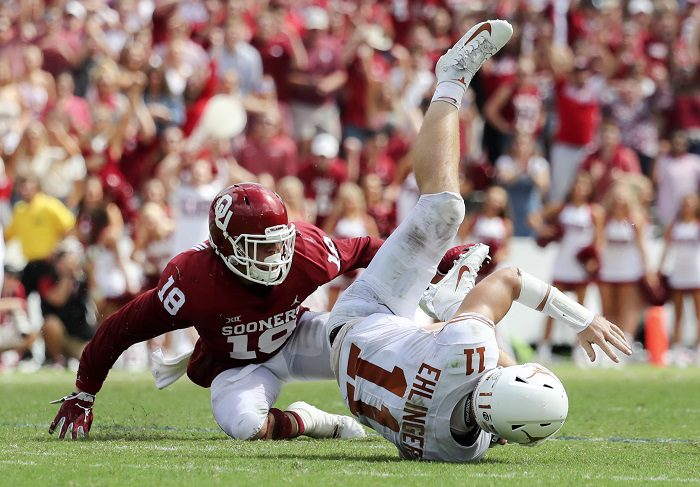 Welcome to the HCS Big 12 mailbag. This mailbag is for all you football junkies out there who root for a Big 12 school who not only have questions about your team, but other teams in the conference as well. So, join me, grab a cold brew or your favorite drink and relax as I answer all your Big 12 questions in my mailbag. For those interested, I will send out a tweet (@Derekduke25) every Monday at noon until last call (No, not 2 AM) at 8 PM CT for you to send in your questions to be answered every Tuesday right here at Heartland College Sports.
I will pick the best question for each mailbag and label it as my question of the week. The winner gets a free HCS Koozie to keep your beer cold (Unless you like it warm, but that's just plain wrong). It was busy question day which tells me that this mailbag is working harder than me at my day job. Unlike the "Big 12 blog" over at ESPN (I say that loosely because one story a month is a tragedy), we here at HCS are determined to give you the best Big 12 coverage on the planet. I want to thank each one of you who submitted a question this week and for those reading, I am glad you could join me. I am enjoying a late beer myself to help me work my way through the mailbag.
There are probably some that don't give a rats you know what about how my weekend was. If you do care or even if you don't, I am going to tell you anyways. I had a SUPER long weekend. I took off Friday, so I could go bar hopping with some friends of mine on Thursday night and Friday I slept off the hangover. Saturday I was up bright and early for an afternoon full of Big 12 football as usual. Sunday, I sold my fantasy football soul to the devil, so my Houston Texans would beat the Dallas Cowboys (Sorry Dallas fans). Lastly, Monday I did some things around the house and lounged around for most of the afternoon. On to the mailbag!
@mundodelovoide asks: Was Texas OL coach Herb Hand one of the best, if not the best, off season hires in the Big 12?
Duke: I had to think about this one for a few minutes and when I was done, I think he is the best hire. There wasn't a lot of coaching changes in the Big 12 this past offseason. Obviously, Kansas State had some coordinator changes and Oklahoma State hired DC Jim Knowles, but I would say Herb Hand to this point has been a solid hire for Texas. Texas is doing a nice job up front with some guys who are still works in progress, but it finally seems like there is some continuity up front and they are doing a good job in pass protection as well. I mean that offensive line for Texas out manned the Sooners defensive line this past Saturday and for the most part of the season, Texas looks like a new offense and it all starts up front. This line looks night and day different from the one I saw last season. We are at the halfway mark of the season, but I really like what I have seen so far from this group. I'll say he is one of the best if not the best hire in the Big 12 from last offseason.
@jonkev50 asks: What is your expectation for the Oklahoma defense going forward this year with a new coordinator?
Duke: With the firing of Mike Stoops, it was announced that 60-year-old Ruffin McNeill would take over the defense after serving as a defensive tackles coach at Oklahoma since last season. Before that, Ruffin has had an experienced background in the college game because every year since 1985, he has been on a collegiate staff. He was even a head coach at East Carolina from 2010-2015 where Lincoln Riley served as his offensive coordinator from 2010-2013 before heading for Oklahoma. There is one thing that bothers me a little bit, Ruffin hasn't been a defensive coordinator since 2009 when he was at Texas Tech. Now he did help turn those defenses around, but the game has changed a lot since 2009. Obviously with his experience he knows some tricks of the trade but that's a long play calling drought for any coach. I believe he was the right short-term choice for Oklahoma, but Lincoln Riley will need to go out and hire a defensive coordinator after the season is over. Remember, all these position coaches are still there. Only the head man (Mike Stoops) is gone. I think the defensive may improve a little bit out of pride and emotion, but will they be a top 50 defense? I highly doubt it.
@PetittFarms asks: How do traditional Big 12 schools feel about WVU possibly carrying the conference flag this year? Would a quart of moonshine make it more bearable?
Duke: Obviously some schools and fan bases will feel sour if that happens but that would be from a jealousy standpoint because their school isn't the one carrying that flag. With that being said, I don't think other schools mind so much rooting for a Big 12 champion to do well in the CFB Playoff if they make it in. It helps the conference gain national respect and helps gain exposure. The most important thing is that whoever the champion is out of the Big 12 does well because if your conference champion goes out and wets the bed in a big-time game, then it labels the conference in a negative way in other people's minds. The only people that wouldn't be so accepting of a school like WVU carrying the conference flag is the playoff committee. They have proven time and time again that they don't respect the Big 12. That would be 10 times worse if the school carrying the Big 12 playoff hopes isn't a "blueblood program." As for the moonshine, save it for the CFB Playoff committee because you may want to get them a little buzzed if your Mountaineers get close to grabbing one of those top 4 spots.
@RPTexan asks: Since Tech didn't play Saturday, not much CFB to talk about. So, what is your favorite sports month?
Duke: The good news is that I never take a weekend off for college football because we cover the Big 12, there is always at least 2 games per weekend every single Saturday during the season and I love it. My answer here is simple, I don't have a favorite sports month. College football is my favorite sport by a mile and from late August or early September all the way to the National Championship game in January, those are my favorite months of the year. I literally eat, sleep and breath college football and I wouldn't change that for any other time of the year.
@Cyclonefan10 asks: Should the Big 12 be happy that Nebraska left? They are a dumpster fire.
Duke: Since they joined the Big Ten (2011-Present), they have only won their division one time in a very weak Big Ten West when you compare it to the Big Ten East division. The last 3 years they have really been garbage. In their last 19 games do you know what their record is? It's 4-15. I really don't want to talk about irrelevant programs anymore. That's enough for one mailbag.
@JoSCobbs90 asks: Who do you got in Ames this weekend and are Texas fans playing themselves of how they played against Oklahoma?
Duke: Man, I am so torn in this game. This is a game I want to go cover VERY BADLY but I don't think I can make that happen. Anyways back to the game here. Jack Trice under the lights against WVU? Yes please. This game will be close, and I don't care what the line is but whoever wins this one it will be by 7 points or less. Right now, ISU RB David Montgomery's status is still up in the air. If he is a no go for Saturday I must pick West Virginia here. Their offense is so powerful when it's on and I am not sure if any Big 12 team can stop their passing attack with all those weapons at wide receiver. Iowa State needs to control the clock and QB Brock Purdy will need to play like he did last week and take care of the football. Keep that WVU offense on the sidelines and ISU has a REAL shot at taking down the Mountaineers. However, I must give the slight edge to WVU now with David Montgomery's status still up in the air. I am not sure if his return would make me change my pick completely but with him out, I'll take the Mountaineers.
As for the whole Texas fans question. It's Texas fans we are talking about. They are crazy. I'll say this, it was a HUGE win for the Longhorns and it was a momentum changer IF they can stay the course. In a rivalry game (Especially that one over the last few years), you can throw records out the window because it's going to be close. Texas has an issue of playing up and down to competition, so I will see how they fair against Baylor this weekend in Austin before determining that.
**Sign up here for our HCS weekly e-mails for a chance to win FREE Heartland College Sports and Big 12 team gear!!**