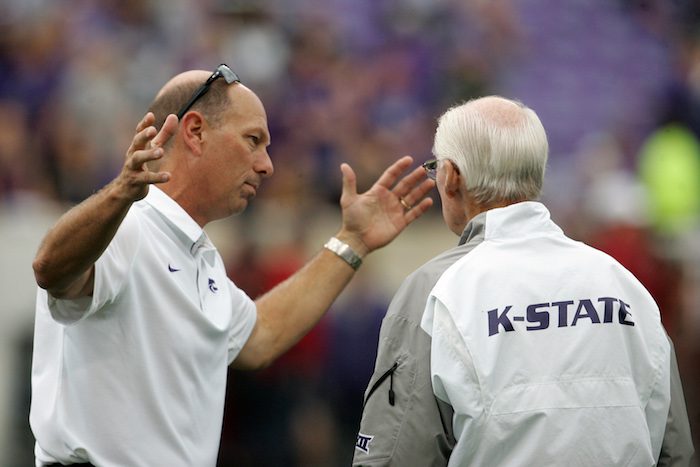 The rumors are flying left and right as to why Mike Stoops was fired. Was it because of an alleged halftime shout-fest that resulted in Curtis Bolton leaving the locker room? Was it motivated by a President who is facing $1 billion in debt and wanted to appease an angry group of uber-wealthy donors? Or could it just have been because Texas' offense is not nearly as good as it looked when it put up 48 points in a win against OU, which potentially derailed another run to the College Football Playoff and this move was long overdue?
I don't know the answer, but it could be one of those three, a combination of all three, or possibly none of those three.
What I do know is that Mike Stoops' ability to hang around the Oklahoma football program at least two years longer than anyone without the Stoops last name would've been allowed to, played a role in what turned into a soap opera and fairly dramatic and, at times, ugly, situation the past 48 hours.
There were reports from the likes of News 9's Dean Blevins, a very solid OKC reporter, who said that Mike Stoops was not relating well to the players and it was an ongoing problem. He added that Stoops was surprised with the timing of the firing because Riley did not accept his offer to resign after the game "in the heat of the moment".
Long story short, this whole thing is a mess and it was caused by nepotism. Mike Stoops would not have lasted this long as the defensive coordinator at OU had he not held the last name that carries more weight than any other in Norman, Oklahoma over the past generation.
And through all this drama, the folks up in Manhattan, Kansas can take a hint. This could be you. When? I don't know. This season? After the season? 2019?
But this is what can happen when emotions run high, power and prestige is at stake, ego plays a role, nepotism is a factor and dollars and cents are in the mix. It's not pretty. The sooner these issues can get nipped in the bud, the better.
The problem for Kansas State is that it might be past the point of no return. It can't move on from Bill Snyder at this point without it having some kind of drama and mixed messaging around it. It's dragged on too long and the university has, in many ways, allowed itself to become a hostage of the Snyder family. Bill Snyder does not appear to have any intentions of going anywhere until his son, Sean, is handed over the reins of the program.

Someone at Oklahoma put at stop to that perception and attitude over the past couple of days. Maybe it was Lincoln Riley, maybe it was new President Jim Gallogly, who is looking at running OU like a business and does not have the emotional ties to the Stoops family that others around the program have. Heck, maybe it really was wealthy boosters who were finally fed up with a defense being the Achilles heel in a program that has the offense to win a National Championship.
What I do know is that this is what can happen when you pretend like there is no problem. It blows up in your face at the worst possible moment. Instead of taking care of this prior to this season or even last season when Bob Stoops retired, OU now has itself a chaotic bye week and a new defensive coordinator in the middle of a season where they, once again, have the offense capable of winning a National Title.
In many ways, it's exactly what is happening at Kansas State, but at a more significant level because it's the entire program, and it's future, at stake, not just a coordinator. No one on the inside wants to say what's happening, at least not without whispering it, and eventually it could also implode in the face of the football program and university.
Is anyone in Manhattan looking five hours to the south to see what can happen? I hope so. Plenty of lessons can be learned.
**Sign up here for our HCS weekly e-mails for a chance to win FREE Heartland College Sports and Big 12 team gear!!**