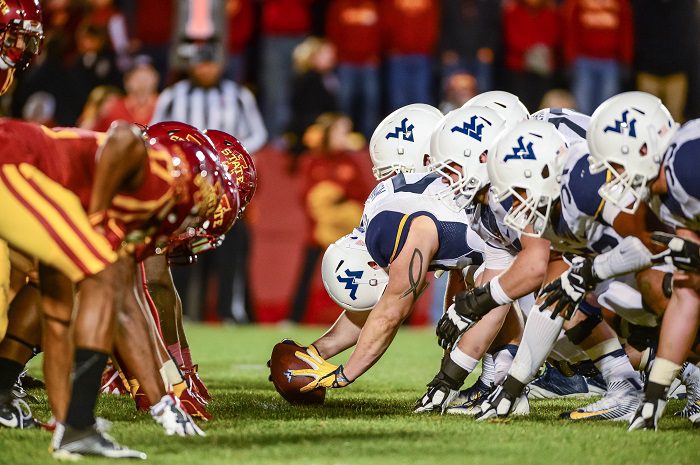 Here is everything you need to know about the upcoming conference matchup in our West Virginia vs. Iowa State Preview.
Game Info
7 p.m. ET/6 p.m. CT, Saturday, Oct. 13, 2018, Jack Trice Stadium, Ames, Iowa
TV: FS1 (Tim Brando, Spencer Tillman, Holly Sanders)
Away Radio: Mountaineer Sports Network; Sirius 119/XM 198
Home Radio: Cyclone Radio Network
Fun Fact: West Virginia head coach Dana Holgorsen was born in Davenport, Iowa and played football at Iowa Wesleyan University.
Key Players
Iowa State
QB Brock Purdy
Let's face it. No one saw Iowa State scoring 48 points against Oklahoma State no matter how bad the Cowboys are this season. Purdy ignited the offense to 465 total yards. Both of those are season highs for the Cyclones. If David Montgomery comes back, this is going to be an explosive offense with momentum. Now the question is, will the film expose Purdy? Or is he the real deal?
DB Braxton Lewis
Lewis has an interception in each of the last three games. It will be a little tougher for the walk-on this week. He's going up against one of the nation's best offenses. However, Iowa State is the team in the Big 12 Conference that is known for its defense this season. The secondary has to keep up with this West Virginia receiving corps or it will be a long day.
West Virginia
WR Marcus Simms
David Sills V has not recorded a 100-yard performance since the opener against Tennessee. Simms is West Virginia's leading receiver and has racked up at least 119 yards in three of the last four games. Iowa State's secondary will have its hands full with this receiving corps.
LB David Long Jr.
The heart and soul of this Mountaineer defense has been in the backfield seven times in three conference games. He notched two sacks against Kansas State and 10 solo tackles at Texas Tech. If West Virginia is going to win the Big 12, then the defense is going to have to hold its own. It hasn't been pretty at times, but it's held up so far. A big thanks goes to Long.
Key Storylines
Iowa State
The Cyclones started off the year with a lackluster offense despite returning David Montgomery, Kyle Kempt and Hakeem Butler. With the emergence of Brock Purdy, is it the ignition for the Cyclones to roar back into the pack of the Big 12? Or was Purdy in the right place at the right time against Oklahoma State? West Virginia's defense has allowed opponents to place up points in a hurry. It has shown promise at times too. Purdy is going to have to take advantage when given the opportunities.
West Virginia
The Mountaineers are the last remaining unbeaten in the Big 12. That means they are also the team with the best shot to make the College Football Playoff. The target is officially on West Virginia's back. How will they respond? Can they take the pressure? This will be the first game and Iowa State is rapidly improving. We should be in for a fun ride in Ames.
Prediction: West Virginia 38 Iowa State 35. This is going to be a fun game to watch. The best defense in the conference is going to face, arguably, the best offense in the conference. Then we get to see an offense that sputtered out of the gates against a defense that also kind of sputtered out of the gates (17 points to Youngstown State and 14 to Tennessee?). Both fanbases are loud, proud and rowdy. Jack Trice Stadium is going to be rocking. In the end, I think Iowa State gets its heart broken. This is what Heisman Trophy winners do. If Grier is going to make a run for the Heisman, he's going to break some hearts along the way with a clutch performance.
**Sign up here for our HCS weekly e-mails for a chance to win FREE Heartland College Sports and Big 12 team gear!!**