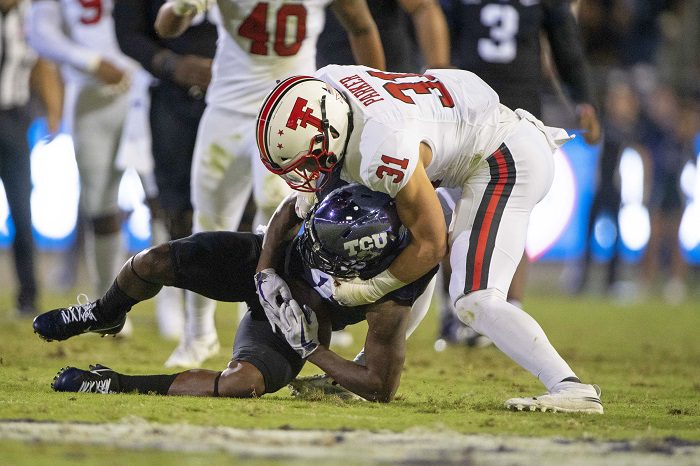 FORT WORTH, Texas — Texas Tech fans remember that bright, sunny Saturday afternoon in 2014 where we all caught a glimpse of what Patrick Mahomes II could do.
Mahomes threw for just 45 yards that day against the Horned Frogs. But the next week he became the starter at Texas Tech due to Davis Webb's injury and for the next two seasons he would rule the quarterback position for the Red Raiders.
It's nice for Red Raiders fans to think of that day, Oct. 25, 2014, as the day the Mahomes era began. Because the alternative was WAY too depressing.
That was the day TCU destroyed Texas Tech, 82-27. It was the most points TCU ever scored in a game. Trevone Boykin threw for seven touchdowns. The Horned Frogs gained a school-record 785 yards. It was a butt-whipping reserved for FCS teams. I was at that game, covering it from the sideline. I couldn't get over what was happening. Yes, Tech's defense wasn't that good. But there was still talent on that side of the ball. It shouldn't have been THAT bad.
Four years later, the Red Raiders got some measure of revenge. Thursday night it was the Red Raiders' defense and special teams that supported the offense, which saw quarterback Jett Duffey make his first collegiate start, in a 17-14 win over TCU. In a sloppy game, it was the Texas Tech defense that won the day. And you better believe that when head coach Kliff Kingsbury stepped to the podium, he was ready to talk about 2014.
"Four years ago I walked out of here and they put 82 on us, so to be able to come back and have this type of performance — I'm really proud of them," Kingsbury said. "What that side of the football had done, it's fought and fought, and that kind of consistency (tonight) is what we're looking for from that group."
We all know the Big 12 is about offense. Kingsbury knows it, too. Heck, he's built his reputation on the offensive side. Just look at what Mahomes has been doing with Kansas City, and you better believe Chiefs head coach Andy Reid is lifting and replacing from Kingsbury's playbook. Big 12 defenses are not bad. But they do have to overcome offenses that play at a high pace, churn plays, aim to score points and wear down defenses with the sheer amount of plays it takes to do all of that.
When a Big 12 team like, say, TCU, with a defensive reputation, holds Iowa State to 14 points two weeks ago, we don't bat an eye.
When Texas Tech does it, well, the eyes do that cartoon thing where they shoot out of the sockets and stretch out almost to the point where they detach, and then they snap back.
This might not be your older brother's Texas Tech anymore. I mean, let's not go crazy. But the Red Raiders held TCU to 14 points, forced three turnovers, held the Horned Frogs to 5-of-17 on third down and 1-of-3 on fourth down. That included that crazy last play by TCU quarterback Shawn Robinson where he ran east to west trying to find space to run and throw but couldn't find it. It was a microcosm of the entire game. Texas Tech had a game plan to make sure it bent, but it never broke.
And lord knows this defense has broken plenty of times since that day in October of 2014. The hiring of David Gibbs as the defensive coordinator was supposed to fix this unit, but it was slow to come around. Gibbs came to Tech after that debacle with experience as a coordinator at the college and pro level. If you recall, he was interim head coach at Houston before the Cougars hired some guy named Tom Herman. Gibbs' task in Lubbock was monumental — fix a defense that, frankly, looked unfixable.
And, for a while, it didn't look like Gibbs was making any sort of impact. In 2015 the Red Raiders were No. 127 in total defense. In 2016 the Red Raiders were dead last in total defense. Last year the Red Raiders were ranked No. 100. It seemed almost criminal, especially with Mahomes at quarterback. All this defense had to do was be OK and the Red Raiders could actually aspire to be more than just an average bowl team.
There was certainly pressure on Kingsbury to make a change. Surely after last season, when he saved his job by a thread by beating Texas on the road in the season finale, pressure could have been applied to find another defensive coordinator. But Kingsbury stayed with Gibbs for a fourth year, and it's turning into a wise decision.
"I was always impressed by how (Gibbs) stuck to his guns, because he had some really, really rough years," Kingsbury said. "He had a vision. He wanted to recruit to it. He wanted to develop to it. And he's stuck to his guns. We have veteran players that are growing up and making plays. There is still a long way to go but there is some progress being made."
When it comes to total defense, it doesn't necessarily look that way. The Red Raiders ranked No. 108 in that category going into the game. But defense is not always about the yards you allow. Tech has now won three straight Big 12 road games. They've shut out their last two Big 12 opponents in the second half. The Red Raiders held Oklahoma State to 17 points three weeks ago on the road. Tech's defensive game plan frustrated Robinson and the Horned Frogs, just as TCU's did the same to the Red Raider offense.
This was an ugly, sloppy defensive showdown, and those are the types of games that the Red Raiders haven't won the past few years. The players that spoke to the media Thursday night, especially defensive tackle Eli Howard, were players Gibbs and his staff have coached for years. The respect clearly runs deep and the reward of Thursday's win wasn't lost on him.

"(Coach Gibbs) experience speaks for itself," Howard said. "He's a really experienced coach and he does such a great job of knowing his players, what their strengths and weaknesses are and getting the most out of them every day. You know, like Tuesday practice, when players are looking toward the game and not necessarily looking forward to Tuesday practice, he does a good job of grounding us and humbling us. His schemes are exceptional and I think that's where coach Kingsbury's confidence (in him) comes from."
Ugly and sloppy. Those are not words one associates with Texas Tech, especially when it comes to winning games. But Kingsbury will take it. He'll take it any day as long as it leads to a win.
"Traditionally you look at the teams that have won the Big 12 and they have a defense that can make plays when they have to," Kingsbury said. "We haven't been able to do that for a while, and in the last couple of years we've progressed in that area. We have to keep going."
**Sign up here for our HCS weekly e-mails for a chance to win FREE Heartland College Sports and Big 12 team gear!!**