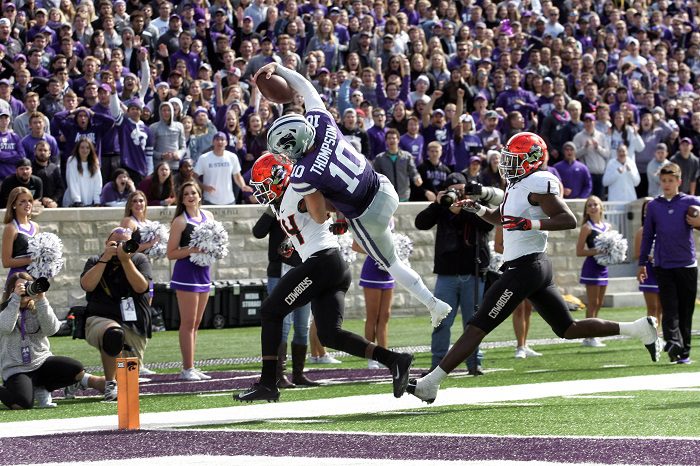 Kansas State and Oklahoma State met in Manhattan, Kansas on Saturday with both fan bases on edge. Oklahoma State came into the game having lost two of three (TTU, ISU), while Kansas State had dropped three-straight games (WVU, Texas, Baylor) and four of five. Both fan bases viewed this game as one they would have to win to in order to avoid further disaster this season. After all was said and done on Saturday, it was Kansas State punishing the Cowboys with a 31-12 win.
Alex Barnes was the star of the show for the Wildcats, racking up 181 rushing yards and four touchdowns, as part of a ridiculous 291 rushing yards for K-State. Skylar Thompson did enough at quarterback, finishing with 130 passing yards (11/22), while rushing for 80 yards. There were a couple of untimely mistakes by Thompson, including taking a sack at the end of the first half that cost the team a field goal opportunity, but he did more than enough against an Oklahoma State defense that, to put it nicely, wore down as the game went along. K-State was down 6-3 at halftime before scoring touchdowns on their final four drives of the second half.
Bill Snyder insisted after the win, "We played like we are capable of playing. Our guys just played well … Extremely well." They did play extremely well, but it's a side of the Wildcats we had not yet seen in losses against Mississippi State, West Virginia and Texas. There were spurts of offensive life against Baylor last week, but much of that could be attributed to a Baylor defense that is among the worst in the Big 12 Conference.
Meantime, Oklahoma State fans continue to wonder what happened to the team that dominated Boise State 44-21 four weeks ago. This doesn't look like anything close to that team. The Cowboys are 1-3 in Big 12 play after losing the turnover battle (2-0), having more penalty yards (70-40), and getting rolled over in total yards (421-311). The offensive line remains as mess, the play calling for Taylor Cornelius seems more suited for Mason Rudolph, and the defense, as the game progressed, seemed to lose interest in playing.
After the loss, head coach Mike Gundy said the players and coaches, "need to put their big boy pants on." That's a fair statement to make after getting blown out by a Kansas State team that was looking like the worst in the Big 12, this side of the Jayhawks.  Taylor Cornelus struggled at quarterback, finishing 17/35 for 184 yards and two interceptions, while rushing 11 times for 55 yards and a score. Mike Gundy was asked if he ever considered a change under center, to which he said, "not really".
What else was odd, Oklahoma State, once again, forgot about Justice Hill, who only got 11 carries on the day, after racking up 55 the past two games. This was not a case of OSU trailing, as Hill only had a handful of carries by halftime. The Cowboys had just 127 rushing yards against a team that was allowing nearly 200 per game.

But quarterback is all the rage, and Oklahoma State fans are split on if it's time to see Spencer Sanders or Dru Brown, but HCS' Dave Beall explained why rolling with Cornelius continues to make sense. Much of the explanation has to do with the mediocre, at best, offensive line play.
But with the result this afternoon, Oklahoma State is suddenly finding itself in a situation where it will need to fight for bowl eligibility, and Kansas State goes from a team that was possibly looking at 3-4 wins, to one that fans should put their Holiday cruise vacations on hold, because this team might find itself playing in the postseason.
That's what made this game so intriguing. It was a battle between teams who were struggling, but this match up would determine which team was more likely to finish that much closer to Kansas in the final Big 12 standings.
Oklahoma State is 4-3 and is in danger of missing a bowl game for the first time since Mike Gundy's first season in 2005. The Cowboys remaining schedule is Texas, Baylor, Oklahoma, West Virginia and TCU. Oklahoma State might only be favored in one of their final five games. Kansas State is 3-4, with games left against Oklahoma, TCU, Kansas, Texas Tech, and Iowa State. I'm confident that the Sunflower Showdown is the only one left to favor the Wildcats.
However, since we've cross the halfway mark of the season, Kansas State fans might, albeit temporarily, feel like this season might not be as big of a dumpster fire as it looked like one week ago. While in Stillwater, the dumpster fire might soon find itself with Mike Gundy's mullet in it.
**Sign up here for our HCS weekly e-mails for a chance to win FREE Heartland College Sports and Big 12 team gear!!**