Big 12 News
Texas QB Sam Ehlinger to Undergo MRI on Shoulder Injury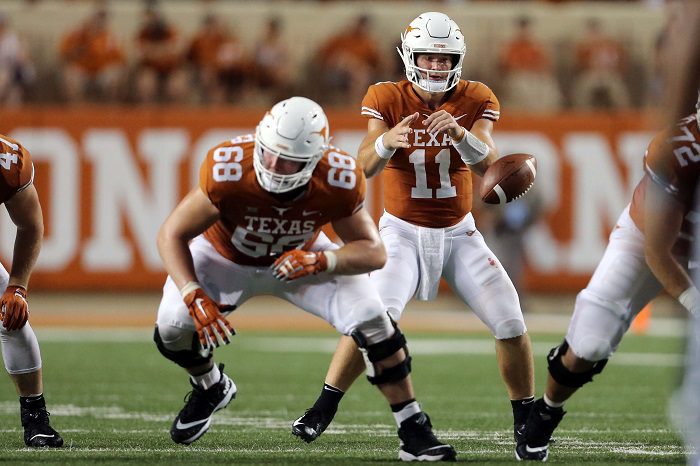 All of Longhorn Nation is holding its collective breath on an MRI that quarterback Sam Ehlinger will undergo on his shoulder. Ehlinger injured his shoulder in the first half of Saturday's 23-17 win over Baylor in Austin.
The sophomore went to the sideline to get blood cleaned off his hand, and according to Tom Herman, that's when his quarterback told his head coach, "My shoulder is messed up. My shoulder is messed up."
The fact that Ehlinger knew he couldn't power through the injury and called himself out of the game is probably the most concerning detail of the very few that we have.
Herman added that Ehlinger has an AC sprain in his throwing shoulder and if it turns out there's no ligament damage, Herman said Ehlinger could be throwing by the end of next week. Now the best news for Texas and its fan base is that the Longhorns have an upcoming bye week and don't play until an October 27th game against Oklahoma State. Talk about timing, huh?
Shane Buechele took the place of Ehlinger and finished 20 of 34 for 184 yards with one touchdown to one interception.
With the win, Texas improved to 6-1 and will stay in the Top 10 of this week's rankings, with the likelihood they could move up a couple spots with several Top 10 teams (Washington, Georgia, Penn State) all losing.
**Sign up here for our HCS weekly e-mails for a chance to win FREE Heartland College Sports and Big 12 team gear!!**