Baylor Bears
Big 12 Basketball Schedule Analysis: Baylor Bears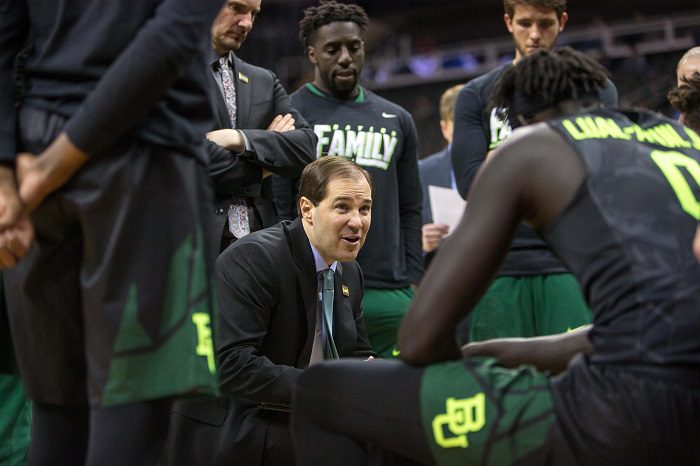 Leading up to Big 12 media days in Kansas City Heartland College Sports will analyze each of the Big 12 men's basketball schedules. Today it's the Baylor Bears.
Season opener: The Bears open with Texas Southern at home on Nov. 6. It marks the beginning of four straight home games against Mid-Major programs, three of which are members of the SWAC.
Tournaments: The Bears play in one non-conference tournament, the Emerald Coast Classic in Niceville, Fla. The Bears face the first of two SEC opponents when they face Mississippi. The next night, depending on the result, the Bears will face either Cincinnati or George Mason. Tournament matchups with Ole Miss and Cincinnati would be better for Baylor's strength of schedule in the long term, especially if they can win both games.
The Big Non-Con: The Bears go to Wichita, Kansas, to face Wichita State on Dec. 1. It's their last game before a two-week break for exams and the end of the fall semester. The Shockers should give the Bears their stiffest test before the start of Big 12 action.
Mid-Major Danger: When Stephen F. Austin comes to Waco on Dec. 18 the Lumberjacks bring with them a team that has reached the NCAA Tournament four of the last five years and one that pushed Texas Tech to the final minutes of their First-Round NCAA Tournament matchup last March.
Big 12 Opener: The Bears open with their private school rival TCU in Fort Worth on Jan. 5. It should be a heightened atmosphere when these two programs meet to lift the lid on the league season.
The Big 12/SEC Game: Baylor hosts Alabama on Jan. 26. The Crimson Tide are coming off a trip to the NCAA Tournament, but are without their guard Collin Sexton, who is now in the NBA.
The 'Big' Big 12 stretch: A stretch of three road games in 14 days feels particularly brutal, especially as it comes toward the end of the Big 12 slate. The Bears travel to Texas Tech on Feb. 16 and then head to Iowa State — which should be much improved this season — on Feb. 19. The Bears then host West Virginia and Texas in a four-day span, and then hit the road again for a March 2 showdown with Kansas State. It's a slate with four NCAA Tournament teams in 14 days, and an Iowa State team that could be good enough to get there this year. There are no easy games in the Big 12, but because of the concentrated road games, this stretch could be a big one for the Bears.
(Home games in Bold; *-Big 12 game)
Nov. 6 vs. Texas Southern
Nov. 10 vs. Southern
Nov. 12 vs. Prairie View A&M
Nov. 16 vs. Nicholls State
Emerald Coast Classic (at Niceville, Fla.)
Nov. 23 vs. Mississippi
Nov. 24 vs. Cincinnati or George Mason
Nov. 27 vs. South Dakota
Dec. 1 at Wichita State
Dec. 15 at Arizona
Dec. 18 vs. Stephen F. Austin
Dec. 21 vs. Oregon
Dec. 29 vs. New Orleans
Jan. 5 at TCU*
Jan. 8 vs. Iowa State*
Jan. 12 vs. Kansas*
Jan. 14 at Oklahoma State*
Jan. 19 vs. Texas Tech*
Jan. 21 at West Virginia*
2019 Big 12/SEC Challenge
Jan. 26 vs. Alabama
Jan. 28 at Oklahoma*
Feb. 2 vs. TCU*
Feb. 6 at Texas*
Feb. 9 vs. Kansas State*
Feb. 11 vs. Oklahoma*
Feb. 16 at Texas Tech*
Feb. 19 at Iowa State*
Feb. 23 vs. West Virginia*
Feb. 27 vs. Texas*
Mar. 2 at Kansas State*
Mar. 6 vs. Oklahoma State*
Mar. 9 at Kansas*
**Sign up here for our HCS weekly e-mails for a chance to win FREE Heartland College Sports and Big 12 team gear!!**