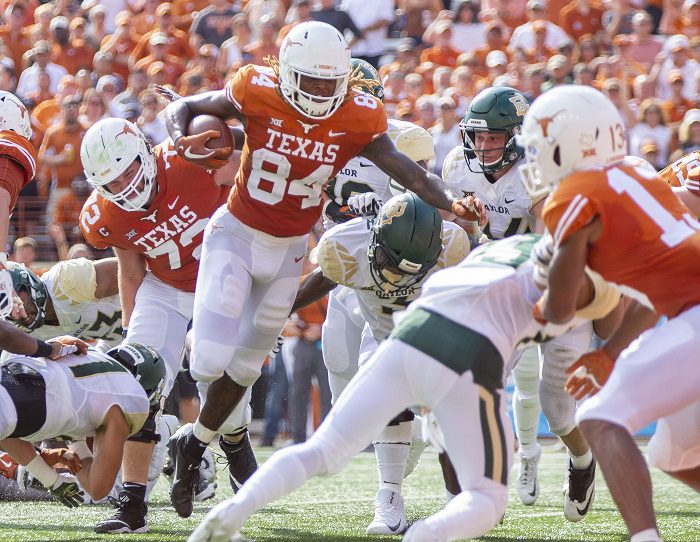 Ah yes, they are BACK. The power rankings are here as we wrap up the first weekend of Big 12 football. In our 2018 version of the Big 12 power rankings, we have averaged out the rankings of our main contributors at Heartland College Sports. These will be done on a weekly basis and released every Monday morning. A friendly reminder before trolling: Power Rankings can swing drastically week to week and are not simply a ranking based on who we think are the best teams in the conference, but rather based on the games that have been played to date.
1. Texas Longhorns (Last week: 2)
The Texas Longhorns are the unanimous No. 1 in this week's Big 12 Power Rankings. It wasn't always pretty against Baylor on Saturday, but the loss of Sam Ehlinger at quarterback obviously played a major role. It looks like Ehlinger will be able to use the perfectly-timed bye week to his advantage to rest up for next week's game against Oklahoma State. That will play a crucial role in keeping this team atop the Big 12 standings, because Shane Buechele was either rusty or has regressed, because he struggled mightily on intermediate to deep passes. But it's a well-deserved bye week for Texas, who is sitting at 4-0 in Big 12 play and in first place.
2. Oklahoma Sooners (Last week: 3)
The Sooners had a chance to reflect on their disappointing Red River Rivalry and hopefully reset the defense under Ruffin McNeill, who takes over the unit on an interim basis after the firing of Mike Stoops. The week off allows him to make whatever changes he wants to make, and also apparently is welcomed by some of the OU defenders, notably Brendan Radley-Hiles, who tweeted this out after Stoops was fired. But the Sooners were in a similar place in 2015, when they lost their first game of the year to Texas, but ended up in the College Football Playoff by year's end. There's plenty of football left and Lincoln Riley needs to remind his guys of just that.
3. Iowa State Cyclones (Last week: 5)
The Cyclones are back from the dead! Iowa State was fishing around in the bottom half of the Power Rankings for the first few weeks of the season. But after two Top 25 wins in a row, and Matt Campbell's third win vs. Top 6 teams in two seasons, Iowa State is now 2-2 in conference play and will be heard from as the rest of the conference schedule progresses. True freshman QB Brock Purdy continues to give this team life and his first start went as good as one could have hoped for on Saturday night against the Mountaineers. A healthy David Montgomery was back as well for Iowa State and racked up nearly 190 yards. Things are starting to line back up for the Cyclones.
4. West Virginia Mountaineers (Last week: 1)
Eeek. From No. 1 to No. 4 after West Virginia played, by far, its toughest game of the season and dropped a bomb. The offense scored a grand total of seven points, which disgusted Dana Holgorsen after the game. Iowa State has a really good defense, but for Will Grier and this group of offensive weapons to muster only seven points in a game is unfathomable. The defense actually held its own, considering it was on the field most of the night, and the special teams had a blocked punt returned for a touchdown. But this feels like what happened in 2016, once they cracked the Top 10, they blew a winnable game (Oklahoma State).
5. Texas Tech Red Raiders (Last week: 6)
Texas Tech should be very proud with itself for not just sitting at 4-2 so far this season, but for how it is winning games. Most notably, it's been with defense, which was often times unheard of in Lubbock. Yes, David Gibbs' defense held the Horned Frogs to just 14 points last Thursday in a win in Fort Worth. I don't know if that's the kind of win that saves Kliff Kingsbury for 2019 and beyond, but it's certainly a helluva "W" to get considering he was bouncing around between two quarterbacks who proved fairly ineffective for most of the night.
6. Baylor Bears (Last week: 8)
Baylor had Texas on the ropes at the end of the game with a chance to tie and take the lead. But Matt Rhule's crew could not get it done, but as the head coach pointed out after the game, the fact that his guys were genuinely crushed by this loss, with some crying, tells you how far this program has come in a very short period of time under Rhule. One year ago they were a one loss team getting trounced by several opponents on the schedule. Now they're winning and competing, and while a bowl game would be a big success, the future is even brighter for what Rhule and his staff are rebuilding in Waco.
7. TCU Horned Frogs (Last week: 4)
I don't think this is the 2013 season (4-8), but it's feeling very similar to the 2016 season (6-7). In 2016, TCU was coming off a very successful season where it finished second in the Big 12 and won the Alamo Bowl behind a bunch of seniors, then had to rebuild in 2016. Last year, the Horned Frogs finished second in the Big 12 and won the Alamo Bowl. Now, TCU is 3-3 on the season and 1-2 in conference play heading into a home match up against Oklahoma this weekend. The Horned Frogs feel "average" again, but are also working out a lot of kinks, most notably on the offensive side of the ball where turnovers continued to hamper sophomore quarterback Shawn Robinson.
8. Kansas State Wildcats (Last week: 9)
Kansas State is out of the No. 9 hole for the first time in several weeks after blasting Oklahoma State by 19 points on Saturday thanks to nearly 300 rushing yards. The Wildcats appear to be improving after solid performances, at least in some aspects, against Texas, Baylor and Oklahoma State, but it's still clear that this is one of the worst teams in the Big 12 Conference this fall. K-State is likely to still be an underdog in every game it plays for the rest of this season, sans Kansas. The offensive line and secondary are improving, but the quarterback play and wide receivers are still a concern. We'll see how much Bill Snyder & Co. can squeeze out of this talent pool.
9. Oklahoma State Cowboys (Last week: 7)
How long ago does that Boise State game feel like, huh? What a mess this team has been the past few weeks, and the roar from the fan base to move on to another quarterback seems to be getting louder by the day. As our own Dave Beall pointed out, it's best to stay with Corndog at least until Spencer Sanders doesn't have to burn a red shirt (final four games). However, why is Justice Hill only getting 11 carries in this one? That's the same as what Cornelius got. And it's not because OSU was trialing big for most of the game, they weren't. Plus, the defense appeared to just give up towards the end of Saturday's showdown, which is not a good look. Maybe this is just 2014 all over again, or maybe it's something else. I'm not sure.
10. Kansas Jayhawks (Last week: 10)
Well, Kansas didn't lose this past weekend, that's a good thing. The Jayhawks also did not play, as they had a chance to rest up before facing Texas Tech in Lubbock this weekend. David Beaty fired Doug Meacham last week, signaling he's possibly feeling the heat on his own seat and wants to do his own thing with the offense to try and get it going in a last-ditch effort. It's that side of the ball that has been struggling far more than a defense that leads the conference in takeaways.
**Sign up here for our HCS weekly e-mails for a chance to win FREE Heartland College Sports and Big 12 team gear!!**