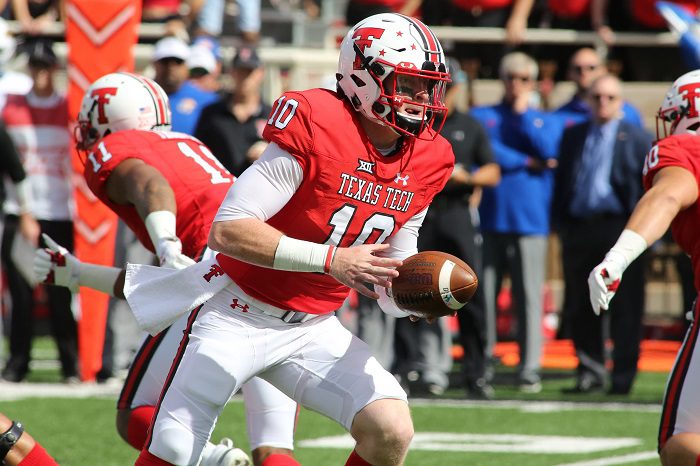 Three weeks after suffering a collapsed against the West Virginia Mountaineers, Texas Tech's stud true freshman quarterback Alan Bowman was back in the saddle on Saturday against Kansas and looking like his old self.
The Red Raiders rolled over the Jayhawks 48-16 in Lubbock and Bowman picked up right where he left off before the injury, completing 36/46 for 408 yards, with three touchdowns to one interception. It started off a little rocky, as Bowman had a couple incompletions to start his opening drive that resulted in a field goal. Drive Two ended with a punt, then it was a completed pass from Bowman to Zach Austin that was fumbled.
But then, the flood gates opened, as Texas Tech scored touchdowns on three of their next four drives to take a 24-3 lead late in the second quarter. The Red Raiders didn't look back, and the defense certainly continued it's great play, holding KU to just over 300 yards, as Texas Tech improved to 5-2 on the season.
Entering the season, Kliff Kingsbury knew he had to win to keep his job in 2019 and beyond. And the 20-point loss to Ole Miss to open the season feels like a lifetime ago. Tech has won five of six games since, with the only loss coming to West Virginia, the game where Bowman ended up with the aforementioned collapsed lung.
It was good for Bowman to get his reps this week, as Texas Tech begins its toughest three-week stretch of the season starting next Saturday in Ames, Iowa against the Cyclones, who are suddenly one of the hottest teams in the conference. Then, it's Oklahoma and Texas, both at home, in back-to-back weeks.
These are the games that Kingsbury has typically not won during his tenure. He's won the games he's favored in and has not shocked the Big 12 as an underdog.
To be fair, I think most Texas Tech fans would sign up for 1-2 right now over this three-game stretch. That would put the Red Raiders at 6-4 heading into the final two weeks of the season, which are very winnable games against Kansas State and Baylor.
Regardless, all Texas Tech fans have got to be thrilled with where this team is and where it has come from Labor Day Weekend in Houston when it looked like this team was headed for a lost season and Kingsbury was headed for the door.
But, as we cross the halfway mark of the season, that appears to be anything but the case.
**Sign up here for our HCS weekly e-mails for a chance to win FREE Heartland College Sports and Big 12 team gear!!**