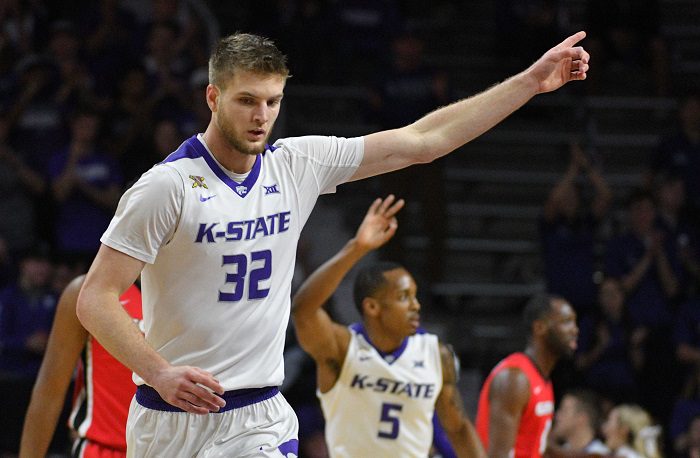 Leading up to Big 12 media days in Kansas City Heartland College Sports will analyze each of the Big 12 men's basketball schedules. Today it's the Kansas State Wildcats.
Season opener: The Wildcats open the season on Nov. 9 at home against Kennesaw State, which is an opening game in the U.S. Virgin Islands Paradise Jam. It's the first of two home games for the Wildcats to start the season.  
Tournaments: Well, there's the U.S. Virgin Islands Paradise Jam. That's sounds like fun. Plus, there's the Wildcat Classic against Vanderbilt in Kansas City on Dec. 22.
The Big Non-Con: Vanderbilt would qualify. So would Marquette out of the Big East. The Golden Eagles were 21-14 last year and reached the quarterfinals of the NIT. They should give the Wildcats a quality game on Dec. 1 in Milwaukee, Wis.
Mid-Major Danger: Georgia State heads to Manhattan on Dec. 15 and the Panthers should give the Wildcats their best mid-major game of the season. The Panthers are coming off a 24-11 season, a Sun Belt Conference title and an NCAA Tournament berth.    
Big 12 Opener: Kansas State starts the league season with a Jan. 2 home game against the Texas Longhorns.
The Big 12/SEC Game: Kansas State heads to College Station to face former Big 12 rival Texas A&M on Jan. 26.
The 'Big' Big 12 stretch: The Wildcats gets the Kansas Jayhawks twice in seven games, starting Feb. 5. So that seems like a key stretch for K-State, especially when you consider they have four road games in that stretch — at Baylor, at Texas and at West Virginia, along with the trip to Lawrence.  
2018-19 Kansas Schedule
(Home games in Bold; *-Big 12 game)
Opening Game of the U.S. Virgin Islands Paradise Jam
Nov. 9 vs. Kennesaw State
Nov. 12 vs. Denver
U.S. Virgin Islands Paradise Jam (St. Thomas, U.S. Virgin Islands)
Nov. 16 vs. Eastern Kentucky
Nov. 17 vs. Northern Iowa/Penn
Nov. 19 vs. TBD
Nov. 24 vs. Lehigh
Dec. 1 at Marquette
Dec. 8 at Tulsa
Dec. 15 vs. Georgia State
Dec. 19 vs. Southern Miss
Wildcat Classic (at Kansas City, Mo.)
Dec. 22 vs. Vanderbilt
Dec. 29 vs. George Mason
Jan. 2 vs. Texas*
Jan. 5 at Texas Tech*
Jan. 9 vs. West Virginia*
Jan. 12 at Iowa State*
Jan. 16 at Oklahoma*
Jan. 19 vs. TCU*
Jan. 22 vs. Texas Tech*
Big 12/SEC Challenge
Jan. 26 at Texas A&M
Feb. 2 at Oklahoma State*
Feb. 5 vs. Kansas*
Feb. 9 at Baylor*
Feb. 12 at Texas*
Feb. 16 vs. Iowa State*
Feb. 18 at West Virginia*
Feb. 23 vs. Oklahoma State*
Feb. 25 at Kansas*
Mar. 2 vs. Baylor*
Mar. 4 at TCU*
Mar. 9 vs. Oklahoma*
**Sign up here for our HCS weekly e-mails for a chance to win FREE Heartland College Sports and Big 12 team gear!!**